Anderson
(18 at Dreamy Hollow)
A small pitch in a secluded spot next to the WW1 Trenches with a fire basket. Perfect for small tents. 4.6m wide by 9m long
The Owner Says
This pitch will eventually house an Anderson Shelter which when available will be booked as an extra. This pitch is NOT accessible to any vehicles.
Video Tour
Gallery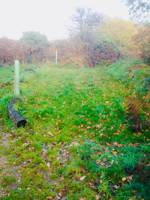 About Dreamy Hollow
Suitable For
Tents, small campervans, groups, history lovers and dogs (under control) – yes. Caravans and motorhomes – no. Please note: only book if you have a chemical camping loo. A chemical camping loo for your social bubble is currently required as part of our Corona Virus precautions. Camping "bag a poo" loos are banned from this site. Wardens may ask to see your camping loo on arrival.
Nearby
Queen Elizabeth II  opens her country house at Sandringham (01485 545400) to the public when not in residence. Sandringham House, museum, gardens and woods are wonderful to muse through on a hot summers day. Also on the Royal Estate is Anmer Hall, which will be the country residence of the Duke & Duchess of Cambridge, and wee Prince George. The Victorian seaside resort of Hunstanton offers sea trips on modern boats and a WWII 'duck'. It's a popular place with windsurfers and jet skiers alike. Blakeney beach is 19 miles away and offers more sedate sailing, and opportunities to paddle canoes up sandy creeks. 'Chelsea-by-the-Sea' as the locals call it, is the charming town of Burnham Market. Enjoy its lovely shops and tearooms. At 6 miles away it's also the nearest place to get fuel and camping gas. Norwich is only 35 miles away and is one of the fairest cathedral cities in the land. In fact, it has two fine cathedrals, a castle and a picturesque river.
Food & Drink
You will find traditional food and ales locally in Docking at the Railway Inn or classic dishes such as burgers, fish & chips and salads at the ever-popular Kings Head(01485 578265) in Bircham Newton. The Duck Inn (01485 518330) is a traditional village pub, proudly serving a variety of local beers supplied by Wisbech-based brewers Elgood & Sons. They have a carefully selected wine list with a choice of old and new world wines. Bircham Windmill (01485 578393) is a popular local attraction and offers freshly-baked bread, a lovely tearoom and trips up the windmill. For something a little upmarket, head to the award-winning Orange Tree (01485 512213) in Thornham – it's a culinary force to be reckoned with.
Extras
Camping Loo hire 2021
Hire of a liquid chemical camping loo per night subject to availability 
Site Reviews
Add Your Review
Rated ★★★★★ over 56 reviews
Great wild camping site
What a fantastic site for getting back to nature! We pitched on the East Glade and it was spacious and clean. The fire pit was most welcome for the cool autumn nights and the only sounds we heard during most of our stay was the rustling of leaves and bird song (with a little road noise due to our pitch being near the entrance but this was not an issue)! Barrows are provided for unloading camping equipment from the car and Scott was available to help with the motorised trailer too! If you have lots of kit be sure to consider a suitable pitch or be prepared to haul it to your location! Obviously, due to Covid there were some very necessary restrictions in place, but I'd love to return when these are relaxed and take advantage of the hammocks or croquet to hire! After a little explore, Nigel's nook was the spot we'd return to. Beautifully enclosed and a real sun trap! We look forward to visiting again next year!
Sun,wind and torrential rain. Camping as it should be.
We arrived on a drizzly Friday afternoon and pitched the tent in a small break in the rain. With portable camping loo and tent in tow we set ourselves up for a week under the stars in Norfolk. Lovely pitch on Nigels Nook. Quiet and sheltered, which was handy , with some stormy weather on the horizon. This is a great campsite if you are happy and willing to get stuck in and not mind what weather gets thrown at you. Proper camping. We barbecued in torrential rain , caught glimpses of the most amazing starry sky as the clouds rolled by and got sunburnt on the glorious beaches when the sun came out. The kids loved it, we loved it and the camping loo was a success. A great jumping off point for all the sites of North Norfolk and a great place to come back to in the evenings.
We had a lovely time!
We loved the pitch set-up and the overall arrangements of the site. We picked the wettest week-end in a while but it didn't matter. We had fun lightening the fire every evening in our return and used it to grill sausages and marshmallows as well as huddling. We didn't use the showers as we do bucket-wash in camping but they looked very pretty and a welcome addition for a longer stay. Bringing the chemical loo was not an issue and disposal was straight forward on site. The kids found the play area with the tree swings and also enjoyed walking (with care!) through the trenches; they made friend with another camper's dog and with the birds nesting over the tent. Staff were friendly on arrival and when met around the site. We all gave our stay 5 stars and are considering coming back with friends.
Response from Dreamy Hollow
So pleased you enjoyed your stay. Yes the weather scenery was straight out of the storm scene in King Lear ! But sounds like you are expert campers at lighting fires in 72% humidity.
Hopefully by next season this terrible virus will have been beaten and all our faculties will be open, but for now camping loos are by far the best way for our campers to keep themselves and their loved ones safe.
Remember we are open most of the year now, and if your stay is affected by an adverse weather warning out of main season we will happily move it to less of a blustery day.
Disappointed
We've just come back from a stay in August. I'd read a lot of good reviews about this site and so was perhaps hoping for an amazing experience - I should say first of all that the people working there are very friendly and a credit to the site. Also, some of the smaller pitches looked nice and so my experience is related to one of the four pitches you get when you come straight into the site, (I picked the one I did to use a large 6 man tent). Our pitch was billed as being an individual pitch but we had neighbours all around us and no dividers (hedges, partition fences) which meant it didn't feel very private at all, and the positioning of pitches means your view is limited and basically just looking at other pitches or very high stinging nettles. The site is right by a main road so you get the noise of cars travelling fast. Our pitch was dirty and had some old food on it, meaning there were loads of bugs. The ground seemed not well kept and I was glad I had a groundsheet. The fire put smoked a lot and the matches we bought didn't work as they were all damp. The facilities are very very old and very limited - as the shower and toilet are joined this means standing in the shower is not pleasant as people walk in mud when they use the loo and the ground is dirty. The entrance to the whole site looks like a building site with portacabins and industrial bins. There were a lot of rules - fines for unannounced guests, noise etc... so it seems as though the management want to be seen as conscientious butit would be nice if some more care was taken to keep the site itself well maintained.
Response from Dreamy Hollow
So sorry that this was the experience of your stay. The facilities should not have been in that state and definitely your pitch was your own and other people should not have been camped on it. Your pitch should have been checked as in good condition before you arrived. There is quite a lot to unpack in your comments so please email so we can hold a more personal conversation as at this point we would just be guessing which pitch and which warden was responsible for your stay.
Brilliant, unique campsite
We have just got back from a week at this lovely campsite. So unique in its layout and very peaceful. The warden's we're very friendly and helpful and the facilities, although basic, were very clean. Didn't mind a bit taking our camping loo, as it made us feel safer and doing our bit to keep the staff and others safe. Will definitely be making plans to return in the future. Thanks for a fab week away!
See all reviews at Dreamy Hollow
Location
Dreamy Hollow is located at Fakenham Road, Stanhoe, Kings Lynn, Norfolk PE31 8PX
Getting There
Arriving from Kings Lynn: take the A148 to Fakenham. After Hillington exit left to take the B1153 signposted National Construction Industry Training College. At Great Bircham turn right onto the B1155 to follow the signs through Bircham Tofts and to NCITB. Drive through the NCITB campus to arrive at the crossroads with the B1454. Turn right for Fakenham and the campsite is the first on the right.
Arriving from Fakenham: take the A148 to Kings Lynn. At Sculthorpe former air base, exit right onto the B1454 signposted as a Tourist Route. Drive on passing Syderstone Barmer and Barwick. After the Barwick crossroads watch out for the cranes of the NCITB on your left as you come down the hill from the Barwick crossroads. You will see the woodland on your left and the entrance is around 50m along the frontage of the woodland.
If you get lost, ring 07564 226780 for help. Also it helps to text your ETA to this number. Arrivals are between 12–5pm, after which there is no warden service.
King's Lynn serves as the sites nearest railway station. Go To Town Bus service calls at Monks Close stop at the rear of the site on request.  The site is close to cycling routes and designated footpath/bridleway to Barwick.