Ferrygate Lane Camping
Ferrygate Lane Campsite, Martham, Gt Yarmouth, Norfolk NR29 4RG









Riverside camping near the homely village of Martham, with campfires permitted, easy canoe launching and excellent local fishing.
If ever a place was ready made for aquatic adventures, it's the Norfolk Broads. You simply can't help but want to get out onto the bodies of water the region is famed for – ditch leads into stream, stream leads into channel, channel leads into river and river wiggles it's way into one of the great broads or lakes that dot the area. It's no surprise, then, that Ferrygate Lane Camping positively encourage people to arrive at the campsite by boat. There's a convenient launching point for kayaks, canoes and dinghies, while a mooring spot, just along the riverside, lets you tie up and camp for a night or two. For waterside living under canvas, this is the place to come.
Opened in 2018, Ferrygate Lane Camping is a simple, traditional affair. Caravans and motorhomes are not permitted, so tents rule the roost, while smaller campervans are allowed if they have a canvas awning that they can use. There are no fancy bells or whistles – no shop, electric hook-ups or playground – instead, entertainment comes from campfire cooking in the evening and enjoying charging around in the great eight-acre space that the campsite affords. Pitches right beside the water are usually in the highest demand but there's plenty of room for all with open grassland in the middle of the camping meadow leaving room for bumper family ball games or a frenzied game of frisbee.
While the Broads location and rural setting makes for excellent stargazing, it's not far to the nearest village. Step out onto the road and it's a one-mile walk into Martham – though stick by the waterside first to watch the unusual floating bridge being towed into place that allows cars to pass from Ferrygate Lane across the River Thurne. The village itself is a quaint old spot, with a large village green, two duck ponds and a collection of Georgian houses (along with a couple of good pubs). It's not far, too, to the sandy coastline. It's a 10-minute drive to Winterton-on-Sea, where a summer swim is positively refreshing before taking a wander in the Winterton Dunes National Nature that back the beach. Other top beaches include Horsey, Sea Palling, Waxham and Happisburg, all eminently drivable from the campsite, while a pair of local boat-hire companies, moments away from the campsite, mean to access the best of the Broads you needn't use the car at all.
Gallery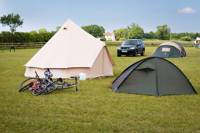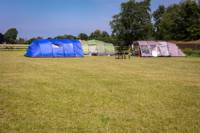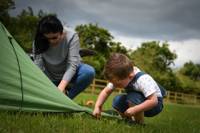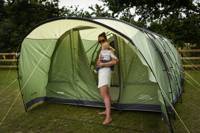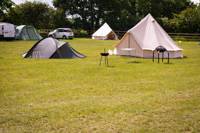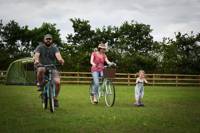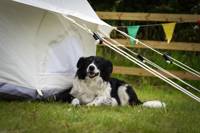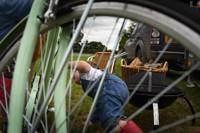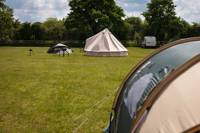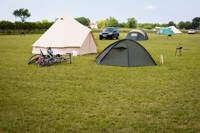 The Owner Says
Tucked away in the beautiful Norfolk village of Martham. Ferrygate Lane's picturesque campsite is located in the heart of the Norfolk Broads, with generous space for tents on wonderfully flat grassy pitches set beside the quaint broad mooring Martham Boat Dyke. Campers are encouraged to sail to the campsite and moor up. The wonderfully quaint Village of Martham is situated only a mile away from the site, so don't forget to pack your bikes!
Ferrygate Lane believe fire is an essential part of outdoor living, therefore, to save you the trouble of making your own, they have plenty of braziers for you to gather around with marshmallows or simply cook your burgers on, with firewood available to purchase too.
The campsite also benefits from being in an area with extremely low light pollution, and the sky on a clear summer's night is truly a wonder. The Milky Way and myriad constellations are on display for your personal enjoyment and, if you are lucky enough you can catch a shooting star or two! The site is only a hop, skip and a jump away from the Martham & District Angling Club, so if there are any keen fisherman in your party, feel free to bring your kit!
Reviews
Add Your Review
Very good, clean and safe camping experience
Ferrygate is a lovely campsite to use. The camping area is not too small but not expansive either, I personally feel this is good as it keeps things exclusive. Toilets were clean, well stocked and not too busy, I can't comment on the showers though as I chose to become a proper cave woman and not bother! There was a good, organised washing up station and every morning (I think?) Holly the campsite owner and her sons are selling breakfast bits and snacks. There is plenty of drinking water and fresh, dry logs for fire pits and BBQ's. Things to work on: the ground was very uneven which didn't affect our tent but it did limit the amount of running around you could do e.g. playing games like frisbee or cricket. The fire pits are bit too high to warm you up, any way of lowering them would be great. I understand that Ferrygate is in its very early infancy (set up at the beginning of August 2018 I believe?) but I think it's marvellous already! Onward and upward!
Won't be coming back
Limited toilets for campers only 3 available but used by men and women. Showers also unsex and don't have locking doors only shower curtains. Very early wake up call from generator being turned on at 7:15am not great when u want a relaxing break away. Overall not a great weekend away :-(
Best Price Guarantee, with no fees
Instant booking confirmation
Trusted for over 10 years
A chance to win £50 of Cool Camping vouchers!
Book campsites near Ferrygate Lane Camping