Hickling Campsite
Hickling Campsite, Heath Road, Hickling, Norfolk NR12 0AX











Tent camping and glamping on the edge of Hickling Broad National Nature Reserve, the largest of the Norfolk Broads and conveniently within driving range of the coast
Bring a bike to Hickling Campsite and you're pretty much sorted for your stay. Everything is within pedalling distance here. It's less than a mile to the banks of Hickling Broad, the largest waterbody in the Broads National Park and a haven for wildlife, and only four miles to the coast, where beaches and protected dunescpaes await. In the other direction, there's Ant Marshes and several good pubs and, when you finally decide you've done enough pedalling, you still don't need to get in the car. There are canoes for hire, dinghies to sail and board walks to wander, stretching out like hugging arms around Hickling Broad, leading you to tree-top huts and bird-hides in the reeds. It really is the best of the Broads parcelled up into one small area.
Cycling is also particularly easy owing to the handy flatness of the region. There are no big hills to trek up here and, consequently, Hickling Campsite itself is blessed with a perfectly flat meadow. Tents are welcome, preserving a traditional camping feel and keeping the grass in good condition, while campfires are a must – firepits are provided with every booking. Initially, tents are recommended to pitch around the edge of the meadow, allowing extra space in the middle for children to run wild and make friends, while mature hedges along the border (look out for wild raspberries in summer and blackberries in autumn) provide shelter from the breeze.
"It's our little piece of paradise", owners Tom and Jo proclaim. The couple grew up locally and have a very clear affection for the area. If you need more advice on where to go, they're happy to give recommendations – should you stroll to The Greyhound Inn or to The Pleasure Boat Inn, for example; such tough decisions to make. It's the Norfolk Wildlife Trust that look after Hickling Broad itself and a Visitor Centre is open on the shore (½ mile away) from 10am–5pm daily during summer.
There's an excellent little picnic spot, along with toilets and a café, and you can catch boats across the water to a 60ft tall tree tower on the far side. From the top the view is outstanding and it's a great place to soak in the surroundings. You may well find yourself agreeing with Jo and Tom too – it's a little piece of paradise indeed.
Gallery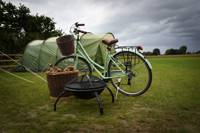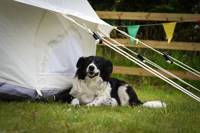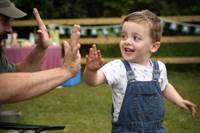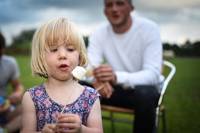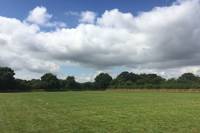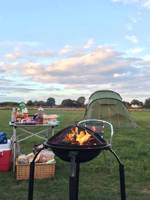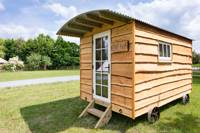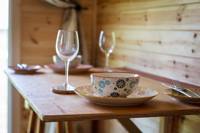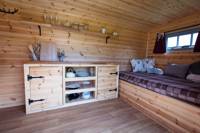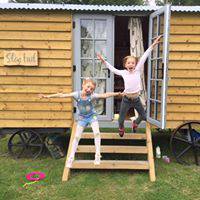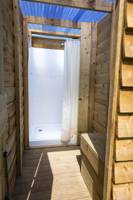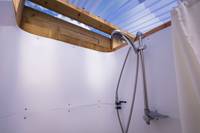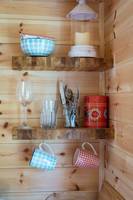 The Owner Says
'My brother Isaac and I decided to try our hands at building our very own Shepherd's hut! We had so much fun making it, we decided to build two more!' Tom explains.
Isaac, who is only 19-years-old built the Pod single-handed! Unlike the huts, the pod is the only place at Hickling Campsite where you will find plug sockets and electric lights! So, if you are a camper who prefers a few more mod-cons from your glamping experience, the pod is where you need to be!
All the interiors have been carefully selected so that they are unique and bespoke to each individual hut. You will never stay in a Shepherd's Hut that has been more carefully thought out than ours! We have the Duck hut (Jo's personal favourite), the Stag hut and the Owl hut and each hut's interior has its own individual style, lovingly handmade by Norfolk based seamstress Amy from Buttonpearl Crafts. 'We loved seeing the huts come together with the furnishings we chose!!' adds Jo.
Tom and Jo hope you enjoy the huts as much as they did putting them together!
Win a £100 Blacks Voucher!
If you've stayed at Hickling Campsite campsite, please take a minute to tell us about your experience. Every month, one lucky reviewer will be picked at random to win a £100 voucher, courtesy of our recommended retailer Blacks. Each review counts as one entry, so get writing!

Reviews
Add Your Review
Welcoming and Clean
Very pleasant campsite - very clean shower and toilet facilities and owners very flexible with managing booking - able to change my dates at short notice.
BH Weekend Away
My daughter, husband I stayed in 'Duck' - one of 3 lovely little shepherd huts. The interior was beautiful and cosy and having our own bit of land for my daughter to play in was perfect. The campsite itself is lovely and it was so nice to wake up and have an outdoor shower first thing in the glorious sunshine (the water is warm and the showers are clean and spacious). We really enjoyed our time here and the campsite is near lots of beautiful villages and broads etc. Great place for walks and bike rides and near lovely little beaches. Great weekend overall!
Great Bank holiday stay
Lovely campsite, very laid back, guest welcome, bags of firewood available for £5. Only downside is some of the field was boggy and sections off so kids had less space to play, but otherwise all facilities clean and well maintained
Relaxing and welcoming
I can't compare to other sites as I'm new to camping, but I seem to have chosen a great place to start my camping adventures. The atmosphere is really relaxed with no designated pitches or check-ins for tent camping; you just turn up and the friendly notices guide you to find your own spot to pitch. If you are like me and like to find locations on Google Street View, the images are too old. But the campsite sign is super clear from the road so it's easy to find. I bumped into Jo before leaving and she was extremely friendly and helpful (over email too). She guided me to check out the Norfolk Wildlife Trust reserve when I said I was planning to go for a walk. All reserves I've been to in Norfolk so far are wonderful places to visit, with their own unique character and of course it is the broad that sets this one apart. There's a boat tour too, but I'm saving that for next time!
Peaceful, comfy, family fun
A great find - a lovely campsite with wonderful staff (the amazing Jo), great facilities in a lovely setting with marshmallows for sale and fire pits for use. We all had a wonderful time and the walking distance to the pub is perfect for adults and small children :-)
Best Price Guarantee, with no fees
Instant booking confirmation
Trusted for 10 years
A chance to win camping goodies in our regular competitions!
Book campsites near Hickling Campsite