The Old Vicarage Campsite
The Old Vicarage Campsite, Moulton St, Mary, Norwich, Norfolk NR13 3NH









A no-frills, tent-only campsite with campfires on a working Norfolk farm
We love a campsite with campfires at its heart and at The Old Vicarage it's rare to find a group of visitors who aren't kindling theirs by 6pm, the second the sun begins to dip towards the horizon. Any excuse and the fires will be going – too cold, too dark, too hungry for marshmallows. Owner Bernie thoroughly encourages it too. "Campfires are an integral part of camping", he says. "Fire warms, soothes and inspires us". There aren't many here who'd disagree.
In fact, Bernie's custom designed braziers have become such favourites that some visitors have even bought them afterwards, sticking them in the car to take home for evenings of nostalgia. They're the perfect souvenirs. After all, the simplicity in their design is emblematic of the entire campsite – nothing flashy, nothing too clever, just the basic essentials that do everything you need. It's a reminder once you've left of the simple life that was. The good old-fashioned camping that makes The Old Vicarage so special.
Set in three grassy acres on the edge of the Norfolk Broads, there is pleasantly little to describe about The Old Vicarage. A couple of wooden cabins house the showers and composting toilets and there's a tap for water. Otherwise that's pretty much it, save for the scattering of tents that are spread around the field, some tucked near hedges where small gaps peep out at fields of wheat, others pitched more centrally, where children zip around playing catch with their new found neighbours. The space is flat, spacious and car-free (with parking next to the field) and the entertainment is the sort you make for yourself – think grass stains, sticky marshmallow fingers and daisy chains in your hair.
It's off site where further activities can be found and there's enough to write your own guidebook. Three guidebooks, in fact: one for the coast, one for the Broads and another for Norwich, all of which are less than 20 minutes in the car. The city is best saved for any rainy days, when you can retreat into galleries, museums and cafés, while better weather can be spent boating on the network of rivers or pedalling around on two wheels. Arrive by bike and you'll even get a free bucket of firewood and a broad smile from keen cyclist Bernie. Smiles are generally extended to everyone though. Bernie's a happy man and the simple truth is, folks who camp at The Old Vicarage are very happy people.
Gallery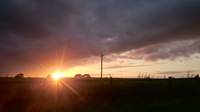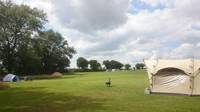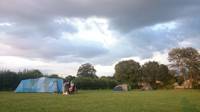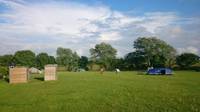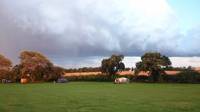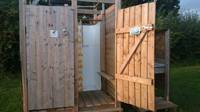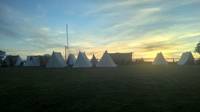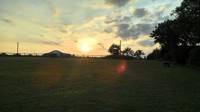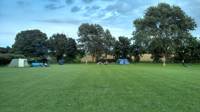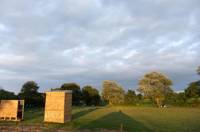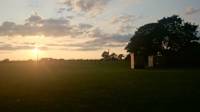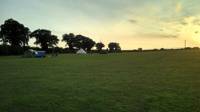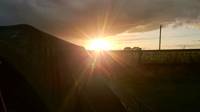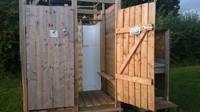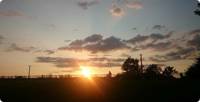 The Owner Says
Established in 2011, the Old Vicarage Campsite was created by people passionate about camping especially for people passionate about camping. We are a tent- only campsite, welcoming all forms of fabric accommodation; tents, teepees, wigwams, yurts, bivvys, swags, gazebos or even bedsheets tied between 2 sticks!
Reviews
Add Your Review
Lovely, quiet, dog friendly place with campfires
I chose The Old Vicarage quite randomly for our weekend in Norfolk and I'm very happy that I did! Lovely, quiet space with nice places to visit nearby. We loved the campfires (bring some firelighters with you though) and our dog totally loved the campsite - I think he secretly wanted to stay there. This was my first visit to Norfolk but I hope I will be back - and if so, definitely to The Old Vicarage.
Tranquil escape
We loved our experience at the Old vicarage. We have very set parameters we work in when booking a campsite. 1) Not over crowded 2) Dog Friendly 3) Open Fires 4) Lovely views 5) Good facilities The Old Vicarage ticked all this boxes and more. We loved the seclusion with a maximum of 15 pitches at any one time and the open fields surrounding us. Although you feel you are in the middle of nowhere the nearest shop is only a 10 min drive which means if you run out of anything you can get it easily. The only downside was that to access the public footpaths you need to walk on a road which is not ideal, but as the campsite is was not crowded and had lots of open space we just walked our dog Darcey (which loved making friends with Bernie's dog Walnut!) on the field instead of talking to the paths :) Will definitely be returning.
Peaceful little retreat
We stayed here with our 2 young daughters during the May half term and couldn't have wished for a more peaceful, calm and relaxing stay. The site is pretty basic but has everything that you could need. The braziers were a great touch and we used it everyday for our cooking and evenings warming our cockles whilst roasting marshmallows. Pitch your tent where you want and there's plenty of space as the owner Bernie limits the amount of campers so you'll always get an idyllically quiet stay. No cars are on site so the children can be free range with no worries. The site is perfectly positioned for a number of things to do, for example we did a boat trip on the broads, visited the beaches, and did some lovely country walks. The only downside is we didn't stay for longer!
Not such happy campers
We stayed with our 6 year old son for 3 nights (Tues to Thurs) in August and booked it based on the great reviews about it being peaceful, quiet and uncrowded. We agree that the site is in a lovely rural location and had good basic facilities and really good campfires/braziers. However, our stay was completely spoilt by the fact that the owner had taken a booking for a local music festival on the Friday and Saturday so on our final night dozens of campers arrived and completely took over the site making us feel very uncomfortable and causing queues for showers etc. On Friday morning when we were packing to leave, the site was over-run with people setting up the stage etc with vans and caravans making it unsafe for our child to play and making it very difficult to access our vehicle in the car park from our pitch. So overall we were not at all happy as it was not the quiet uncrowded experience we signd up for. In our view, the owners should avoid taking bookings from the paying public if they are booking the site out for big events. We were not even told about it on our arrival other than that a marquee would be being set up and there was no apology. Perhaps we were unlucky with the timing of our stay but be warned that you might not get what you were expecting!
Perfect break from city life
This place was EXACTLY what we needed for a three day break from busy London (and sorry it was only three days!). The campsite is in a delightful little field surrounded by gorgeous farmland as far as the eye can see. As it's a relatively small campsite, there's always plenty of space and resources are never too in demand. There are solid pits for fire provided around the field, and most of them were ablaze for the duration of every evening we were there. Bernie, the host, is a total charmer, and took great care of us and his site, paying us regular visits to check we were doing alright, and even bringing his new puppy along one day! Thanks to him, and how he's kept his campsite, the whole place has a beautifully calming atmosphere, and makes for a perfect break from busy city life. We can't wait to go back next year!
Washer uppers paradise.
Pretty perfect site. All of the boxes ticked beautifully, (including washing-up sinks, which are of great importance to me as I am a plate and find washing in a shower demeaning). Four campers all very very happy with our stay.
Beautifully sunny and spacious
Bernie and Harriet always look after us incredibly well, and they obviously look after the site just as carefully. The Bernie brazier cooked our meals and warmed us at night with Bernie having a drink and a chat with us, an all round amazing stay. Never crowded, so we could spread out a bit and still feel private. Other campsites seemed cramped and impersonal; if you've found that then go and find bernie's site!!
Wonderful car-free site with camp fires
We try to get in one visit to the Old Vicarage every year and it never disappoints. The location is great for all the attractions in Norfolk and lovely beaches like Winterton. The site is always well looked after and while the facilities are basic, they do the job and are always clean. The site is never crowded and you can pitch where you like. There are no cars allowed on site, so kids can play in the huge open areas safely. Bernie is always happy to help you and here is a general relaxed air to the place. There is now a fridge on site, which is very welcome. My one and only criticism of the site is that there is no washing up sink. There isn't much light pollution in this area, and there's not many things better than sitting out around the fire, looking at the stars with the gentle flickering of everyone else's fires in the background.
Win a £100 Blacks Voucher!
If you've stayed at The Old Vicarage Campsite campsite, please take a minute to tell us about your experience. Every month, one lucky reviewer will be picked at random to win a £100 voucher, courtesy of our recommended retailer Blacks. Each review counts as one entry, so get writing!

Best Price Guarantee, with no fees
Instant booking confirmation
Trusted for 10 years
A chance to win camping goodies in our regular competitions!
Book campsites near The Old Vicarage Campsite