Top Farm
Kittles Lane, Marsham, Norwich, Norfolk NR10 5QF







When you reach the unmarked road that leads down to Top Farm, you already feel you've strayed well off the beaten north Norfolk track. When you finally arrive, you're sure of it, as it couldn't feel more rural – a series of fields surrounded by woodland that radiate out from the farm buildings at its centre. What's more, it's situated, as the name would suggest, on one of Norfolk's few hills, so the views are great and there's an even greater sense of privileged isolation.
Once here you realize it's not all about tents. The central field is dominated by caravans, most of which never move – though there are a few spaces available for rent by the day or week. However, on the other side of the farmyard there is a lovely spot designated for tent pitches and home to ebullient owner Clive's latest wizard wheezes – an array of simple bukhouses, built from 100% recyclable (or recycled) materials. These nifty abodes are kitted out with electricity, heater, kettle and microwave. They're pretty basic, and not enormous, but the walls are six inches thick and they're fantastically well insulated so you can be warm and toasty all year round. There's also a brand new covered area ('The Sunshine Cafe') for barbecues and all-round eating and mingling, with a firepit and additional seating. Plus there are electrical hook-ups for tents, and a decent toilet and shower block just a short walk away.
For those more accustomed to the glamping rather than camping life, there's also the shepherd's hut, situated in perhaps the site's prettiest spot beyond the caravan field. The view over the meadow below is lovely and the hut is wonderfully cosy inside, with well-chosen linens and a wood-burning stove.
Despite the out-of-the-way location, there's lots to do in the surrounding area, and the best news is you can leave your car on site and just go walking and biking in the woodland that borders the site.
Gallery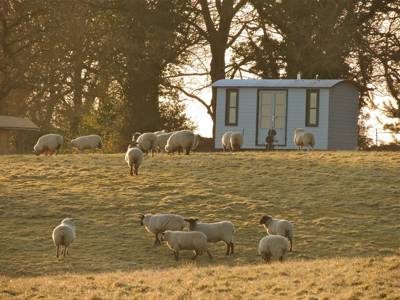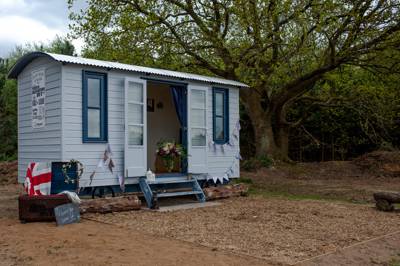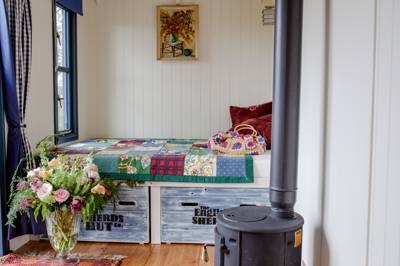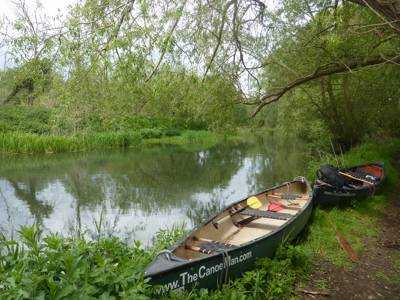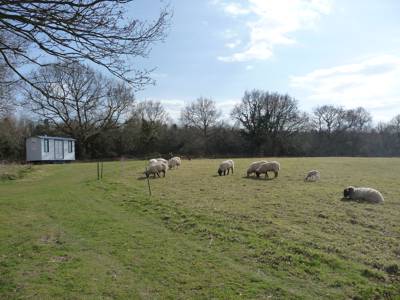 The Owner Says
Reviews
Sign up or sign in to leave your review of Top Farm
Bank Holiday Camp
It started off a bright and sunny bank holiday weekend and ended up in what can only be described as a hurricane. Clive was so so helpful and was on hand bright and early after we chased our tent accross the field, providing shelter, hot drinks and a roaring fire for us and all other washed out campers. The indoor shelter was invaluable and the communal picnic area and shelter provided a great place to eat away from the elements. The toilet and shower block were sparkling and the pitch sizes good. Will definitely be camping again at Top Farm, hopefully the weather will be a little kinder! 
nice
We recently stayed at top farm. Had a lovely time. The owner is very friendly and helpful. Although there is no children's play area there is so much space to explore and play there was a real feeling of freedom. The covered firepit area was a really nice touch and the toilets were always clean. The only downside was the showers only 2 for the whole site, rather run down feeling and £1 token for 6 mins. 

Very nice
We stayed here as a family 4 adults and 6 kids in two large tents with plenty of space around us. We all thoroughly enjoyed ourselves and the kids loved the wooden crocodile hiding in the trees. The showers could do with an update as they are coin operated showers in little wooden huts but then it does make it feel more like authentic camping. Nice time had by all and made to feel welcome but also left to get on with our stay without being disturbed. Would visit again if in the area. Very reasonably priced too
Jade
My Boyfriend and I recently stayed at Top farm for the bank holiday weekend. The site offered a peaceful retreat from the city and is set amongst farm and wood land. On site facilities were clean and the bunkhouse accommodation was comfortable and spacious. Despite the camp being at full capacity it was not overcrowded with ample space for pitches and plenty of toilets. Other campers and the owner Clive were friendly creating a comfortable community feel. We do not drive. However, transport links from Marsham into Norwich and costal tourist attractions were regular and the local area offered canoe hire, walks a steam train and cycle trails up to the broads/ coast. We thoroughly enjoyed our time at Top farm and would recommend it to families and couples alike.

Best Price Guarantee, with no fees
Instant booking confirmation
Trusted for 10 years
Chance to win camping goodies in our regular competitions!