Boating, biking and bell tent glamping on a farm near the Blackwater Estuary, where good food and walkable pubs are also on the menu
A few hundred metres from the sailing-boat-dotted salt waters of the Blackwater Estuary in Essex there's a farm that can do no wrong. It's home to some of the best fly-fishing in England, has a Michelin-recommended restaurant and an award-winning fine salmon smokehouse – plus a tea room and deli in an old barn space that will charm your socks off. The latest addition to this prime waterside spot? A camping and glamping site, of course.
Set among Chigborough Farm's 130 acres, the campsite is actually divided into a collection of different areas. There's a small tent and caravan meadow, a trio of beautiful pre-pitched bell tents and an individual safari tent in a clearing, reached (with a wheelbarrow full of your belongings) on foot. Separately, there's also a floating cabin, out on one of the farm's many sparkling lakes (accessed by row boat) and, for all guests, the likes of a games room, a playground and a dining and kitchen space to use.
Nudging the camping meadow, the pre-pitched bell tents have access to all the same facilities – including modern, wet-room-style showers – and are furnished inside with a proper double bed, soft furnishing and all the bedding and towels you need. In summer you can roll straight from your mattress, peel back the creamy canvas of the tent and step out onto the farm, sheltered by hedges on three sites, with views of open farmland and The Essex Wildlife Trust Reserve to the north.
It's an easy wander to the seaside – part river, part coast really, but very much with a nautical feel – where maritime images adorn the local pub, 400 metres down the road. Walk along the sea wall to find other watering holes or drive the five minutes to the likes of Heybridge and the old market town of Maldon just beyond. Not that you need travel far for fun. By day, pedalos and boats can be hired for tom-foolery on the farm's lakes and bikes are also available for off-site exploring. Then there's the deli, the gift shop and that award-winning fishing to try. Why leave to visit anywhere else?
Details
Facilities
2 loos and 3 wet-room-style toilet and shower cubicles a further 2 outdoor showers and washing up area on the non members campsite,  and a two portaloos for convenience at the far end of the non members campsite. Coin-operated washing machine. Fridge. Communal covered dining area with electric sockets, kettle and toaster, washing up sink and brick pizza oven. Log cabin fishery lodge (shared with fishermen) with a kitchen and undercover seating area Games room with pool, table tennis and darts. Outdoor play area and climbing frame. Boats and pedalos to hire with life jackets and fishing available. There's also a restaurant, a smokehouse, a pottery and a room used for yoga and therapies, which are all open to the general public. Paddleboarding and fly fishing tuition can also be arranged.
Suitable For
Tents, campervans, caravans, glampers, kids, dogs – yes.
Nearby
The farm itself is a treasure trove. Along with the food and drink options, there's fly fishing for trout, carp fishing in the main coarse lakes (please use the red 'book now' Button) and a Pottery and Painting Studio  There's also a converted space called 'Yogiswari' where you can try pilates, yoga and complimentary therapies. There's easy access on foot or bike to the sea wall by the beautiful Blackwater Estuary. Elsewhere, it's a 10-minute drive to the supermarkets and pubs at Maldon, where Maldon Promenade Park has a 'splash park' (watery fun for kids in summer) and crazy golf, rollerskating, bowling and soft play. Colchester Zoo is 25 minutes away. Tiptree Jam Factory (01621 815407) and Museum is about 15 minutes away. Pedallo's, rowing boats and kayaks can be used on site on Home Water Lake from 1st July to 14th September. Either hire from us or bring your own. 
Food & Drink
Michelin-recommended Rubino's Restaurant (01621 855579) is located on the farm and also The Black Pig Farm Cafe. A short walk down the lane and along the sea wall to Heybridge Basin, there's a choice of two pubs The Jolly Sailor and Old Ship,  and The Lock Tearooms. 
Open
Easter–End of September.
Why book with Cool Camping?
Best Price Guarantee, with no fees
Instant booking confirmation
Trusted for over 10 years
A chance to win prizes in our regular competitions
The Owner Says
Just under an hour from London, but feeling like a million miles away, Chigborough Farm is a tranquil and picturesque rural oasis on the North of the River Blackwater estuary near Maldon in Essex. The camping and glamping area is nestled in amongst 130 acres of arable land and fishing lakes, there are permissive footpaths throughout. It is just a short walk from the sea wall and the local coastal village of Heybridge Basin where there are pubs and a Wilkins and Sons tearoom. On site we have toilets, showers, games room, communal dining area with brick pizza oven, log cabin style fishing lodge over looking the lake, Rubino's restaurant, The Black Pig Farm Cafe, Lambton & Jackson Smokehouse, a pottery painting studio, a fresh fish shop, yoga, pilates and complimentary therapies. We offer accommodation in The Raft, Birdsong Safari tent, Grebes Nest and Woodpecker Pods, Carpers Cabin and Bell Tents and we also have a seasonal Camping and Caravanning Club Members site and a non members camping area. 
Accommodation
Regular camping, plus 3 bell tents, a safari tent and floating cabin.


Check Availability
Location
Contact Chigborough Farm, Chigborough Farm, Chigbourgh Road, Heybridge, Maldon, Essex CM9 4RE
Getting There
From the A12 from London exit at Hatfield Peverel. Follow signs to Maldon, then Goldhanger and Tolleshunt D'Arcy on the B1026. Chigborough Road is a small left hand turn as you leave Heybridge after Heybridge Basin (if you get to the Mill Beach pub on your right you've gone too far). Go down Chigborough Road and take the first gateway on the left, signposted campsite only, or, alternately, continue along Chigborough Road a little further and you will see the main courtyard of Chigborough Farm on your left hand side. Take the train to either Witham or Hatfield Peverel stations and get a taxi to the campsite (the taxi costs around £10). Arrow Taxis are our local firm. 
Reviews
Add Your Review
Rated ★★★★★ over 56 reviews
Lovely weekend camping in a tranquil setting
We greatly enjoyed our stay at Chigborough Farm, camping in Willow Camp which was tranquil and open. The farm has a great cafe, and Fish stall which we visited - excellent sea-food platters and all sorts of amazing fish. The facilities were generally good, although more toilets would have been useful. Overall it was a lovely experience and I would highly recommend
Lovely campsite couple of improvements would make it a 5 star
Great location near to Heybridge basin lovely walks along the river. Lake at campsite was great for paddle boards very picturesque and peaceful. Couple of minor details would score as 5 star. Not quite enough w/c facilities on site for number of pitches and by Sunday no Loo Roll available. We stayed when site was not particularly busy but bins area was over spilling which was a shame. Apart from that overall campsite was lovely and would return
Beautiful spot with everything you need!
We absolutely loved our trip here! The Bell Tent was beautiful as were the tent pitches next to the maze of maize! The facilities were great with a games room, kitchen, delicious farm cafe, kayaks and boat for rent! What more could you ask for - thank you for having us!
Chillaxing
We came to chill after a tough year. And that's exactly what Chigborough Farm did for us……… totally relaxed after our stay. The owners were friendly and helpful, our pitch was excellent. The facilities spot on, and oh that lake. We sat by it and watched the wildlife, go by. We paddle boarded, and had the lake to ourselves. We would highly recommend Chigborough farm to anyone and everyone as a go to place to chill. Thank you
Response from Chigborough Farm
Thank you so much for your glowing review. We're so glad you enjoyed your stay. 
Pleasant site
, Reasonable cost, CCC, CS pitch, Good size
Response from Chigborough Farm
Thanks for taking the time to leave a review.
We stayed at the woodpecker and it was amazing
The Woodpecker was so comfortable and had everything you could need. We had friends staying in a tent onsite and they spent all their time with us on our veranda, making use of the gas BBQ! Great place to have a family get together and our dogs loved it. The staff at the site were very helpful and excellent customer service. Such a lovely place for our 9yr old to run around and play in a safe environment and make new friends.
Response from Chigborough Farm
We're so glad you enjoyed Woodpecker Pod. Thanks for taking the time to leave your great review.
Beautiful site, lovely stay!
We had a lovely few days at the site, the location was peaceful and beautiful surrounded by lakes, a maze, horses and other wildlife, idyllic! Check in/check out was simple and efficient, the on site facilities are brilliant with hot showers, a kitchen, games room and free electricity. The site is also only a 30 min walk from the nearest seaside town where there's a number of lovely pubs, would particularly recommend the Jolly Sailor. Thanks for a great visit, look forward to coming back soon!
Response from Chigborough Farm
Thank you so much for a great review. We're so glad you enjoyed Chigborough and the surrounding areas. 
Lovely simple campsite next to nature
We had a lovely couple of nights in our campervan; the electric plugin helped us keep the fridge on! It was a bit rainy, but we still managed to enjoy the Maze, the playground for my 6-year-old, and walks around the beautiful lakes. We saw starling murmurations on both evenings we were there, lots of rabbits and birds. The local cafe on-site does great burgers and lobster. Maldon was great for a visit as was Burnham on Crouch.
Family friendly weekend
We had a wonderful stay this weekend at the campsite. The local fishing ponds are beautiful and the campsite was quiet, clean and perfect for our weekend with 2x families and 3 little kids under 5 years old. The facilities were clean and tidy and we had everything we needed. The little play park was great for the kids and they loved splashing in the water in the beach nearby. In general everyone had a lovely time. The only point I would make for families of young children is that we walked down to the beach along the road and found that the road was really busy and there wasn't very much space for walking at the side of the road. Unfortunately I would probably recommend driving to the water side for road safety. Apart from that it was a simple but spot on camp site :)
Wonderful tranquil campsite
I stayed here for 1 night last year passing through, loved it and booked again for longer this year. We've just come back from a wonderful 3 night mid-week stay. There is lots of space and everything is simple and clean. It feels like you are surrounded by nature and birdsong. We stayed on the Willow campsite and sitting outside our tent in the evening watching the sunset and starling murmurations was magic.
Beautiful Area, Great Time
Me and five others had a great time within our two day stay at Chigborough farm. From the facilities to the area itself, we found the whole experience fantastic and one to remember. Our only grief was that the non-members plots don't have any electrics, and so we all had to go on a run to the shops for some portable chargers. Overall however, we had a great time and would recommend.
Lovely relaxing setting
My sisters and i enjoyed 5 nights on this lovely campsite. We got a warm welcome from Lee and Jackie; they were looking after the site for the owners, who were away. The setting near the lakes is amazing and great for dog walking and the pitches are large enough for a couple of good sized tents, plus a 3mx3m gazebo. You can enjoy a fire at night, which i love. It was great to have access to table tennis and poole but i didn't know where the darts were? Accesses to fridges and freezers was handy for a 5 night stay and there are several areas for covered dining if the weather is poor, plus a pizza oven. The washing facilities were basic but adequate, clean and spacious; the site could do with a few more washing up sinks, a small shelf in the shower and some mirrors! Overall a thoroughly enjoyable time. If you visit definitely book to eat in Rubino's Kitchen next door; the tasting menu and flight of wines was incredible. I would definitely go back to both this site and the restaurant.
Friendly, quiet, well set up campsite
We have just enjoyed a fantastic weekend at Chigborough Farm! Information, communication and directions on the run up to our stay were excellent, with fast and clear responses to any questions we had. The site itself is lovely; the lakes are beautiful, and the camping area had good flat pitches and easy access to water and facilities. The play area and games room for the children was great - we didn't see our boys for most of the weekend! But they were nearby and it was easy to keep an eye on them. Would highly recommend this site for a relaxing getaway, and it's in a great location with a beach within walking distance and Colchester and Mersea only short drives away.
Response from Chigborough Farm
Thanks for your glowing review Sue, we're so glad you had a relaxing weekend. 
Tranquil, friendly and luscious camping
We had an extremely relaxing and enjoyable time a Chigborough. Lee and Jackie were warm and beyond helpful at all times with advice and a personal touch. The lake is stunning and really fun to do a boat ride. Beautiful nature to explore for families. Definitely recommend for the keener, well equipped camper. Incredible outdoor showers!
Response from Chigborough Farm
Thanks for your kind comments. We're so glad you enjoyed your stay. 
an impersonal experience
Given a code to get in - very impersonal - spiders had had a party in the shower block - loads of lovely webs - no local info. Of all campsites I have stayed in in May 21 - this has been the most disappointing.
Response from Chigborough Farm
Hi Nell, we are sorry you didn't enjoy your stay. All guests are automatically sent a link to the online welcome book which is packed with local info and encourages you to download the Chigborough Farm App so we are always virtually by your side.  I wonder if you failed to see this. For future reference if campsite facilities are not up to scratch it's always better to report to the owners whilst you are there so that we can do something about it. We have signs all around our site asking guests to alert us to any problems...we live on site and can act immediately. I would have been very happy to have popped in and relocated the spider family who upset you. 
Really relaxing for grown ups and lots of fun for kids
The campsite is in a lovely settng surrounded by fields and the fishing lake at the entrance, very peaceful setting but dog friendly and definitely child friendly. Had a great time as 2 families with the kids entertained in the play area and with the other friends they made across the campsite, grown ups got some time to relax whilst keeping an eye on the kids. Perfect place to unwind with other friendly and easy going campers.
Peaceful Site with Beautiful View of the Lake
The views across the lake were lovely, even in the rain! Facilites still not open fully until after this week end but did not cause any problems. The pub across the main road is completely shut so no longer relevent to visiting. The sea wall walk is worth doing, and a visit to the Maldon Smokehouse is highly recommended. Only stayed one night in our Campervan and will certainly visit again.
Beautiful, quiet, cracking sunsets
We stayed here for a couple of nights over the bank Holiday. What an amazing place, if you fish, the ones we saw jumping were huge and we were offered the chance to learn to fly fish (maybe next time). A short walk to the river estuary and you can walk from there to the local town totally off road, where you will find a good selection of shops and the smallest Asda I have ever been into. On the site there is plenty to do for children and boating is possible on the lake July to September, I think. It was only a couple days but we would've liked to stay longer so we will be back
Magical weekend
An enchanting campsite where we hung out with herons and swans and heard about a 6 foot catfish that was lurking in the lake. 10 minute walk to the sea with a great cafe for morning coffee overlooking the beach huts. We had a lovely time. Thank you.
Idyllic location, wonderful facilities
We stayed in the Woodpecker pod. So cosy, just enough luxury, heavenly location. Woke up to to views of lake with swans, geese, jumping fish. Pod well equipped, fridge. Sink, microwave. Gas now and verrandah very welcome. Ok, so loo is a little walk away...not a complaint, more a sign of our age! Would recommend whole heartedly...welcome gifts of wine, local jam etc show how much owners care. Lovely villages nd walks just 15 mins from site. Perfect escape for a weekend.
Response from Chigborough Farm
Hi Kate, thanks for your lovely review. We're so glad you enjoyed your stay. If you visit again, (after May 21st) hopefully we will be allowed to have our communal facilities open which are much closer. Thanks again, Sam 
Beautiful location
Beautiful location, good service, worth coming for few days as a lot of things to explore around. We booked the camping pitch with the tent, but fell in love with the floating little house on the lake. Next time we are going to book it for sure!
Beautiful natural and unspoilt.
Suffice it to stay that I booked for one night and am staying for eleven! Such a great place to stay. I enjoy the geese flying over and the quack of the ducks and the simplicity of the facilities. but with lots of amenities nearby. Great for someone like me who lives in the city but yearns at time for the countryside. I'll be back!
Beautiful and quiet
We had a lovely 4 days plenty to see and do within a few miles, lovely roomy pitch,and a pretty lake ,where people were enjoying paddle boarding, one to put in the diary
Excellent campsite
Had a lovely weekend camping. Lots of space and great location.
Lovely location, let down by poor facilities
Chigborough Farm has all the potential to be a great campsite; the location is lovely and pitches are spacious and quiet. What let it down was the facilities, there were insufficient toilets and washing up facilities even with reduced numbers staying due to COVID. Both the toilets and washing up area felt like they could do with a good spruce up as they were pretty poorly maintained and didn't feel that clean. The new showers on the other hand were great but again there could have been more of them. We were a group of seasoned campers and are used to basic facilities at campsites but these just weren't to standard.
Brilliant campsite
We stayed here over the Bank Holiday weekend and despite Covid restrictions, pouring rain and lots of strong winds, we had an amazing stay. The lakes themselves are pretty and well kempt. The campsite was flat - seems a simple thing - but makes a big difference when you're pitching tents ! and there was lots to keep 12 - 15 year old kids entertained. We didn't try the pizza oven because there were pubs in walking distance but would give the camp kitchen a go next time. Only down side was the queues for toilets, showers and washing up - and this was when it was not full so a busy sunny weekend could be a challenge. Loved it !
Beautiful and spacious
We stayed for four nights for the first time at Chigborough Farm in August 2020. Having stayed at various other campsites in the past Chigborough has much to recommend it. The pitches are spacious, with the campsite not feeling packed. The children's playground is a great focal point for the kids to meet and to play in a safe environment. The pizza oven was a great surprise find. We hope to return again next year and would hope that the toilet facilities (which were always clean during our stay) and dishwashing facilities might be further extended to reduce the queues at those busy times. Overall a great campsite!
2 Night Stay
I arrived with my son for a boys camping experience, we had a pitch in the no electric side right near the maze. I felt that the facilities could be better, at busy times they were no loos available as located in the showers with one portaloo which was really a no go! Outdoor showers were fabulous. The Maze was fun but the lakes and the boating fantastic and great communication from the owners. Over the two nights we had two large groups playing music and shouting till way passed midnight ( 10pm curfew was not enforced) Very good location to Heybridge Basin. Overall not a bad site, facilities could have been better.
Lovely location.
Beautiful location, lovely facilities especially for families. Sadly we never got to stay the night as we had a nightmare with our tent. The other people staying there were not very helpful and even walked across our tent as we were fighting to put it up. Nobody really offered to help and we felt uncomfortable asking for assistance. The other guests seemed very rude and hostile, we felt like our faces didn't fit. This is very sad as the surroundings were gorgeous, and the pitches really impressed me. Sadly the other people staying there were not nice, but this isn't Chigborough Farms fault.
Great site - stopped overnight but will certainly return for a longer stay!
Enjoyed walking round the lakes and had a lovely meal in the restaurant. Chilled out vibe - thanks for the stay!
Dog Friendly Glamping
Water sports galore - kayaking, SUP and swimming. Great week away on the site. Loads to do and friendly staff.
Family camping
A lovely place to stay, great for having a dog, lake is so beautiful. Facilities are good, although I would recommend bringing own toilet roll as it often ran out. Outdoor showers were really good. Some pitches were close together with the electric hook ups. Shame there was no freezer to use. Overall, though I would go back.
Fantastic campsite. Great, clean facilities, beautiful site, friendly campers, helpful staff. Absolutely recommend and will be back again soon
Clean toilets, beautiful lake, hassle free camping
Absolutely Amazing place
Suspended: Duplicate
We did our first camping experience in here and absolutely delighted. It's a lovely quite place around the mini lakes. Facilities were good. Other visitors are very friendly, lovely family environment. We had very good time. I definitely recommend this place to anyone. Many thanks for this opportunity.
Really lovely pod, basic shower facilities.
We stayed in Woodpecker pod which was really lovely and well equipped with comfy beds. The shower and toilet block was very basic. We were disappointed that the cafe/ deli had closed so there was no shop on site. The area is stunning and it's a few minute walk to the sea wall.
Beautiful Site
Just got home from a nice weekends camping, lovely site, very well looked after, very clean, and some lovely touches all around. Have just booked some more time away there. Can't wait to go back.
A great site located in a beautiful area but sanitation and Covid security could be better
We camped in the Willow field which is a great camping field. It's flat and clean and quiet (away from the children's playground) and they allow open fires in fire pits (with logs available from the campsite). The setting is beautiful and the surrounding area has lots of opportunities for walks and cycle rides. It's a four minute walk from W1 pitch in the Willow field to the main toilet/shower block but there are new shower sheds on the Willow field which are great and more convenient. There is also one portaloo on the Willow field but surprisingly there is no running water to wash your hands at the toilet - so you either walk to the main toilet block to wash your hands or you do it back at your tent with whatever washing facilities you've brought with you. We witnessed a masked and face shielded cleaner cleaning the main toilet block which, along with the contactless check in gave me a degree of confidence on Covid security, However, to get in and out of the Willow field you need to open a large metal gate and there is no hand sanitiser available there. I didn't see hand sanitiser anywhere else either so you either carry your own or keep walking back to the main toilet block. There are no hand dryers in the toilet block. The restaurant near the site is really good but otherwise you'd need to be fairly self sufficient with food and drink - which is the whole point of camping isn't it? !!!
The Grebes nest, floating glamping pod on the lake
We've just left from our two night stay at the Grebes nest and it's been absolutely wonderful. We don't have a single bad thing to say, from the private toilet facility to the rowing boat that was secured to our pod, everything was spotlessly clean. The decor is thoughtful and in keeping with the incredible surroundings. Will definitely recommend to everyone wanting a little unique get away.
The experience was very pleasant and relaxing. It was a well tended site great too for young families.
Bearing in mind we have just had restrictions lifted every body staying there was very responsible, the hosts were Friendly and helpful. Facilities were clean and tidy. Great spot as there is a beach not far from the camp site.
Lovely site
We stayed on the Willow Site (non members) which was nice. Spacious pitches and everything you need close by. The lake really is beautiful and you can hire rowboats which we enjoyed. You can buy some very tasty smoked salmon from the deli on the farm, and there are some nice pubs fairly close by. It's a nice walk along the seawall to get to the Jolly Sailor. The owners were very helpful. Overall we loved it and had a great time at Chigborough Farm.
Lovely weekend away
Had a great time at Chigborough Farms. The eating area with the pizza oven was really charming, and the games room was great for an evening round of pool. The corn maze was another nice touch and the hosts were very friendly. Makes for a perfect weekend getaway from London.
Lovely campsite
Stayed at the willow campsite lovely campsite good facilities. Great for fishing walks and getting back to nature. The hosts were so helpful couldn't be more friendly and helpful.
Basic campsite
The site has great potential, it's a lovely location, but there are some real negatives I'm afraid. The lavatory facilities are woeful. There are three unisex loos for the whole site. They double up as wet room showers and are accessed from doors in the games room. This means that there are people playing ping pong on the other side of the partition! Ping balls rolled under the door while I was using the loo. There were often queues for the loos, particularly in the mornings when they were being used for showering. The washing up facilities are horrible. There is an old chipped, stained Belfast sink and no drying rack. The site needs closer supervision. We didn't see anyone from the management, at all. There was no information available about local attractions, walks etc and no reception area. The rubbish bins were not emptied while we were there, so rubbish was piled up and began to smell. The rubbish bins were located right next to the fresh water tap so collecting drinking water was not a pleasant experience. The management of this site needs to get busy, there is a lot of work to do. This was not shabby chic, it was mucky.
Peaceful setting, great facilities
Stayed in the non club camping on willow farm, you have so much space per pitch, it doesn't feel boxed in. Beautiful walks all over the site. The facilities were great, showers really good, some of the best ones I've used whilst camping.
Lots to do and peaceful
We spent 2 nights on the campsite. Pitches are a generous size and the setting is beautiful. Lots of facilities on site without it being overcrowded or too noisy. Very relaxing and an enjoyable weekend. We walked along the path to the Jolly Sailor pub in Heybridge for some food which was great. The showers / toilets are within the wet room and this meant the bathroom floor was often wet and muddy. More squeegees would be helpful or a mop for people to use to keep it more clean and dry. Other than that it was a great site and would use again.
Fantastic experience
Weve pitched a tent quite a few times now at Chigborough Fisheries & absolutely loved it! Everytime we've been the campsites are very spacious even with a lot of people & whenever we needed something the workers on site were absolutely lovely. It's such a wonderful place for kids as there's, trails, a corn maze, fishing, and beautiful lakes around! Definitely will be coming back again and again!
Lovely rural location with good facilities
We loved the fire pits, the lake with its ducks, geese and dragonflies, the maze, the cafe nearby, and the friendly owners.
Lovely lakes, rowing boat great place
Nice camping trip will definitely come again
Blissful visit at this quiet, pretty campsite
We spent an impromptu night at Chigborough in our campervan and wished we could stay longer. It was a secluded flat field with only a couple of other tents in and a real sun trap. We enjoyed the fire bowl and an epic dinner at the Rubino Kitchen just minutes walk away. Will definitely be heading back there to spend more time chilling by the fishing lakes and maybe to sample one of the very luxurious looking bell tents or the floating hut on site. Can't recommend highly enough!
Lovely stay, toilets & showers were clean
Stayed for 2 nights, only one other tent in the field so plenty of choice of where to pitch the tent. Friendly owners and horses woke you in the morning 🙂. Idyllic location very peaceful.
Perfect campsite
We have just spent Easter weekend at the campsite and it was everything we could have wanted & more! Lovely location with lakes to walk or cycle around. Plenty of space without a sensible number of pitches so you are not squeezed in. Good showers, lovely outdoor kitchen area, games from. The restaurant is amazing! We will definitely be back. Highly recommended.
Chilled out, beautiful experience
Lovely relaxed campsite surrounded by beautiful lakes and more daisies than I've ever seen! Would definitely go back
All of it
I went camping here at the weekend the owner's have put a lot of thought into this place and I would definitely go back the only thing that recked the weekend was the weather constant rain for two day's but the owner still went the extra mile well done owner's
Relaxing holiday in a peaceful setting
We stayed in the kingfisher tent which was very comfortable and close to the amenities. Sam and her family were friendly, helpful and accommodating. The communal tent that was pitched in the field was really useful for cooking and under cover dining. The games room was well equipped, toilets clean, fab pizza oven , lovely grounds. Overall a great time away with the family. Thank you Sam and family!
Great experience
We stayed here for two nights at Kingfisher and the weather was very warm the tent is warm and comfortable and toilets and showers are clean there is also a great games room where you can play table tennis
Camping in style - Tranquil Essex oasis
We booked the Oystercatcher and Pheasant bell tents for two nights. The tents were really spacious and the beds were very comfortable. Facilities were great. It was great arriving and not having to pitch our tents as the camp was already set up. We loved the fact there were no cars on the glamping site and we ferried our belongings from the car park to the tents in a wheelbarrow. The owner was also extremely helpful in carrying our kit on her motorised buggy. Leaving us with lots of information on where to go and what to do. We loved the little touches on the site; the solar lamps, complimentary wood basket and fire pits and what to do and where to go. We had the field to ourselves (two families with young children) the first night. It was very peaceful and exclusive! We had a very relaxing and enjoyable weekend. I'm a converted glamper! We will definitely be back.
Response from Chigborough Farm
Thank you for your kind comments. We are so glad you enjoyed your stay at Chigborough and hope to see you again soon.
Why book with Cool Camping?
Best Price Guarantee, with no fees
Instant booking confirmation
Trusted for over 10 years
A chance to win prizes in our regular competitions
Book campsites near Chigborough Farm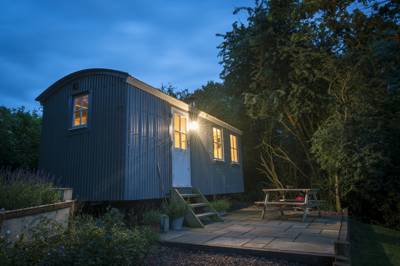 Glamping in Brightlingsea
Glamping in Essex
Glamping in East Anglia
Available:
2 Shepherd's huts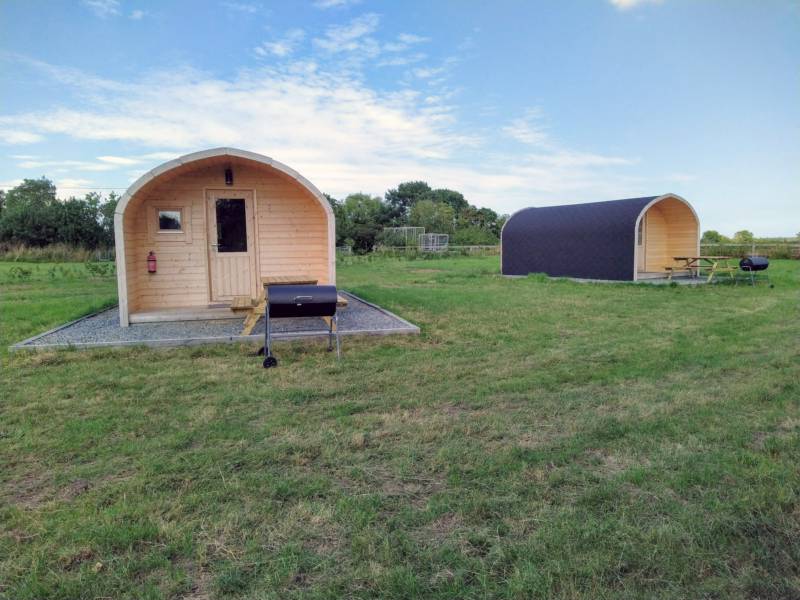 Glamping in Maldon
Glamping in Essex
Glamping in East Anglia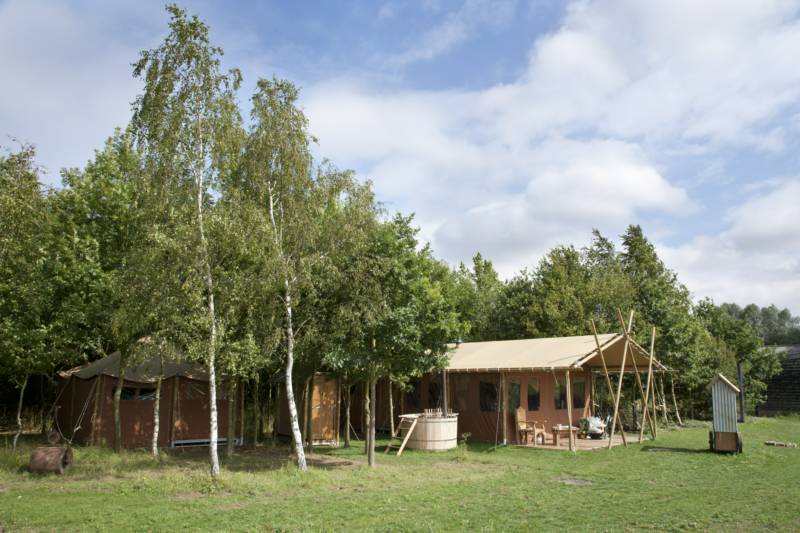 Glamping in Colchester
Glamping in Essex
Glamping in East Anglia
Available:
2 Safari tents