Book campsites near Karma Farm Eco Campsite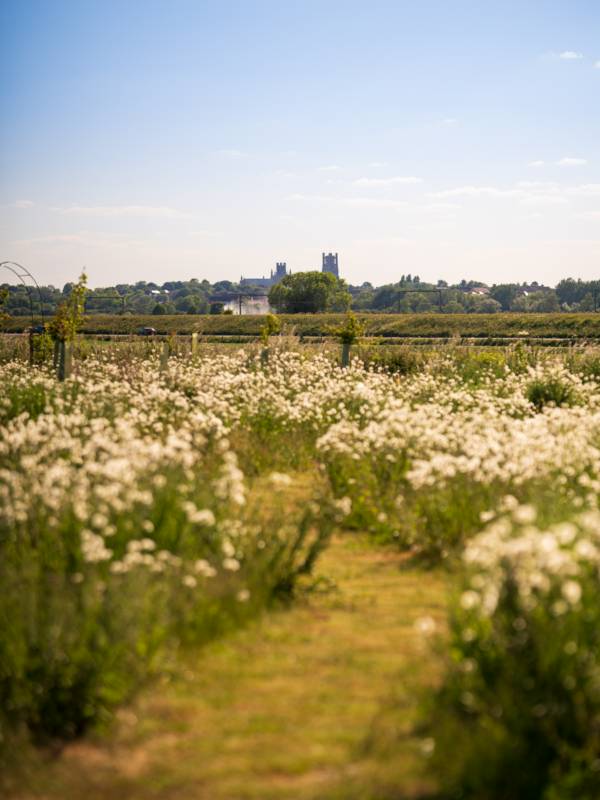 Campsites in Ely
Campsites in Cambridgeshire
Campsites in East Anglia
Available:
20 Pitches
1 Cabin
3 Timber tents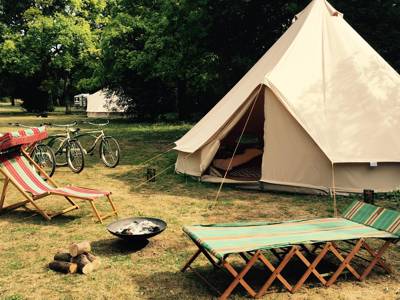 Glamping in Thetford
Glamping in Norfolk
Glamping in East Anglia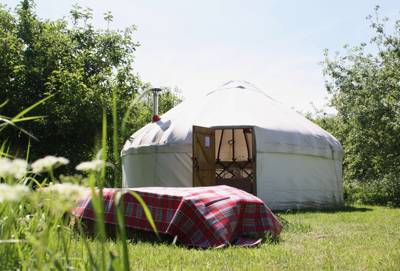 Campsites in Cambridge
Campsites in Cambridgeshire
Campsites in East Anglia
Available:
3 Pitches
1 Bell tent
1 Yurt or Ger
...
A small, sustainable campsite in the Fens that will bring eco-conscious campers good karma
Will Taylor bought the land here a generation ago and built his farmhouse from scratch: a carbon-neutral, turf-roofed dwelling that must have seemed quite revolutionary at the time. The low-impact eco-house sets the tone for the rest of Karma Farm, which straddles the Suffolk-Cambridgeshire border. The campsite occupies a pretty spot by the side of the river Lark, with 40 unmarked tent pitches – visitors can simply stroll around and choose the nook they most fancy. There are also a couple of yurts, furnished inside with king-sized beds made from the farm's own wood, and a three-berth wooden clad cabin, with its own en-suite facilities. 
In keeping with the rustic vibe, campfires are permitted, with wood available at the farmhouse. There's a games field and covered shed for rainy days, plus a brand new block of washroom facilities, including a large shower room into which you could fit your whole family (or a very friendly group). 
But perhaps the best thing about Karma Farm is its location right by the river. A track follows the river for seven miles to Prickwillow, while in the other direction a path takes you to the Jude's Ferry Inn about two miles away – choices to be considered over a breakfast of Will's free-range sausages and bacon.
Details
Facilities
Campfires allowed. Facilities include 2 toilets, 2 hot showers, 1 solar shower and 1 propane-powered shower pod, plus a portacabin with extra toilets and washbasins. Bikes available, for a donation.
Suitable For
Tents, campervans, caravans, groups, dogs – yes.
Nearby
As well as the walks and cycle rides along the river, and birdwatching on site, both Wicken Fen and RSPB Lakenheath are a short drive away.
Food & Drink
The village of Isleham is a 20-minute walk and has shops and 2 pubs, The Griffin (01638 780447) and The Rising Sun (01638 780741), both of which do reasonable food. There's also a relatively upmarket restaurant, the Merry Monk (01638 780900), which Will says is good. You can also walk to the Jude's Ferry pub (01638 712277), a lovely 2-mile walk along the river.
Open
April – October.
Family Friendly
Walk on the riverside, cycle to Ely cathedral or follow the children's trails at the local nature reserve. The famously flat fenlands have a surprising amount to offer and eco-friendly Karma Farm is the perfect base to begin.
Location
Contact Karma Farm Eco Campsite, Karma Farm, 8 Fen Bank, Isleham, Ely, Cambridgeshire, CB7 5SL
Getting There
Take the A14/A11 and, roughly halfway between Newmarket and Barton Mills, take the B1085 north (signposted Freckenham) to Isleham. Drive through the village, bearing left down Sun Street past the post office, and make a left down Waterside; the site is a mile down the track.
Reviews
Add Your Review
Rated ★★★★★ over 12 reviews
Amazing Place for Camping with Family
The owner of this place is really friendly and helpful. The place is a gem and we would highly recommend it to anyone. If you are looking for a family friendly camping site, peaceful surroundings with good amenities then this rustic cool campsite is for you. We will be going there whenever we get chance to camp with the kids.
Great campsite
Great campsite, very friendly host. Thanks, will be back!
Amazing Karma
This is an absolutely fantastic campsite - the owner, Will is the most friendly & genuinely caring person. A friendly greeting was given & many helpful tips along our stay. He has created a welcoming & relaxing place to stay. Combining idyllic settings with natural sounds of birdsong with big, open skies. It is the perfect place for adults and children alike to relax & enjoy nature. Don't expect any gimmicks here - but do look forward to many thoughtful touches- Will has a level of ingenuity that really reflects his true commitment to the environment- this is a genuinely amazing place, well run by a sincere & wonderful man
Bottle Bank
Reference the 'Disappointed' from Sparkie. I would like to point out that the full bottle bank was not down to the fault of the site, it was a problem with collection service. No problems with any other services
Good Karma
We really enjoyed our stay at Karma farm The description is accurate. Loved the shower pod. For lighting our camp fire we needed assistence from Simon (of Simons field :-) 5 stars, hands down.
Good Karma
We loved the stay at Karma farm. To get the camp fire lighted we needed help from Simon (of Simon's field :-) The description is accurate; if you enjoy real camping, definitely go and stay here. And enjoy the shower pod! Lovely!
Disappointing
We arrived expecting an Eco campsite as described however the showers and all other water heating appeared to be gas fired and there was only glass bottle recycling which was overflowing. The whole site felt neglected and down at heel. I would not recommend this site and feel that the term "Eco" has been misused.
Great Place
I have just spent a couple of nights at Karma Farm Eco Camping site and it is exactly that. Really enjoyed my stay there, its near enough back to basic camping as I like. Toilet/ Shower facilities basic but clean, outdoor washing area, clean. All in all a really nice place to stay for the peace and quite. your very close to the River Lark and the flooded washes where there is an array of birdlife. While there I saw Canada Geese, Barnicle Geese, plenty of Swans, Avacet, pair of nesting Oystercatchers, Heron, a Little Egret. At night sitting in front of a log fire drinking a beer, watching the geese fly over, what more do you want. I am a solo camper who found the place to be friendly, laid back and clean. I thoroughly recommend and will go back time and time.
Great stay
I recently stayed in the large yurt with a friend and our children. This site is really nice and the yurt was very comfortable. The facilities are okay, having a flushing toilet was a bonus and the camp had a lovley laid back feel about it. Will the owner is really nice and very helpful. We enjoyed exploring the local area and making our own campfire. The only down side for us was a loud family on the second night who seems to talk and sing loudly all night, although I am sure it wasn't. All in all a great time and we would return.

Quirky back to basics camping
We've just returned from a long weekend at Karma Farm, arriving on Saturday and leaving on Monday, much to our four-year-old's dismay - he would have stayed all week if possible. Our pitch in Cecil's Field among several other tents with young families – you just turn up, fill in a form in the reception hut (a handmade timber affair resembling a small wagon), and find a spot – was ideal. Plenty of space, room for a camp fire in one of the metal trays or fire bowls scattered around the site, and like-minded souls to chat with while the kids made dens in the woods, played in the activity barn and generally had fun. Dotted around the site are two yurts, a log cabin, secluded pitches among apple trees, bird hides, several loo/shower options in various home made structures – especially liked the converted horse box that now houses a shower – and assorted play equipment including bikes.

We went to Jude's Ferry pub on Saturday night, where the setting was lovely next to the river, though the food was average. Sunday we cooked our own on the barbecue-cum-fire tray, which was a much more relaxing event.
Thoroughly recommend Karma Farm - owner Will has created a gem of a site that offers proper camping. The whole set-up is very relaxed with an honesty-box approach – work out what you've used/how long you've stayed and put the money in the box when you leave. Will was on site several times during the weekend, chopping wood for camp fires, dealing with recycling and willing to chat. We'll definitely be back.
Perfect!
I recently bought a 1980s VW campervan and wanted to try a night camping somewhere not too far from home, but also a site that allowed campfires, had an ecological leaning, was small and friendly, and had a variety of types of camping spaces.  Will's campsite fit the bill to a tee! We drove into the site with the van about to die on us, and were warmly welcomed by Will, who walked us round the site, and possible areas to choose from to park up.  As we were staying only the one night, we didn't need a hook up (there are 4 on site), and had a lovely spot out of the way near the yurt and log cabin. 
Will has built his own turf-roofed sustainable home adjacent to the site, and is on hand to help with information about the local area, providing wood for the campfires, amongst other things. The campsite is very laid back, simple and yet all you would need for rustic camping.  Very much trust orientated, with honesty box and self-registration. Pay on leaving.  
There's a local Co-op in Isleham, for general supplies, along with 3 pubs of varying fayres, Merry Monk serving good food (although closed for a few days whilst we were there), the Griffin and the Rising Sun.

If we'd stayed longer, we would have managed a wander down to the Jude's Ferry Inn, and also a wee dip in the river, where it's possible, plus a bit more exploring around the local area and getting a camp fire going.  Some things on the list for our return visit! 
Loved it!
Thanks to Coolcamping for helping me find this treasure - just my kind of informal laid back super friendly feeling place. I enjoyed a really great evening here mooching about the site, pleasurable walk for supplies into Isleham then settle down to breathe in the campfire smoke, enjoy a solo supper by candlelight and a fab nights sleep under the dark skies with noooooooo sounds at all other than the wildfowl coming into land and the breeze rustling through the orchard trees :-) Thanks to the farm owner for giving access to like minded rustic souls.