Cloud House Farm Glamping
Finca Casa Nube, Genalguacil 29492, Malaga, Andalucia Spain










Chic Mediterranean glamping with stunning views
There are yurts and there are yurts – and as an experienced glamper (don't remember the careers advisor ever listing that one!) Cloudhouse is in the "truly exceptional" bracket, paving the way for the new generation of UK glampers to warmer climes.
This author's kids have grown up cool camping and are as well accustomed to staying in tipis and yurts as they are under more the traditional forms of canvas and, er nylon. So, worried that they might declare being "yurted out", it was with slight trepidation that we hauled them onto a cheap flight to Seville in the early hours of a drizzly English June morning.
How wrong (thankfully) we were. From the moment our plane broke through the clouds to reveal the Spanish landscape below, the kids were excitedly yelling, "we can see Spain, where's our yurt?"
Three hours after clambering into our frighteningly lime-green hire car we were sitting in the most beautiful garden of wildflowers outside our Cloud House yurt, drinking ice-cold "cerveza".
I say three hours. It only takes about 2 ½, but we stopped at the fantastically old-fashioned "super-mercado" in the (typically) whitewashed village of Algatocin. As well as the fresh melons, avocado, tomatoes, bread, wine and the all important ice (the yurt fridge is an ice-box) we could have bought the most fabulous terracotta crockery, if only our baggage allowance would have allowed.
A note on driving in Andalucia – once you've got to grips with being "on the wrong side of the road" in a strange car, on mountain hairpins, it's actually a dream. There's so little traffic around and the views as you climb further up – then down, then up again, into the Rio Genal Valley – are outstanding.
We spent our time swimming in river pools, eating out under the stars, waking up to the sound of bird-song so piercing it seems otherworldly, and eating the freshest, sweetest oranges you will ever taste.
Cloud House can be any accommodation you want it to be, because of its amazing, remote location. It's an "outside the box" self-catering holiday, with acres of space to explore and play games in. It's rustic outdoor living, with endless hiking opportunities. It's a luxurious boutique retreat, with great eating experiences only 20 minutes drive away. It's a place to blast out your fave ipod toons, or perhaps just meditate. Either way, however you use it, once you've been, you'll wish you were there right now.
Gallery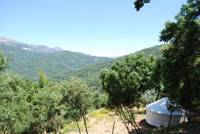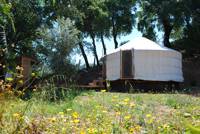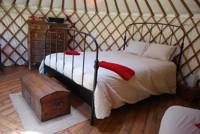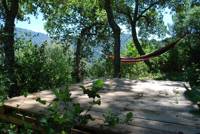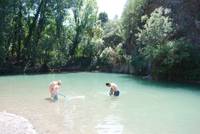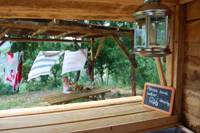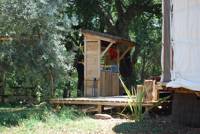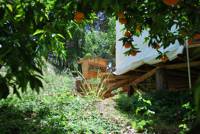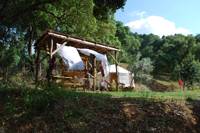 The Owner Says
Cloud House Farm is a secluded mountain yurt hideaway located deep in the hills of the Andalucian Rio Genal Valley just 1hr from Ronda close to the white washed village of Genalguacil and set against the spectacular backdrop of the Sierra Bermeja Mountain range.
Perfectly located for adventure and discovery amongst Andalucia's most spectacular hiking routes, Cloud House Farm offers a unique yurt holiday experience way off the beaten track.
Featuring its own natural spring, the yurts are completely off grid with solar panels as their main energy source.
Cloud House is ideal for those individuals, couples and families wishing to truly escape from it all, to reconnect with nature and explore a yurt sanctuary amongst the trees, where river pools and rope swings are never too far away.
Set within 17 acres of mountainous cork oak forest, our handcrafted Mongolian Yurts offer an intimate haven amongst the trees.
Here you can enjoy the thrill and tranquility of sleeping under canvas in a luxurious felt lined Yurt complete with its own access, wooden deck platforms, private outdoor kitchen and shower house.
Click here for bookings.
ABOUT:
Cloud House Farm was once a family owned working farm that was abandoned and left to diminish under the creeping and entwining vines. Seven years ago we began our epic adventure to set about the enormous task to restore and breathe new life into this unspoilt and unique paradise.
Set within a mountainous forest of cork oak, olive and chestnut, Cloud House Farm offers spacious tranquility that can be exclusively enjoyed by our guests who can roam through the orange and lemon grove and relax amongst the vibrant colours in one of the hammocks swinging amongst the trees.
Located at the end of a quiet 2km bumpy dirt track the farm remains within easy reach from Malaga airport, a 2.5 hour drive, along the south coast and then up into the depths of the Sierra Bermeja Mountain range. Cloud House Farm is ideally positioned to access the local villages of Genalguacil and Benarraba (20mins drive), the historic town of Ronda (1hr drive), the golden beaches of Estepona (1hr 15mins) and the spectacular city of Seville (2.5 hours).
CANVAS RETREAT:
Our time here began on the very spot where we have proudly placed our first yurt. We chose this location simply for its seclusion, private access and captivating views of the mountains.
Our second yurt is nestled in the orange grove, it also has its own private access, but with the added advantage that each morning you can enjoy freshly squeezed orange juice, straight off the trees!
The yurts are made from layers of natural cream canvas and are raised on a wooden platform that blends beautifully with the landscape that surrounds it
In the fresh morning light you might catch a glimpse of a bright Golden Oriole and hear their distinctive 'wee-li-woo' call blending with the sound of hammering made by the Greater Spotted Woodpeckers.
By afternoon huge Griffon Vultures are often seen circling high above on the day's thermals. As dusk settles, the bats clear the air of insects whilst the lights of nearby villages twinkle and the night sky unleashes a blanket of stars.
CLOUD HOUSE WASHROOM:
A short walk from each yurt, the private eco loo's are made using wood from the land and offer amazing views across the valley.
Within the washrooms we have a spacious and airy shower with hot water on tap, and once used the water is recycled to keep our plants happy.
OPEN AIR DINING:
The private outdoor kitchen's have been designed to enable you to enjoy simple rustic food of the region that can be bought from the nearest village, Genalguacil. An indulgent feast made with fresh herbs grown on the land can be enjoyed by candlelight around the outdoor dining table situated on the raised deck.
Each kitchen has everything you might need from pots, pans, dinner service, cutlery, utensils, mugs and glasses to the all important can opener and corkscrew. We also provide you with store cupboard goods that are essential to pull a good meal together.
As we're unable to run multiple fridges off solar power we provide a large ice chest to keep those "all important" holiday essentials cool.
We also have a solar oven available on request, ideal for anything from heating water to roasting a chicken!
For more information see our ADVENTURE page.
RIVER POOLS:
Cloud House Farm borders the Rio Almarchal, a fresh water mountain stream that can be reached within a short 20min walk. It boasts striking river pools that can be enjoyed in total privacy.
A 25min walk in the opposite direction will bring you to the more popular and larger Rio Genal. Its possible to walk the river in the summer as there are many pools hidden from view.
A 20min drive from Cloud House Farm will bring you to Venta San Juan, also on the Rio Genal this is a local favourite, the river pools here are truly spectacular and deep enough for cliff jumping. Alternatively the newly opened Gran Senda walkway weaves alongside the Rio Genal so its possible to walk directly from the farm. The walk boasts elevated gantries and gentle rock climbing.
If river pools aren't your thing, the local villages of Genalguacil and Benarraba have beautiful open air swimming pools with poolside bars and restaurants.
CLOUD ENTERTAINMENT:
Cloud House provides the perfect opportunity for families to spend time together, children love exploring the land, swinging on the rope swings, climbing trees or playing hide and seek. The farm is a safe place for them to run free, far from passing cars.
In the yurt you will find a toy box filled with games, puzzles and books to keep them settled whilst lunch is prepared. There are also books, magazines, cards and other board games for the adults too.
And, if that wasn't enough we have taken it one step further by providing an iPod dock for you to play your favourite tunes. Power is available in the yurt so laptops and phones can be charged.
We also have broadband Wi-Fi accessible close to the farmhouse
Glamping holidays by Cloud House.
Dare to be Different.
Reviews
Add Your Review
Unforgettable!
We stayed at Cloud House Farm in August 2013 for 5 nights with two children age 7 and 11. This was luxury camping at its best. We couldn't have asked for better weather...paradise! Every day here was an adventure, walks to river pools, driving round on off road tracks and exploring little villages all unique. But I think best of all was just relaxing and enjoying complete tranquility whilst our own children had their own little adventures which we hope they'll never forget. We had a lovely family holiday together away from technology! Bliss! 
Win a £100 Blacks Voucher!
If you've stayed at Cloud House Farm Glamping campsite, please take a minute to tell us about your experience. Every month, one lucky reviewer will be picked at random to win a £100 voucher, courtesy of our recommended retailer Blacks. Each review counts as one entry, so get writing!

Best Price Guarantee, with no fees
Instant booking confirmation
Trusted for 10 years
A chance to win camping goodies in our regular competitions!
Book campsites near Cloud House Farm Glamping