They say you never forget your first time. You were just kids and it was a blissfully warm summer's night. The sun had gone down, the adults were safely ensconced indoors with the curtains drawn and the stars were twinkling up above. And there you were, alone in your very own back garden. Whether it was the era of flares or drainpipes, floppy fringes or Hoxton fins, Slade or Suede, you never forget the first time... you tried camping out in the back garden.
And here on the ritzy lawns of Los Manzanos is your chance to step back in time and experience that back-garden vibe all over again. Because the place is just one huge garden, dotted with trees and shrubs amidst a carpet of shag-pile daisies. In fact, there are so many daisies around the place, you just have to pitch your tent right on top of their bright sunny little faces.
Mind you, Los Manzanos, in Galicia, has one or two things you don't tend to find out back of a suburban semi. Stone statues, for a start. There's one like a cross between an Easter Island maui and a giant stony comb, another like a miniature menhir, the kind of thing you might stumble across when you're yomping on Salisbury Plain. The Galicians love their stones. In fact they love everything that has a touch of the magical and mysterious about it. It surely comes from the heritage they share with their Celtic-fringe cousins in Brittany, Cornwall and Wales. Galicia is the most western and remote part of Spain; and Fisterra, unlike its almost-namesake in Brittany or Land's End in Cornwall, is indeed at the end of the Earth, at least as far as Europe goes. It's the most westerly point of the continent, where the Romans used to watch the sun set into the sea and wonder where on earth it went.
Another thing you'll notice in Galicia is the number of pilgrims, whose goal is the great gothic cathedral at Santiago de Compostela, just south of A Coruña. Legend has it that the bones of the apostle St James (minus head and hands) are housed at the cathedral. One of the missing hands reputedly turned up in an old iron chest in Reading Abbey in 1786 and is now in a glass case in a church in Marlow, Buckinghamshire. As for his head, well, he lost it in Jerusalem in ad44. So, if you think you might be a budding Dan Brown, this would seem to be a decent starting point for dreaming up a plot of ludicrous implausibility that might just make you millions.
Most of the pilgrims come along the route from the French border, but some come down the Camino Inglés, which starts at Ferrol (birthplace of General Franco) or at the royal sea gate in nearby A Coruña. So don't be surprised to see crowds of weary walkers in worn-out shoes flop themselves down right on top of the daisies – they've got here the hard way – but at least they'll feel a little less far from home with the familiar back- garden atmosphere at Los Manzanos.
There's a quiet stream meandering down through the site and over the other side of it is a truly sumptuous Spanish restaurant, whose stamp of authenticity is the number of locals who wine and dine there. In typical Spanish fashion lunch continues until late afternoon, or early evening, and the evening shift doesn't start until close to 10 at night. The final post-prandial brandies are sunk at some point during the wee small hours. By this time, of course, you, like the good kid you are, will be tucked up in your sleeping bag and far away in the land of nod.
Best Price Guarantee
Easy and Secure, with instant booking confirmation
Trusted for over 10 years
A chance to win a brand new Coleman tent!
Gallery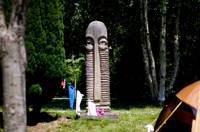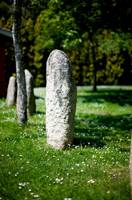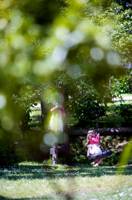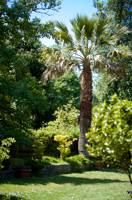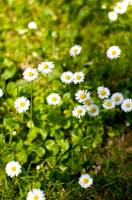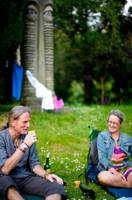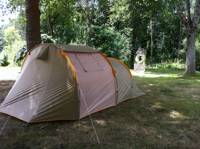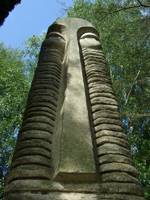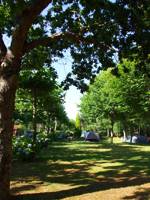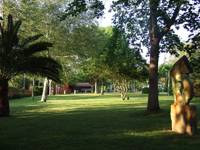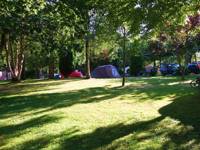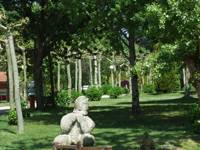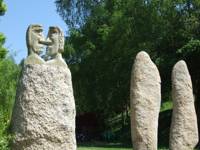 Reader Reviews
Add Your Review
Nice and very close to A Coruna
We have stayed (small tent and car) in Los Manzanos yesterday night (19.08.2014) and were very happy with our stay. 
Pros:
All facilities are very well maintained and clean. The buildings as well as the decoration are tasteful and display quality. Staff was friendly and helpful.  Internet is freely available and the seating areas are nice. The site is very close to A Coruna and is just a few minutes away from supermarkets etc. Although high season, the place was not overcrowded.  
Cos:
Showers and bathrooms have a communal swimming pool charme. 
Beautiful campsite - has everything!
We camped here for several nights en route down through Spain. This campsite is beautiful - very lush and green, and great sized plots for tents or campervans. Facilities were good and clean and also modern. The on site swimming pool was perfect for the kids and it was safe for them to wander around and play in the little stream that runs through the site. They have other great little touches like fresh pastries and bread in the morning and a very very good restaurant nearby that people travel to regardless of whether they are camping or not. A nice treat if you need a night off the cooking. They allow dogs too. A great campsite for those wanting somewhere tranquil and green away from the cramped tourist sites. Highly recommend.