A site to soothe the spirit when you need to relax and open up adventure when you want to explore
When John and Montse left the corporate rush of central London a few years ago they had more than just a house in the suburbs in mind. Bound for Montse's roots in beautiful Catalonia, they now find themselves in the most contrasting landscape imaginable. The skyscrapers of the city have been replaced with the crinkling peaks of the Pyrenees, stretching northward from their home, while the murky river Thames is now the Vall d'Ora, a wild swimmer's delight where river water cascades in sparkling waterfalls. Cars, tubes and double-decker buses are nothing more than a distant memory, supplanted in the mind by tractors and bicycles. In all, they have found a rural paradise; a beautiful farmstead, poised on the divide between rolling, fertile farmland and steep, pine-clad mountains.
Nestled amongst the trees, this luxury campsite captures much of what is great about a proper glamping holiday, with all the kit and caboodle required to simply kick back and relax. The shady canopy of pine needles and the views across the rolling hills beyond make the space ideal for those who want to do little more than enjoy the place itself, while the walk-able distance to the river, a nearby lake and a host of charming old towns mean explorers are just as well catered for.
The site itself is comprised of four fully-furnished bell tents, raised on wooden platforms and each well separated from one another so guests have a truly private camping experience. Inside, a super king-sized bed is accompanied by bedside tables (made out of huge round logs) topped by charming old-style lanterns and a pair of indoor chairs. Outside, guests have their own dining space, ideal for evening meals on the warm summer nights, and a hammock or two for reading a book. On particularly hot days you can also roll up the lower section of the canvas bell tents, allowing the breeze to naturally cool the space.
While most of the bell tents have an adjacent private bathroom (with solar-powered showers and a composting loo) there is a further ablutions area down by the main house. Flushing loos, showers and power sockets mean however choosey you decide to be you'll always be well looked after. By the house you will also pick up Wi-Fi signal and can grab a little info on the local area whilst chatting to John and Montse. Their first port of call is normally to point you towards the track, a pleasant walking route that descends to the river where an old lock has become a waterfall, the pools either side perfect for swimming.
Those enticed out by the campsite's wonderful views can hop onto the nearby C-26 that wiggles down to the old town of Solsona to the west. En route, take a detour for more swimming in Panta de Sant Ponc or head straight into town with its well-preserved old centre: the Clos Antic. Though boasting a towering Catalonian cathedral and a cluster of good eateries, the best thing about Solsona is that it's only the tip of the iceberg. A host of other small but historic towns pepper the surrounding area and many act as gateways into the mountains, the prime destination for lovers of the great outdoors.
Best Price Guarantee
Easy and Secure, with instant booking confirmation
Trusted for over 10 years
A chance to win a brand new Coleman tent!
Gallery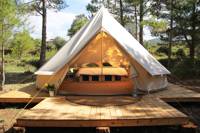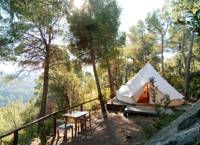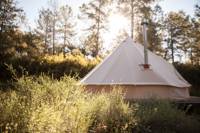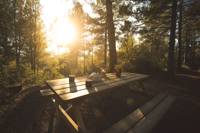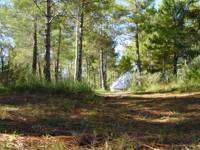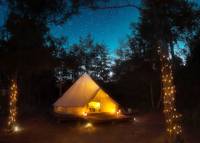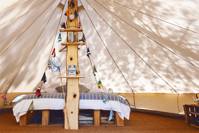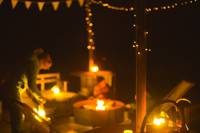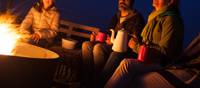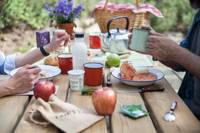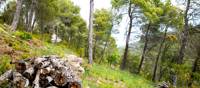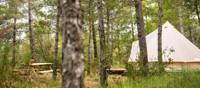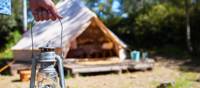 The Owner Says
Well ...what more can we say to entice you here to Forest Days!
As camping and glamping enthusiasts for longer than we care to remember we have drawn on our experiences to ensure Forest Days has everything which we think makes a night under canvas special. We have gone to some lengths to ensure the beds are super comfy, the tents are cosy but spacious and you have everything you need from the moment you arrive to just start relaxing.
Each of our four sites has been carefully positioned in the forest to ensure you have your own private space to unwind and enjoy your beautiful surroundings. With your own private eco-bathroom just a short distance from your tent and breakfast delivered straight to your tent door each morning there really isn't any need to see anyone else while you're here … unless you want to.
You also don't need to worry if you want a proper hot shower, a bit of charge for your electric gadgets or even a cold beer from our honesty bar. Whilst we know you have come here to get away from it all our central 'shower shed' allows you to enjoy the odd modern convenience from time to time as well.
By keeping the site small it also allows us to ensure we can provide a real personal service for each and every guest whether it's helping you plan out your day, putting together a lovely packed lunch for you or simply pointing you in the direction of our favourite swimming spots!
And that is just the site!
We spent many months criss-crossing the Catalan pre-Pyrenees before setting ourselves up here so the fact the surrounding area is so great is not just luck. As well as the many outdoor activities which you can enjoy (see the 'adventures' page on our website) the area is really fascinating. The traditional, rural Catalan way of life is still very much in evidence with most of our neighbours (the 'nearest' being ~1.5kms away!) still farming the land around their masias with a history which can be traced back to the 14th century or even earlier. There are also interesting historical sites to enjoy from ancient cathedrals and churches to various battle sites dating back to 847! The geology of the area is also very interesting. About 15kms north of us a great geological battle between tectonic plates has been raging for many millennia and has resulted in some stunning rock formations and there are a huge number of fossils and even dinosaur footprints to be found.
The other great thing about our location is that although you feel in the middle of nowhere, you are actually in the very middle of Catalonia. This means you can easily take a day trip to bustling Barcelona if you want, just an hour and a half away in the car, or pop up to Andorra in just over an hour to see the top of the Pyrenees (or enjoy the very cheap shopping!). You can even get to the nearest beach in less than one and half hours if the lakes and rivers aren't enough so whatever it is you want from your trip you are perfectly placed to enjoy.
That said, our experience is that once you arrive and start to unwind you probably won't want to go very far and that, for us, is the sign you are enjoying yourself. So we would like to invite you to start your Catalan adventure here at Forest Days. Take a deep breath and step in to the forest with us. It's an experience you won't forget.
John and Montse xx
Reader Reviews
Add Your Review
A peaceful retreat
I stayed for 3 nights with my boyfriend over Easter (end of March).  The location was extremely beautiful and the bell tents very comfortable - the wood-burners kept us nice and cosy overnight!  John and Montse have thought of everything to make this a perfect place to stay, with everything beautifully delivered.  Lots of outdoor activities close by including walks, kayaking and parapenting made for an adventurous few days with somewhere wonderful to go home to.  Wish we could have stayed longer.
Perfect Fairy Tale
I had the pleasure of staying at Forest Days in April. From start to finish felt like the perfect Fairy Tale. You couldn't find a better hosting pair than John and Montse, they go above and beyond to ensure a perfect stay including a very inviting breakfast hamper dropped to your tent in the morning! The site itself is perfectly situated tucked away with fabulous mountain views every which way you look. The glamping experience was just perfect, you have the best of both worlds with super home comforts found in the cosy fire and comfy bed against the wild surroundings and peaceful sounds of wildlife. Forest days is perfect if you are looking for a peaceful romantic escape in beautiful surroundings. I couldn't recommend it enough! Would definitely love to return one day!!
Book campsites near Forest Days Glamping
i
Campsites in Pyrénées-Orientales
Campsites in Languedoc-Roussillon
Campsites in France
Available:
1 Pitch
1 Cabin
1 Safari tent