Torre de la Mora
Ctra. N-340, Km 1171, 43008, Tarragona, Catalunya, Spain













Slap bang on a beautiful beach with lifeguards, volleyball, bars – the lot.
Tiene plaza disponsible? It might sound like you've got a mouth full of marbles, but asking for a pitch in the local lingo is a good way of ingratiating yourself with the staff at Torre de la Mora, who get a kick out of hearing Brit campers trying out their Spanglish. But there's another reason for knowing your Spanish ABC – the pitches are alphabetised and it makes good sense to know how to ask for the best ones.
Start with A and B. These slightly elevated locations, just minutes from the sand by foot, look straight down La Mora beach to the tree-topped, red-rock outcrop at the end. The sites are generous and you'll have a spacious pebbled porch to spread out on if you want to put down some temporary roots. Another option for beach frontage is to ask for an E. If you prefer kipping under the trees, try the Ks, where the price you pay for the precious shade is that the pine trees keep dropping their cones whilst you're trying to take a nap. Thankfully, too, the trees are strategically placed on a woody escarpment happily hiding a profusion of bungalows. But at least it leaves the water frontage free for all the tent folk.
Torre de la Mora has the sand and sun thing right down pat. The campsite hugs a section of coast known as the Punta de la Mora, a protected natural environment including cliff faces, forest stretches and some picture- perfect Mediterranean beaches. Down at La Mora the beach – buzz buzz – is a hive of activity, with all the usual suspects jostling for space: surf lifesavers with folded arms like the butcher's best cuts scanning the horizon, sun-baked babes lathering up with factor-8 and kids building sweet little sandcastles by the ankle-deep waves. The beachfront promenade is dotted with cafés and a couple of nicely unpretentious bars. If the latter take your fancy, remember that campsite access from the beach closes at 10pm and if you miss the curfew you'll have to climb over the fence or walk around. Try explaining that in Spanish.
The beach can be somewhat hectic in high summer, when the volleyball net sees some serious action, so you'll be thankful for the protected area running southwest of La Mora towards Tarragona. It's one of the last areas of virgin vegetation along the Med and is a fauna and flora feast – a real treat for all twitchers and nature-fanciers. One of this stretch's best-kept secrets is Waikiki Beach, an isolated mini-cove surrounded by cliffs and forest. It might sound like it belongs in the Pacific, but it has been voted eighth-best beach in Spain.
It's hard to say whether this is due to, or in spite of, it being a nudist beach, but don't panic, the fashion police don't operate here; you're free to keep your cozzies on if you don't want to scare the wildlife.
If you're a bit of a culture vulture, head for seaside Tarragona. Its pleasant old quarter has a charming central square and streets of boutiques and cafés, where Catalans gather to eat, drink and make merry. It's another good spot for you to brush up on your, by now, superb Spanish. Or if you're old-school head down to the Roman amphitheatre that dominates the beachfront to try out your Latin. If you think that's a tad ambitious, then it's probably best to stick to your Spanish ABCs.
Gallery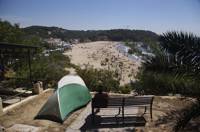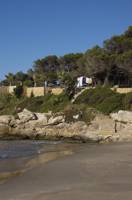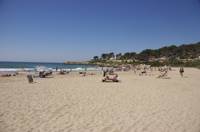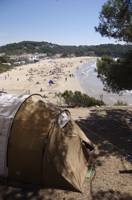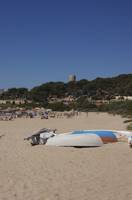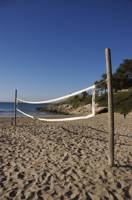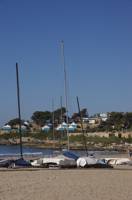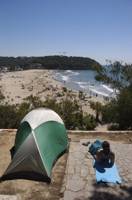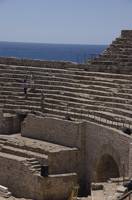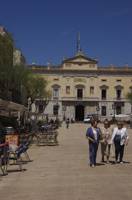 Reviews
Add Your Review
Sea view bliss
Fantastic pool (bed only; no plastic grass here), Great small cove-feeling beach- deserts itself at 9pm for peaceful times.. The sweetest grapefruit-smelling shower blocks! Our favourite family place in Tarragona .
White Noise Torture
It is 1.45am and I am lying in my €110-a-night tent in the idyllic setting of Torre de la Mora, writing a review about my campsite. This is clearly the behaviour of a madman - a man driven mad by the white-noise torture of the local summer fiesta. Speakers blare at jet-engine levels all that is worst of the Spanish euro pop genre and my wife, kids and the 3,000 other people on this campsite have to endure it until it stops. There is absolutely no sign of this happening. I cannot comprehend how any council of a town that so obviously relies on tourism could possibly accept this noise vandalism. A *hundred and ten euros a night* for a campsite and this is what you get. In other news: beach is nice, pool's good, sports facilities decent and entertainments team are very nice. Restaurant is fair but expensive. But, quite apart from the horrific cost of the site in the first place, if you value your sanity do not even countenance booking this place in early August.
Best Price Guarantee, with no fees
Instant booking confirmation
Trusted for over 10 years
A chance to win £50 of Cool Camping vouchers!