Camping & Bungalows Vall de Laguar
Sant Antoni, nr.24 - 03791 - La Vall de Laguar, Campell - Alicante ESPAÑA













A walkers' favourite in a mountain valley dubbed 'the pearl of Valencia'.
Think Costa Blanca and images of Benidorm, packed pools, 'fun bars' and and tourist-infested promenades spring to mind. But the Marina Alta, the northernmost stretch of Spain's much-holidayed south-east coast, is another world entirely. Though part of Alicante (and, more broadly speaking, the autonomous community of Valencia), this lush, mountainous region remains remarkably unspoilt. High in these hills that the wild boar call home lies the Vall de Laguar, a breathtaking valley dubbed 'the pearl of Valencia'. Rising over 800 metres above sea level in parts, the views from this region are pretty spectacular, with unparalleled vistas stretching as far as the azure waters of the Med. And from the pitches at the suitably sky-scraping Càmping & Bungalows Vall de Laguar, you can really meditate on the stunning scene before you. 
Nestled in the village of Campell (which along with Felix and Benimaurell comprise the three villages of La Vall), this refreshingly low-key campsite is one of the region's true hidden gems. There's space for 65 pitches but it never feels crowded, thanks in large part to its ingenious terrace design. A nod to the ancient Mediterranean farming tradition, the dry stone terraces blend seamlessly into the surrounding landscape.    
It's family-run and family-friendly, though without the need for 'animations' and other day-glo distractions for the kids. Unless of course you count the pristine open-air swimming pool – a refreshing godsend under the cloudless summer skies. The cute little onsite cafeteria/bar, 'La Bruixa de Laguar' (named after the village's legendary witch), serves lovely local treats while when the spacious terrace hosts cinema night in summer evenings. 
It'll come as no surprise that the Vall de Laguar is known as the 'trekking capital' of Valencia, blessed as it is with some stunningly steep natural eye candy. From the Barranco del Infierno ('Hell Canyon') to the prehistoric cave paintings of Pla de Petracos – a UNESCO World Heritage Site – there's no shortage of sites to explore and you'll inevitably cross paths with more than a few determined pilgrims following in the footsteps of the marauding Moors. Your hosts will kindly provide maps and other tourist information to make sure you don't get stranded on the slopes.
The historic coastal city of Dénia is also but a short drive away. Its golden sands, traditional white, red-tiled houses, and vibrant Montgó Nature Reserve makes this a great place to spend the day, safe in the knowledge that you can beat the heat with a hasty retreat to your campsite in the hills. 
Gallery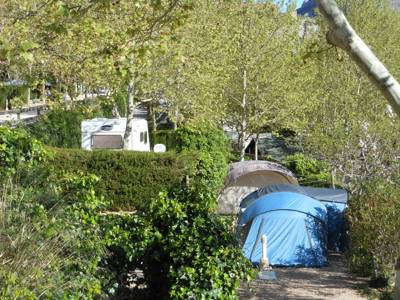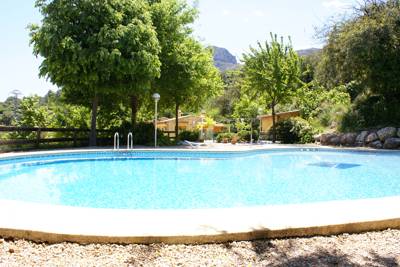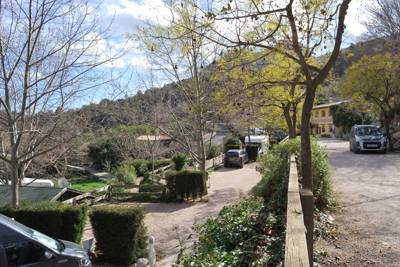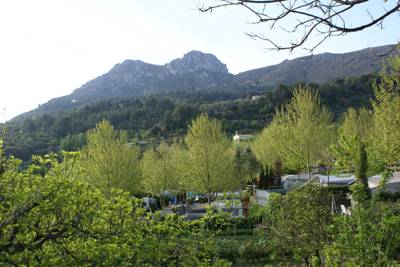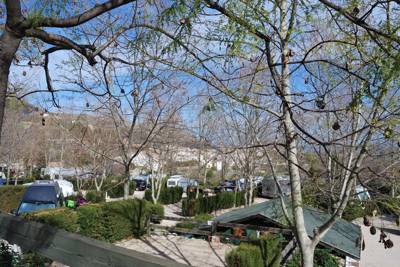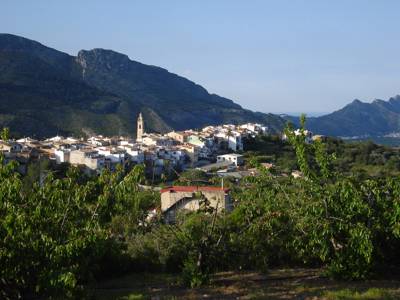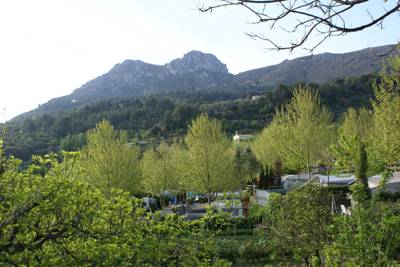 The Owner Says
Reviews
Sign up or sign in to leave your review of Camping & Bungalows Vall de Laguar
Best Price Guarantee, with no fees
Instant booking confirmation
Trusted for 10 years
Chance to win camping goodies in our regular competitions!