Olive Tree Yurt
Olive Tree Yurt, 18400 Órgiva,‎ Granada, Spain







The region of Las Alpujarras is a remarkable, captivating part of southern Spain. An unspoilt destination ideal for glorious long walks, bike rides, wildlife (ibex, eagles, and vultures can be spotted) and photography - but most of all for just kicking back and unwinding. Tucked away in its foothills is a small, organic fruit and olive farm called The Olive Tree Yurt, where peace and tranquility reign supreme.
Back in 2010 Mike and Sara dreamt up the notion of leaving the rat-race (well, if you can call Winchester a rat-race!) and begin a new life in the magnificent Spanish countryside. The following year they packed their belongings, (dogs included) and became the proud owners of a bona fide fruit and olive farm. Jealous? I know I am. 
Soon after arriving, the couple began planning a way that guests could also enjoy their home and its incredible, picturesque views over the Sierra Nevada. The fruition of Mike and Sara's plan came in the form of a spacious yet cosy Mongolian yurt.
The furnished accommodation has been hand-crafted by a local yurt maker, and comes fully insulated to keep guests cool in the summer and warm on those (rarely) chilly Spanish winter nights. With a super comfy king-size bed, extra seating, and a day-bed (which converts into two singles) there's enough room to comfortably accommodate a family of four, or five at a push.
Geographically the location is a winner.  A twenty minute walk away is the thriving, and surprisingly bohemian town of Orgiva (apologies for the spoiler!) Home to many British, Dutch and German ex-pats, Orgiva has become a magnet for those seeking an alternative lifestyle and contains numerous bars, restaurants, and supermarkets, plus it also hosts a terrific weekly market. Be sure to haggle whilst tucking into a delicious Moroccan M'Hanncha from one of the many cool cafes.
Take it from Cool Camping, guests could not fail to leave The Olive Tree Yurt without feeling rested, relaxed, and ready to take on life again. We love it, and I'm sure you will too.
Gallery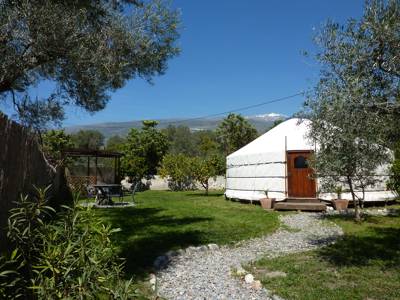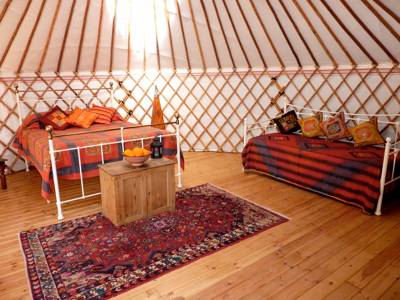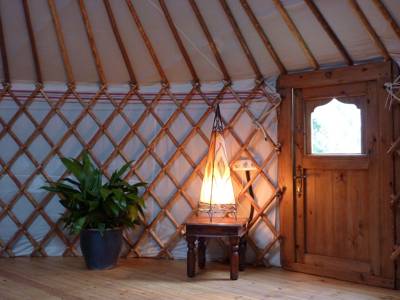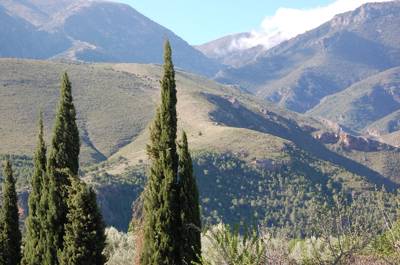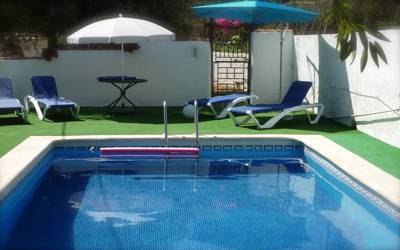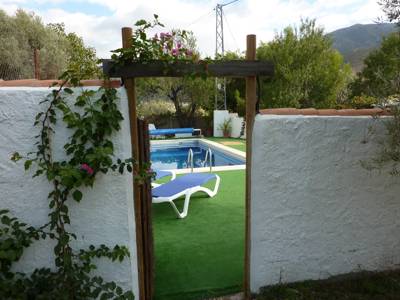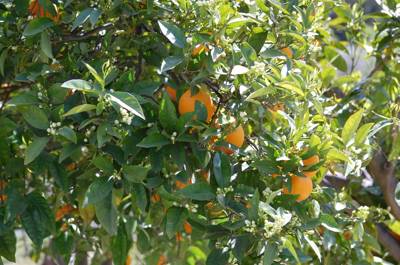 Reviews
Sign up or sign in to leave your review of Olive Tree Yurt
Our 'go to' relaxation place
We've just returned from our third visit to Olive Tree Yurt - we were on holiday nearby (three hours drive) and had to tag a couple of nights on to the end, just to get back! We have loved this place since we first took the trip down the track from Orgiva - the warm welcome you receive from Mike and Sara is the first step to a fantastic break. Organic fruit all around, beautiful views, the swimming pool and the excellent food you can find in the restaurants and cafes in town (recommend Baraka at the top of town - incredible food) all make for a brilliant time. And then there's the yurt itself. Beautifully finished with comfy furnishings - it's our favourite place to wake up! If you get chance to go in the winter months, do! You'll get to pick olives with Mike and Sara and really get the full organic fruit farming experience whilst chatting in the cool shade of the trees. We loved it! Can't recommend Olive Tree Yurt enough - go! And enjoy!
Oasis of Tranquility
We were fortunate enough to spend New Years 2015/2016 at Olive Tree Yurt. This was a break we both had been very much looking forward to and the reality exceeded all our expectations.
The yurt itself is beautiful, offers privacy and a luxurious nights sleep.
The hosts Mike and Sara were welcoming and knowledgable about the area. Nothing was too much trouble.
Olive Tree Yurt provided the perfect place to explore, whether this was to visit the stunning mountain villages, the nearby beaches or the beautiful city of Granada. 
We have already booked to return again soon.
Olive Tree Yurt
We stayed in Olive Tree Yurt for 10 days throughout August 2015. The yurt is an amazing space, looks beautiful inside and is massive. It was really nice to have the yurt, dining table, sun loungers, BBQ, toilet and kitchen all to ourselves. Mike and Sara are really nice people. They have 96 olive trees and everything they grow on there land is completely organic. They have chickens so you get really fresh tasty eggs! They let me set up a slack line in between two well established olive trees, which was really nice. It's around 25 minute drive to the coast if you want the beach, 45 minute drive to Granada if you want to see the city and the palace, also it's 20 minute drive into the mountains for little mountain villages. There's a really cool place about an hours drive from the yurt where you can hike along a canyon through a river with waterfalls and jump off the rocks into the water. The yurt is a 20 minute walk or 5 minute drive to a town called Orgiva, which is quite nice, there's a few bars / restaurants / mini markets etc. I highly recommend Olive Tree Yurt.
Best Price Guarantee, with no fees
Instant booking confirmation
Trusted for 10 years
Chance to win camping goodies in our regular competitions!