Pristine, remote mountain camping in a village so quiet you could safely take a siesta in the middle of the main street
Everywhere with a bit of spare countryside seems to claim that it's one of Europe's last pristine wilderness. But in the case of the Parque Natural de Somiedo in the Cordillera Cantábrica mountains of northern Spain, it's probably true. Why? Because there be bears up here. And not your cuddly Paddington sort either. These guys are the real deal – the kind of sharp-toothed teddies that fancy something a bit meatier than a marmalade sandwich when it's time for dinner. Mind you, they're only little, even on their hind legs, so they're nothing to worry about. The wolves, on the other hand... These furry friends have stuck around in these mountains because there's honestly very little to vex them here. The area was made a National Park in 1988 and in 2000 was declared a UNESCO Biosphere Reserve. The result is a carefully preserved wilderness that is ideal for wildlife; and just perfect, too, for wandering the brañas – high-mountain meadows – with only a Gandalf staff and a half-eaten pack of biscuits to sustain you.
Camping Lagos de Somiedo is up such steep and twisty roads that not that many campers (and even fewer caravanners) make it up here. If you do the journey by car you'll be clutching for first gear on a couple of the hairpins. The winding roads cling to the sides of these deep limestone valleys and the resulting rock crumble means you'll have to keep an eye out for rock falls. Sometimes it's just a slip of pebbledash, but occasionally you'll find a chunk the size of a half-decent watermelon sitting in the middle of the road.
Luckily you leave the rocks far behind when you arrive at the site, high up in the unspoilt village of Lago. It's a fairly compact campsite by the side of a small stream which runs down from a nearby lake. Cars are confined to an entrance car park, so the camping area is blissfully free of clutter and there's plenty of room to spread out and make yourself at home. There's even a discreet little hideaway patch of ground on its own across the stream, accessed by a rather charming rickety old wooden bridge.
Lago itself is a throwback to an earlier era, the only real signs of modernity being the telephone wires strung from house to house. Spring comes late in these mountains – the trees can still be budding in May and there can even be flurries of snow – but once summer arrives there's everything that you require for that supreme high-mountain feel: birds of prey wheeling through the skies, cow bells clanking on the hills, lazy dogs and horses blocking the road.
The locals are enthusiastic bee-keepers, so there are plenty of stripy stingers swigging nectar from the flowers and bumbling around drunkenly looking for a dust-up. And then, of course, there are the bears. And the odd wolf. But at least you can console yourself with the thought that they're likely to be more scared of you than you are of them. Yeah, right.
Gallery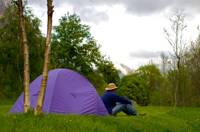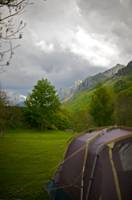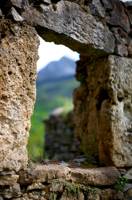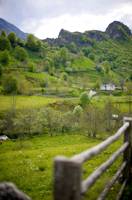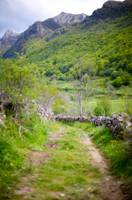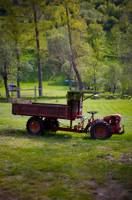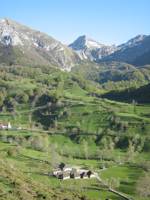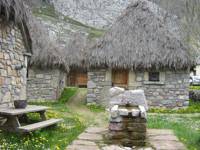 Reviews
Add Your Review
Just lovely
This was a true highlight of an extensive five week tour of Spain and Portugal in our VW California camper van. The most tranquil setting imaginable in a stunning location, good facilities and those stunning mountains as a backdrop. The kids loved the stream and wooden play kit, I loved running in the mountains, my wife loved the views. The weather was rather interesting with three storms intel days but the cosy bar is a great retreat. Stock up beforehand though as the food options are rather limited although a bread van drops in daily with various treats.
Perfect
Amazing campsite - beautiful mountains, spacious field in which to pitch tent, really friendly owners, walks straight from the site, spring to fill your water bottles up, friendly dogs, horses, wooden play area. Fairly quiet even in August.  Perfect.
Nirvana in the Asturian Mountains
I'm not sure about the wolves and bears but this camping is everything it says on the box. It's a serious journey to get there from the coastal ports, Santander and Bilbao, but actually surprisingly easy from Spain's interior - I had an easy, and spectacular, motorcycle ride for Sunday lunch with friends in the city of León - but having said that the last few kilometres are not for the faint hearted!
Of all the camp sites I've been to in Spain I rate this in my top five, which is saying quite a lot. The location is certainly the tops, even more beautiful and spectacular than my home in the Pyrenees and the camp ground, which vehicles are prohibited, is lovely, especially if you use the wheelbarrow to get to the far end of the field, far from the madding, high season (I was there in Mid-July), crowd - all five of them! 
The owners couldn't have been more welcoming of helpful and have expert local knowledge, being able to advise me of which walking routes I could safely attempt with the light sandals I carry on my biking tours - I'll certainly be back with full walking kit some time!
The bar/cafe has a limited but useful range of food - traditional country fare like the famous fabada asturiana, which is just as well as the evenings are cold at these altitudes. There is also including a small shop - read, a few shelves of tinned stuff plus bread, eggs, etc., very much like a Youth Hostal. But this is expensive and you would be well advised to be as self-suffiencient as possible. This leads to the only down point - I was charged for bread when I'd ordered a heart warming bowl of sopa de ajo on the last freezing night of my stay there. This is almost unheard of in Spain and I was really surprised at this.
The facilities are basic but clean and functional. But travellers should know that there is no mobile phone coverage in the valley - no bad thing really and there is a pay phone at the camping. But, again almost unheard of these days in Spain, there is no Wifi. Bearing in mind that the landline is there and how much hikers and climbers use the Internet for route planning, etc. these days this is quite a serious omission - hence my reluctant 4 start rating.
Another useful service is blanket hire - these are 'real' wooly blankets and I was heartily glad of one when a cold front stormed through on my last night. It was only when I came t tot up all my bills at the end of my tour that I found they had forgotten to add this to the bill, so maybe we're quite on the bread thing :)
Best Price Guarantee, with no fees
Instant booking confirmation
Trusted for over 10 years
A chance to win £50 of Cool Camping vouchers!