Owners who know a thing or two about camping and a location that everyone falls in love with
Back in the spring of 1998, armed with little more than a rusty VW campervan and a rough plan to open a beach bar, Hans & Irene drove down Portugal's glorious west coast in search of a simple, less hectic life. Months passed before the Dutch duo locked eyes on a delightful campsite in the heart of Costa da Prata, a region known for its bounty of traditional villages, glacial lakes and pristine beaches. That campsite was Campismo O Tamanco, and whilst many of its competitors seem content tarmacking a few touring pitches and hoping for the best, Hans & Irene offer an altogether more distinctive, homelike camping experience. And we think you'll love it…
Campismo O Tamanco buzzes in the way a campsite should. Like the region, Tamanco has retained much of its rustic charm, yet provides contemporary accommodation that's in keeping with its natural surroundings. As well as tents, you'll notice 8 innovative glamping 'tubes' made out of reclaimed materials, 2 stylishly furnished yurts, 2 wooden bungalows and a (very cool) converted Bedford truck, fully loaded with snug beds, wood-burning stove, gas cooker and BBQ – perfect for a spot of al fresco dining.
Beyond the campsite grounds, the Costa da Prata (also known as the Silver Coast) boasts many fishing villages, castles and monasteries, all waiting to be discovered. Chief amongst the region's most popular sites is the 12th century Abbey of Santa Maria (60km), where the tragic love story of King Pedro I and his beloved Inês de Castro unravelled, a harrowing tale that makes Romeo & Juliet look more like Wayne & Waynetta.
Adding to the region's appeal is Portugal's recent surf boom (now only second to football in terms of popularity) and in winter, when waves are at their most colossal, The Silver Coast attracts the surfing elite. The Guinness World Record for the biggest wave ever surfed (a 90 foot monster!) was recently recorded here. Of course, 90 footers are way beyond most of our capabilities, but from May to October the region's waves become suitable for all us mere mortals.
It's easy being a happy camper when you pitch up at Campismo O Tamanco. "Down to earth, yet up with style" is how Hans & Irene describe it; and frankly we couldn't say it better ourselves. With its unequalled coastline, magical forests and exceptionally welcoming locals, it's easy to see why the Costa da Prata was the couples preferred destination. So why not join them?
Best Price Guarantee
Easy and Secure, with instant booking confirmation
Trusted for over 10 years
A chance to win a brand new Coleman tent!
Gallery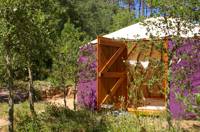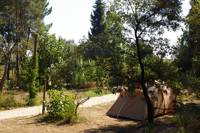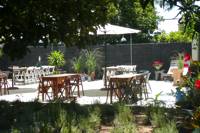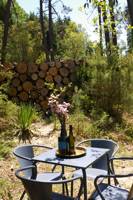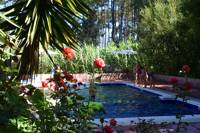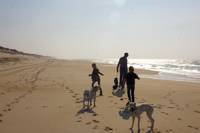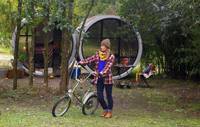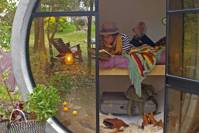 The Owner Says
Looking for a memorable getaway in 2015...
TAMANCO TUBISMO
Re-connect with the outdoors.
Instead of bringing your own campgear take it easy, stay in a Tube! 8 Tubes, made of reclaimed materials are hidden in the midst of the rich vegetation. Enjoy the saltwater pool, the campfire and good company under the stars.
Cozy rooms
The Tamanco Tubes are round and they will provide you with maximum comfort in a minimal amount of space.
Take advantage of our communal outdoor kitchen (with stove, fridge, BBQ en picnic tables), visit our library and relex in the indoor and outdoor lounge areas. 
Remove from the inner city dwellings, disconnect from the world in exchange for a simpler environment!
Reader Reviews
Add Your Review
Lovely nature and amazing food!
We spend some time at this amazing campsite twice...just couldn't resist to come back. The campsite is very lush and has a cosy feel to it. And not to forget A Cantina where owner and chef Hans makes the greatest dishes. The first time we were there, was out of season, and there were campfires with great Port wines and grilled chourico. Second time, in high season there was a delicious Portugese grill party on Sunday nights. The pool is with salt water and the sea is nearby. Thanks Hans, Irene en Dries for a great time....we'll be back!