Water sports mecca right on the shore in the Netherland's beautiful lake district
Friesland, in the Netherland's northwest, has lakes. Lots and lots of lakes. When the Frisian peasants dug their boggy wetlands for peat fuel, the scars left on this flat landscape caused countless rivers and waterways to form. Well the farmer's loss is the holidaymakers gain as today, Friesland is the centre for Dutch watersports. Surprisingly little known outside of the Netherlands, the Dutch lake district attracts scores of eager aquatic adventurers from the rest of the country, keen to savour this blissfully tranquil region with only around 160 people per square km. The region's many charming towns and villages are interlinked by canals and it is on the outskirts of one such lovely lakeside settlement, Heeg, that we find another watersport oasis. 
While Watersportcamping Heeg won't be winning any prizes in the imaginative naming stakes, the site can't be bettered for location. Right on the shores of a vast, sparkling lake, the site accommodates around 150 touring pitches on nearly 25 acres of pristine grass. Take a few steps to the shore and you have your choice of water-based pursuits to enjoy from falcon sailboat hire and kite surfing, to sloop lessons or just a good old fashioned swim. This is a mecca for water sports fans, with a chilled out beach party vibe throughout, (helped in no small measure by the buzzy beach bar and 'Dutchtubs' for hire). 
And then there is Heeg itself. Just a leisurely 5 minute stroll from site, this most quintessential of Dutch villages is utterly idyllic. Why not enjoy a traditional treat of smoked eel on the banks of the Heegermeer lake? Or visit nearby Ijlst, the home of the singularly Frisian sport of fierljeppen – that's... er... canal vaulting to you and me. The annual summer celebration of this traditional pastime is not to be missed, if only for the facial expressions of the hapless vaulters.
Best Price Guarantee
Easy and Secure, with instant booking confirmation
Trusted for over 10 years
A chance to win a brand new Coleman tent!
Gallery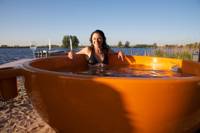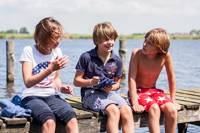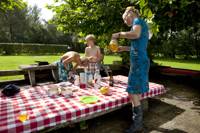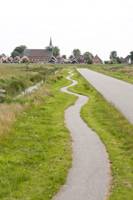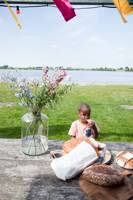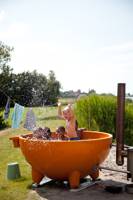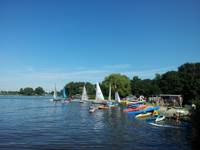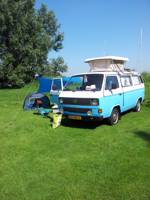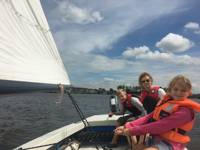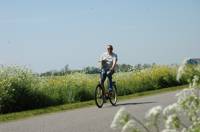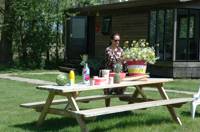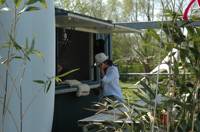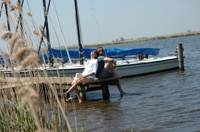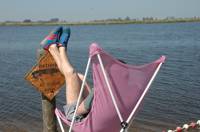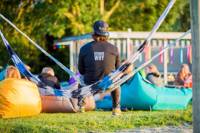 Video Tour
The Owner Says
Our guest praise our campsite especially because of its magnificent location. In the middle of the Frisian lake district, adjacent to the water with our own beach but also within walking distance of the quaint little village Heeg. The level of hospitability on our campsite is very high (even if we say so ourselves) and there is a pleasant, creative and international vibe. The vast range of watersport facilities on offer are ideal for adventurous guests.
Reader Reviews
Add Your Review
lovely
Lovely campsite with views over a peaceful meer in South Friesland, a beautiful part of the Netherlands. Wonderful cycling area with lots of water and sailing boats. The site itself is laid out with many hedges to give privacy. It's well equipped with good facilities and the opportunity to hire canoes. The site owners were really friendly and gave us lots of information about the area. As we stayed here in september it was really quiet and peceful and we were lucky to have the 'Romeo and Juliet' pitch which is idyllic and right next to the water. We loved it and will definitely return.
Great place - worth a visit
What a great camping site - went stayed here for five night with our two hard to please sons and we all had a fab time.  Relaxed environment, very approachable and friendly owners and the camp pitches were just the right mix of social and private.  We stayed at "the beach" with the beach bar and was nice to have breakfast looking out to the water.  The town of Heeg is very close - a lovely traditional town with everything you could need (including camping supplies).  I personally loved the bakery and could have eaten their pastries for every meal.  We hired a canoe and kayak and good places to explore with them - lots of boating/water types at the camp site so if this is your thing this is the place (they were all looking way too advanced for us).  Very easy to cycle from and we had a fun all day ride with some lovely stops enroute.  Highly recommended!

A very cool campsite!
A fab campsite. We loved the relaxed and surfy vibe of this site. The lake was brilliant for swimming and sailing. It is possible to pitch your tent within metres of the shore. The location makes a great base for exploring Friesland, there are lots of lovely villages within cycling distance. We particularly liked the cafe d'Ald Herberch "Yn'e Iel-aek" in Gastmeer (about 10 minutes by bike). The showers and toilets are clean and spacious (you have to remember 50c if you want a hot shower). The family that run the campsite are all super friendly and kind and gave us lots of suggestions about places to visit and were very helpful when our car broke down; they even lent us bikes. In fact, we liked the campsite so much that we decided to stay for longer instead of touring around Netherlands. A real highlight were the spectacular sunsets and sunrises across the lake. We definitely recommend this site!