Stunning woodland location around the River Vecht. Relaxing, environmentally friendly and heaven for kids.
A zwembroek (if you're a guy) or badpak (if you're a girl – though what's with the 'bad'?) is an absolute must for a stay at Camping De Roos. Also known as bathers, swimmers, bathing suits, trunks or cozzies, unless you fancy a skinny-dip, these items are wardrobe essentials for a refreshing dunk in the River Vecht, which meanders through this sprawling campsite. So be sure you pack at least one or two.
Located within an area of outstanding natural beauty between the towns of Ommen and Beerze, the campsite occupies an expanse of sloping clearings surrounded by dense woodland, boasting friendly neighbours such as roe deer, nightingales and woodpeckers.
Despite the site's capacity of 280 pitches the careful layout means you rarely get that unpleasant overcrowded sensation. The pitches are extremely roomy, and the undulating land scattered with trees, bushes and winding paths creates the illusion of a much smaller site, with more than enough room to go round. But if you'd rather a complete slice of countryside peace and quiet, two designated trekkersvelden are on hand to provide just the sanctuary you might be needing. Tucked away amidst the ground's chunkier trees, they are exclusively reserved for anyone who's come by bike or on foot. The site's sensible 'no-car' policy, with vehicles only allowed onsite for unloading and loading, helps maintain that natural feel.
In fact, preserving the natural beauty of the site is a priority at Camping De Roos, as it's a rare honour to be granted permission to run a campsite in a protected area. Timed showers and recycling bins, plus gentle requests not to pick the lovely flowers ensure the site remains as kind to its environment as possible. There's also an onsite shop chock-full of healthy foods, planet-friendly cleaning unguents and the most local of local produce, of which ice cream made at a nearby farm is worth several return trips.
The merry tinkle of children's laughter is a constant backdrop here, with the owners taking the term 'child-friendly' to a whole new level. It's almost guaranteed you won't hear the familiar 'I'm borrrred' when there's a volleyball court, a football pitch, a kite- flying field, boules ground and dinghies dotted along the river bank; as well as a kiosk where kiddywinks (along with sweet- toothed mums and dads) can get their fill of tasty treats. Even on rainy days there's plenty of indoor fun to be had. But the firm favourite has got to be the swimming opportunity, well...jumping into water and splashing around. The river's tributary forms the ideal spot for a children's pool – even boasting its own mini-beach – and when the weather's fine they jump, dive and 'bomb' from its little pier.
The surrounding area is criss-crossed with cycle routes in the 'river-dune' landscape, formed at some point during the last ice age. You can hire bikes from the site, and a short pedal will find you plunged deep into wonderfully quiet woodland. Or if you'd like to dispense with wheels completely, the Vecht Valley walking path passes right through the campsite, covering a fair old trek of 441⁄2 miles (72 km) in total, taking in some top-of-the-range countryside.
This site's enviable location means that, even with numerous amenities and kids' activities on offer, it still exudes a tranquillity that can be hard to find at other European sites. And if it takes you a while to tune in to the country vibes, try floating along the cool river, with blue skies and fluffy clouds above and grassy banks on either side, to enjoy a bit of Mother Nature at her finest.
Best Price Guarantee
Easy and Secure, with instant booking confirmation
Trusted for over 10 years
A chance to win a brand new Coleman tent!
Gallery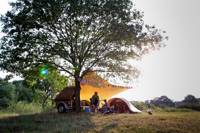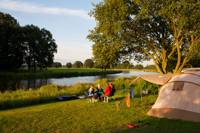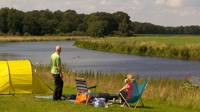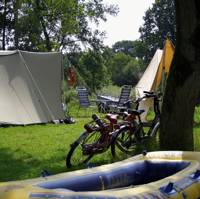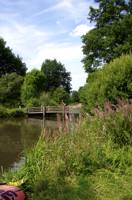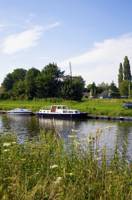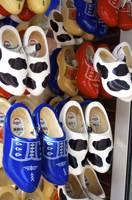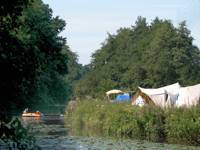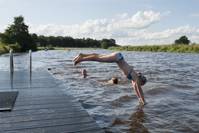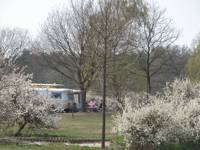 The Owner Says
Camping De Roos is an atmospheric, spaciously designed natural campsite, beautifully set in the gently rolling river dune landscape along the river Overijsselse Vecht.
This singular landscape, which is very rare in the Netherlands these days, is comprised of sand dunes covered in blackthorn, hawthorn and imposing old oak trees.
Not only is the campsite situated on the banks of the Vecht, a river tributary winds its way across the property.
The spacious pitches have been laid out according to the natural conditions of the site, giving each pitch its unique charming character.
For children, the campsite is a massive playground to be discovered and conquered
Exciting paths take you across the campsite from one playground to the next, with even a castle looming on the horizon. You can of course also build your own sandcastle on the beach along the tributary.
On that water, you can sail almost forever to unknown territories, catching tadpoles and sticklebacks along the way. Or you can take a refreshing dip.
Playing football together in the evening on Camping De Roos is great fun for young and old.
Reader Reviews
Add Your Review
Superb
This was probably the best campsite we've ever stayed at, everything about it, the facilities, the atmosphere, the location. Absolutely perfect for a relaxing & fun getaway. All 3 kids (aged 6, 10 & 13) had the most amazing time swimming & cycling everyday. Our only regret is we were only there for 4 nights but would have happily stayed for 2 weeks. We will be going back!
Chillaxing at its best
We stayed there the first week of August. Chosen the site by the coolcamping ad here.
We were suprised and satisfied at all and with all!!! De Roos is a really, really, really lovely campsite where every character can find the pitch that suits him/her best!
We stayed near the "Trekkerveld" on the area Closes to the river. As the weather was fine we spend the day reading first and Swimming second and the other day Swimming first and reading second...and so on. Which was absolutely relaxing- what we needed most.
Pitches were spacy and we didn't even realise that there were neighbours even though my two Teenagers found three lovely girlies aged 2-4 for making fun with.
It was main season but you only recognise this, when visiting the restrooms - which were really clean and proper.
Unfortunately it started raing cats and Dogs, so we decides to leave earlier than scheduled - but ist no Problem to come back when the sun shines because the campsite gives you a voucher for the time you couldn't stay (one day less but that's fair condition!)
So let the sun shine that we can come back for another Weekend or a whole Holiday stay!
Absolutely recommendable and for the main season car free -  thats a good decision by the owners. We think they love Camping, too! :-) 
Loved it!
This is a fantastic site, we stayed for a week in the middle of school holidays, and it was busy, although never felt it at all (except when looking for a space in the car park!).  The pitches are a good size, and in small clusters so you really don't notice, even being pitched by the beach area.  Both the main river and tributary were great for swimming in, and the children loved jumping in from the different platforms. They also loved exploring all the different play areas around the site, especially the biggest in the kite flying field! 
Cycling is a must- We hired bikes from the campsite, which were good value and very good quality, and enjoyed the suggested 20k children's cycle route from the campsite, even my 6 year old completed it without complaint as nice tracks and lots to see on the way.  They were also handy for getting around campsite as can be a bit of a walk to toilets/ main reception, but with very few cars on site (only loading/ unloading), everyone whizzed around on bikes.
Beerze and Ommen were both very pretty, with a supermarket and various nice restaurants in Ommen, and a lovely and very reasonable ice cream shop near the main square, but didn't see much else of the area as plenty to do in and around the campsite- it really was every bit as idyllic as the photos suggest!
The drive from calais took about 4hrs 30 mins and other than the delays we always seem to experience in Belgium, was a relatively easy journey, mainly on motorways.
Definitely worth a visit!
child heaven
Oh bother, I wish we'd discovered this when the children were younger because it was ideal. Grown-ups, do pack some seriously heavy-duty anti-mosquito repellent for the evenings, but hopefully you'll be so nice and sleepy after your busy day that you'll simply snooze away…!
pure bliss
Pitched up the tent on the riverbank for 2 nights of pure camping bliss. Lovely owners and fellow campers. The ready-made tents looked very comfy too. The next village Beerze is classic Netherlands. Come here if you want to seriously chill out.