Il Baciarino - a special retreat
Agriturismo Il Baciarino, Via della Fonte , 58043, Vetulonia, Grosseto, Tuscany, Italy












Homemade food, local wine and spectacular sea views – plus a hot tub from which to enjoy it all.
Il Baciarino sits high in the Tuscan hills, tucked away amid a dense wonderland of olive groves, oak trees and endless views of the shimmering Tyrrhenian Sea. If there's a better feeling than admiring such a breathtaking sight whilst quaffing a glass of the region's finest Chianti, we've yet to experience it. "But this isn't camping!" I hear you challenge. And of course you'd be right. However, Il Baciarino encompasses many characteristics of traditional camping (like a peaceful, remote location and the opportunity to test your culinary skills in the great outdoors), but with the added luxury of some creature comforts, such as oh so comfy beds, running water and a dining table fit for a Mediterranean banquet.
Bellissimo!
Having taken in that epic view, prepare yourself for more delights as you navigate past the oak trees and into your loveably restored cottage. As one of the finest operations in Tuscany, everything the site's welcoming owners (Clelia & Andrea) do, they do to inspire. Each cottage (there's two, Casetta La Dolce Vita & Casetta La Quercia) reminds us of a cosy camping bunkhouse, featuring a classically furnished double bedroom, rustic private bathroom, outdoor kitchen (under the veranda that's wood & lath-work covered) and access to the site's terrace, home to those astonishing Tuscan views.
One of Il Baciarino's real delights has to be its accessible distance to some of Italy's, actually the world's, most remarkable cities. "Tutte le strade conducono a Roma" – all roads lead to Rome – and within a couple of hours 'The Eternal City' is yours to discover, with its tales of human genius, captivating history and breathtaking baroque churches. Still not persuaded? Then allow Florence to knock your finicky socks off. The birthplace of the Renaissance, Florence is one of Europe's great art cities. Michelangelo, Leonardo da Vinci, Raphael and Donatello, they're all here, and ready to defeat the evil Shredder… cowabunga! Sorry, couldn't resist.
Alternatively there's plenty to do in the local area, which is secluded but not isolated. Il Baciarino is only 20km from the beautiful beaches of Castiglione della Pescaia (see opposite), and the medieval villages of Pitigliano and San Gimignano make for unforgettable day trips. Or of course, you could just relax by the terrace with that bottle of Chianti. And with a view that sensational, who could blame you?
Gallery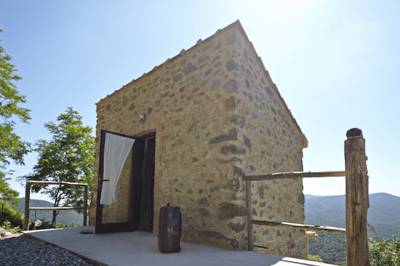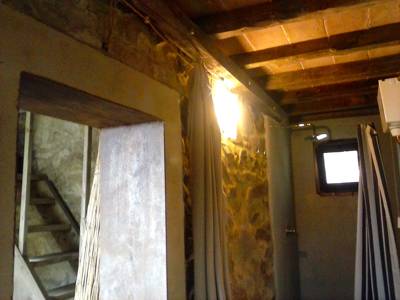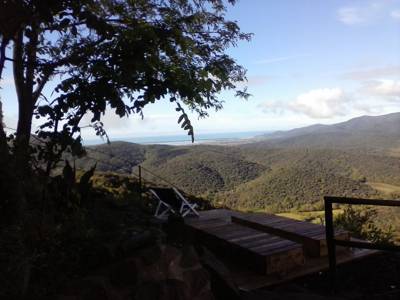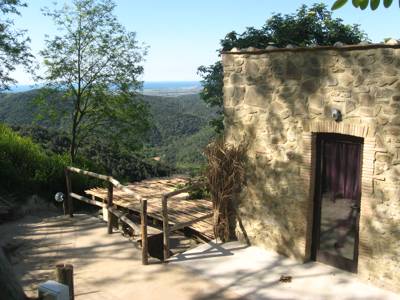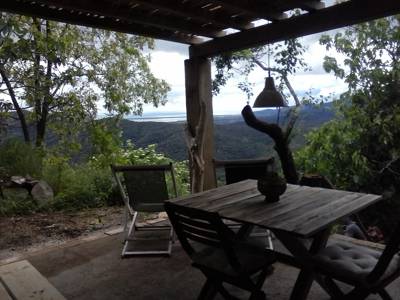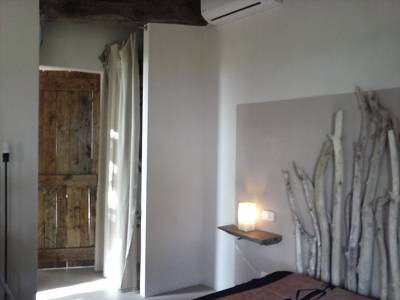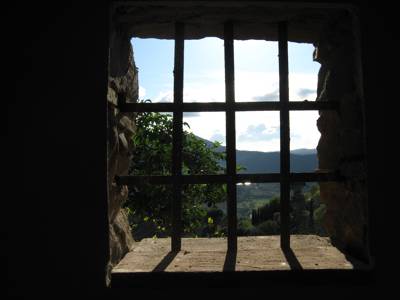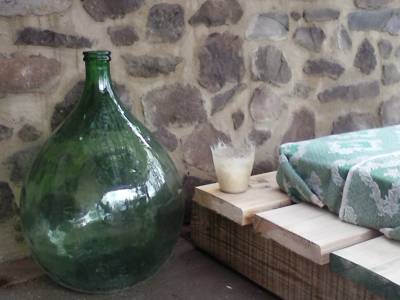 The Owner Says
You can have the great experience of a fresh fish dinner under the star;   A private boat cruise along the tuscan coast; private cooking class
Reviews
Sign up or sign in to leave your review of Il Baciarino - a special retreat
Simply fantastic ..
Just that .. simple and comfortable stone dwelling with stupendous views!!!!! Our second stay here. Loveliest of hosts. Andrea and Clelia will serve you delicious food, more than you can possibly eat with unlimited wine. We were lucky to have a trip on Andrea's boat, do go if you can, he also does cookery classes. Vetulonia town small and friendly as well, with two little bars. Beautiful Cala Violina cove nearby. Region has everything, hilltop towns, nature reserves, beaches, thermal waters, terrific cuisine and you are only a short train ride from Rome. It doesn't get better than this. We will be back again soon. Recommend, recommend, recommend!!!
Heavenly
We had a wonderfull week at Il Baciarino in July. Cosy and intimate with stunning views and sunsets. We had lovely quiet dinners on our private terras and enjoyed the fabulous cooking by Andrea!!! We would recommend this to anyone who enjoys simplicity combined with a little luxury!
Heaven!!
We had the most fantastic one week stay at Il Baciarino in July, staying in Casetta La Dolce Vita which was very clean and had everything we needed. The views are stunning and you feel secluded and wonderfully close to nature. Clelia and Andrea are the most welcoming hosts and you must book in for a meal with Andrea who is a fantastic chef. We were very sad to go and would highly recommend it!!

Perfect in every single way!
Where to start?! 
If you only want the short version... if you like; 
1. Drinking organic chilled wine on your own private terrace overlooking the rolling hills of Tuscany out to the ocean at sunset
2. Again, enjoying Italian wine whilst Andrea teaches you how to cook at least seven fresh and authentic tuscan seafood recipes (and then eat it all afterwards)
3. Walk around and explore the numerous close by tuscan villages, sampling local food, wine and sights. 
Then you would love your stay here just as we did!

Continuing on... 
We stayed in the Vita Dolce villa, which was perfect for us. It has every comfort you need whilst maintaining the authentic minimalist tuscan feel. At the peak of the tuscan summer, the air conditioning and cold tub (obviously hot tub in winter) was great to have. Our days at Il Baciarino quickly got into the relaxing rhythm of fresh fruit and eggs for breakfast, food shopping for lunch and dinner in Grilli, sun bathing and reading on the sun beds and hammock; A visit to our incredible hosts Clelia and Andrea to grab a bottle of wine to enjoy with lunch. 

After a siesta in the late afternoon, we would head up the hill for 2-3 minutes to the only small bar in town which had a healthy attendance of locals every night. It was such a great experience to sit on the wall with the locals, drinking some wine and enjoying the local band. 

and then repeat! 

We spent a day driving around the area and further afield to Pitigliano which was a highlight and I would definitely recommend. 

I can not praise Clelia and Andrea enough for what wonderful hosts they are and what they have established at Il Baciarino. Clelia and Andrea were so accommodating and struck the perfect balance between always being available and happy to have a chat without in any way intruding on personal space and time. 

Our cooking class and dinner with Andrea (and Clelia translating) was so much fun, we learnt how to make pasta from scratch and a range of tuscan seafood dishes. After about 5 dishes we needed a quick sit down on the lounge before finishing of the last few including desert! 

I would highly recommend Il Baciarino to anyone who likes the sound of the above! 

Thank you again Clelia and Andrea, we would love to come again.

P.s. Laurence is STILL talking about Stella!

little paradise in the maremma
Everything that you can read here is absolutely true. And after reading all these comments, I don't even know what to add. A stay at Andreas' and Clelia's is by sure at the same time an amazing and relaxing time, that you gonna keep in very good memories. We enjoyed our days there a lot, especially the recommended fish dinner! Thanks a lot and we hope to come back one day!
Best Price Guarantee, with no fees
Instant booking confirmation
Trusted for 10 years
Chance to win camping goodies in our regular competitions!
A view you want to keep staring at
The hosts were so lovely, talking us in the last few kilometres and welcoming us with a bottle of local wine.
Words really can't describe the view down the valley to the coast - we stared at it from the deck, and it was really enticing us to sit out each evening and after the sun went down we were surrounded by firefliesso we felt we were in a really special and wild place.
Andrea's meal on our second evening was without date the best food we ate ... Fresh fish, simply served, in greasy surroundings .... Honestly what more could you want.
Clelia and Andrea are just seriously lovely people and they made our short break in Tuscany something to remember.
What a wonderful place !
We've visited Il Baciarino last november and stayed in the lovely house La Dolce Vita.  Although the weather was not perfect, we had a perfect stay !  Clelia, Andrea and Clelia's mother are so nice people. Our dogs were fond of the donkeys and even the cat of the neighbors was no problem.  The house has a wonderful view and every morning we went by foot to the little grocery in town, tip : you should try the ciabatta from this grocery ! When we arrived we were welcomed with a home made apple cake and the last day of our stay Andrea cooked a delicious lunch for us.  We will certainly go back to this wonderful place !
Amazing!
We recently stayed and were blown away by the place. Not only do you have a beautiful, rustic and well equipped accommodation area that is private and separate from the other cottage but you also have views down the valley all the way to the coast. On arrival, we were greeted by Andrea who guided us in and received a warm and friendly welcome by Clelia. They gave us great local information about attractions and restaurants. There is a small grocery store within walking distance that you can buy all the basics from if you just want to enjoy the cottage and stay in. We had one of the best meals of our lives - fresh seafood and pasta cooked by Andrea and the local wine was amazing. The cooking class is a must and just as delicious and generous in proportion.  Andrea and Clelia were so friendly and we were always offered coffee, wine accompanied with freshly baked biscuits or cake when we came down to the common area. They truly care about their guests and their experience. We would definitely recommend this to anyone - great value for money and a once in a lifetime experience that you won't forget. It is a great memory for us and we will definitely recommend it to anyone. We only wish that we weren't returning to Australia as we would make it an annual holiday. We feel very lucky to have stayed there.
Absolute Perfection
From the moment we saw the images of Il Baciarino on Cool Camping we knew we wanted this to be part of our mini European road trip. Booking was made easy with Clelia, always replying promptly and in a friendly manner. The fact that they allowed dogs in such beautiful cottages was a massive bonus – we couldn't believe our luck. We based our trip around their availability and I'm so glad we did.
After 10 hours on French and crazy Italian motorways, we were warmly greeted by Clelia and Andrea with huge smiles, hugs and a bottle of local wine…it felt like we were being reunited with good friends.
I have to say, as amazing the photos are, they still don't prepare you for the breath-taking beauty of the hills and sea. The cottages themselves, designed and restored by Clelia and Andreas are simply beautifully decorated, with every view point considered, so when you wake in the morning, the first thing you see is the stunning scenery. The more we looked around, the more we saw little touches that really made the place, you can easily see the amount of love they've put in. The cottages have everything you require, with a luxurious bathroom, aircon, MASSIVE bed and a perfectly positioned hammock! Having an outdoor kitchen / dining area just added to the charm and ensured you never missed out on the views.
Clelia gave us really helpful information of the local areas and places of beauty to visit… to be honest, as we were only staying for three nights we didn't want to leave, but next time will definitely check out the local beaches and natural spa she recommended.
Our dog, Meli, was extremely happy sniffing out the wild tortoises that roam around the land and made friends with their two donkeys – who came up and greeted us every morning with a friendly 'eeyor'.
The village itself is a pretty, traditional Italian hill top village with friendly locals and THE most amazing deli… I recommend you try their Salami, focaccia bread and wine – we were in heaven and so cheap.
I would also strongly advise that you book a meal with Andrea – we were so lucky to have a romantic table outside and a meal cooked just for us. Andrea is a genius in the kitchen – every dish beautifully presented and tasted like nothing we've had before – we actually thought that the 'starter' was our entire meal, but more and more beautifully presented and tasty dishes kept on coming out!!
Our favourite bit was chilling outside after the meal and chatting to Clelia and Andrea – and it came as no shock when we asked if they'd had any proposals there and they confirmed they'd had two – it really is that magical. To top the evening off Andrea pointed out a shooting star over the horizon, with the glow of the moon on the sea through silhouettes of the Tuscan hills.
The only negative is that we didn't book for long enough – something we have promised ourselves that we will rectify next year.
It really felt like we'd won the lottery and I'm sure you already know that I cannot recommend it enough and the best thing is, next year, when we return we will be greeted again by people we definitely consider good friends.