Camping Seiser Alm
Saint Konstantin 16, 39050 Völs am Schlem, South Tyrol, Italy












The front-row Dolomite view and hiking terrain make this a must for adventurers
If you're not the world's greatest linguist, you can be forgiven for getting tongue-tied here. It's not the altitude, which can surely make you dizzy, but the language. You're in Italy, but with more than a hint of a Swiss– Austrian–German twist.
The cute little peak-roofed doll's houses are enough to make you start yodelling here and now, and the clanging cow bells make you wonder if Julie Andrews is about to come skipping over the nearest grassy hillock.
Seiser Alm (German moniker), or Alpe di Siusi (Italian version), is in the very heart of the Dolomites. This Italian region of the Alps is a sprawl of massive Triassic rock formations, rising like doomsday monoliths from a soft bed of pine trees and Alpine fauna.
The area has three main towns: Castelrotto, Siusi and Fie. Between them, in the foothills, sit smaller villages, and here the long shadow of the 2,500-metre Sciliar Massif falls across Camping Seiser Alm. Not too far from the base of this carbonate marvel, tiny tents are pitched randomly on a couple of grassy knolls. Despite the minor irritation of somewhat unsightly serried ranks of caravans and statics, the unhindered front- row Dolomite view almost makes you feel as if you're camping in the rough.
And so it should. This area's a real looker – gorgeous enough to take your breath away. In winter the valley's covered in thick unyielding snow, and the mountain peaks – the highest over 3,000 metres – are like fins of chocolate mud cake dusted in icing sugar. In summer cagouled-and-booted walkers arrive en masse to hike the sublime landscape. Flower-covered pastures erupt from colossal mountains of carbonate rock, the peaks, columns and crags set off against the big blue sky.
Hiking has been a happening thing here since the 19th century and it plods along today on over 210 miles (350 km) of marked tracks – take your pick from the different grades on offer. The Seiser Alm cable car – the world's longest – and connecting chair lifts are ready and waiting if you'd really rather do the whole thing sitting down. You'll have to get up off your backside, though, if you want to have a little sit-down in the Rifugio Bolzano. This is one of the oldest mountain huts in the Alps and it nestles just below the 2,300-metre Monte Pez on the backbone of the Sciliar Massif. Another clever idea is to take the easy stroll to the Punto Panoramico at the top of Chairlift Three. This has a high wow-factor, with its views to the Marmolada or Punta Di Penia, the highest peak in the Dolomites.
If serious hiking isn't really your thing, but you're a bit of a history buff, you'll enjoy rubbernecking around the fortresses, ruins, castles and pint-sized villages that dot the area. The beautiful Larghetto di Fie, a natural lake known for its intact ecosystem and excellent water quality is a must for a refreshing little dip when the weather warms up. If you're a mountain- biker or a road-cyclist, don't feel obliged to take a back seat either – the region's rocky slopes and undulating roads provide heart-pumping scenic adventures, no matter what your ability level is. Meanwhile, back at the campsite, when your throat needs a yodelling break, breakfast is served on a long terrace with truly spectacular views of the Dolomites on one side and the valley on the other. But don't be expecting cappuccino and pastries. Breakfast here is typically German – a boiled egg served up with cheese and ham. A delicious and appropriate way to build up your strength for the energetic day that lies ahead.
Gallery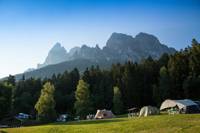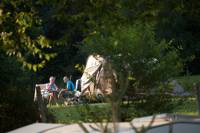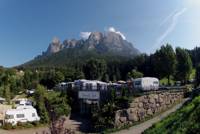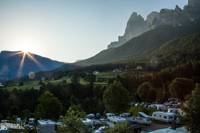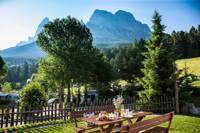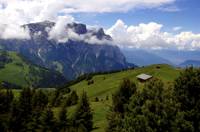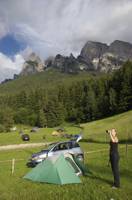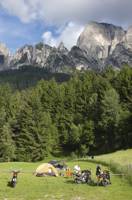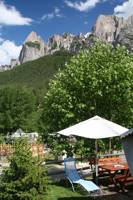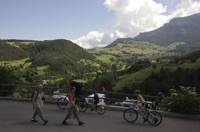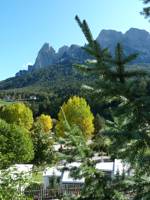 Reviews
Add Your Review
Most incredible setting
I stayed at this site on a brief stop over. The location is incredible and was such a shame I couldn't stay for longer and do more of the walking routes nearby. The pictures do reflect how beautiful this place is but if you've never been to the Dolomites you've got to be there to truly appreciate. Completely different to camping in the Alps.
Best Price Guarantee, with no fees
Instant booking confirmation
Trusted for 10 years
A chance to win camping goodies in our regular competitions!