A glamping retreat on one of Ireland's most breathtakingly remote islands
If West Cork, as the locals will tell you, is 'A Place Apart', what does that make Cape Clear Island? Situated eight miles south-west of the Irish 'mainland', this is the southernmost inhabited part of the entire Emerald Isle. The most extreme point, Fastnet Rock, sits 4 miles further out and is known as 'Ireland's Teardrop' as it was the last bit of land seen by those setting sail for a new life in America. If you still need a sense of perspective of how breathtakingly remote this place is, there's a helpful signpost to greet you on arrival – 'Dublin 165nm; San Francisco 4884nm; Murmansk 1624nm'; it's a long way from Cape Clear to... well, just about anywhere. You can almost hear the familiar twangs of the Father Ted theme as you make the passage over Roaringwater Bay from delightful Baltimore's pier. But this is as far from Craggy Island's exposed wind-battered dot as you can get. Divided in two by an isthmus separating east from west, Cape Clear's lush contours provide natural shelter for the frequent yachts and passenger ferries who dock at her north and south harbours. The hills here are an ever changing palette of vibrant wild flowers, yellow gorse and purple heather, yielding to the warm autumnal gold of the bracken. And on the grassy slopes overlooking the island's south harbour, you'll find a suitably spectacular glamping spot to do justice to this Irish island paradise.
Cape Clear, Chléire, Cleire (Oileán Chléire is the proper Irish name for this predominantly Gaeltacht island), whatever you call this place, there's no disputing the allure of glamping at Chléire Haven. Helmed by English expats Dave Calvert and Sally Davies, this stunningly-located site is the perfect retreat for those who've ever cast a dreamy gaze out to sea and wondered what adventure waits across the waves. While the camping contingent are catered to here with 25 well-kempt pitches, it's the glampsite that really makes this the hassle-free holiday you dreamed about. The cosy yurts come fully-furnished with all the ususal kit and kaboodle including double beds (with bedding) and wood-burning stoves, while the gas cooker supplied and the firepit/BBQ available means this is still 'proper' camping.The tipis are more modest with just camping mats, rugs and cushions. Eco-conscious to the last, Dave and Sally have installed solar lighting and the showers are also solar powered. Whatever dwelling you decide on, there really isn't a bad spot on the whole 5km-long island.
The sea and air surrounding Chléire are brimming with all manner of aquatic and avian visitors. It's a mecca for twitchers, with thousands of rare migratory seabirds stopping over at the island – eager ornithologists darting across the island to confirm rumours of a rare sighting are as common a sight as the sooty shearwater. And if you don't know what that is, The Cape Clear Bird Observatory has all the information you'll need to tell your kittiwake from your fulmar.
The calm coastal waters make for perfect kayaking too. If you're lucky, you might get up-close and personal with the brazen seals, or enjoy an acrobatic display from a pod of dolphins. Whale watching tours are a common sight on the seascape, with the waters surrounding Ireland home to some 24 different species of cetacean. Join one of the charters from Baltimore to see if you can spot basking sharks, orca, the extremely rare sunfish, and even fin whales, second only to the blue whale in size.
For history buffs, there's enough neolithic and Celtic artefacts to keep even Tony Robinson struggling for superlatives. The ruins of O'Driscoll's Castle are straight out of a swashbuckler, while the monolithic marriage stones are essential visiting if you seek that long and happy relationship...  
You might think an island retreat like this means little more than relaxing and finishing that doorstep hardback you've thumbing through all year. But Chléire has a jam-packed social calendar, belying its diminuitve size. The Cape Clear Walking Talking Festival in May is one of the highlights. It's a great chance to meet the locals, with green-fingered Sally even leading the festival's guided Garden Walk. The Irish, as we know, spin a good yarn and the Cape Clear Island International Storytelling Festival is a showcase for the best of them every September.
The North Harbour is the main hub of island life, and a few evenings spent in either of the island's two watering holes will have you rubbing shoulders with the majority of the 125 laid-back residents, who'll happily teach you a few choice phrases in Irish to wow the folks back on the mainland. For a bit of craic, Club Chléire is the island-run social. There's usually a trad session on most weekends in the summer, so if you strum, pluck or know how to handle the bodhrán, the more the merrier.
A few songs and a few scoops later, the gentle trundle back to Chléire Haven may take a little longer than expected. As you stop to gaze at some of the starriest night skies you're ever likely to see, soundtracked by those crashing North Atlantic waves, you may find yourself absent-mindedly arguing your case for nominative determinism – for a stay on Clear really does clear away the stresses and strains you left behind as soon as you got off the boat.
Gallery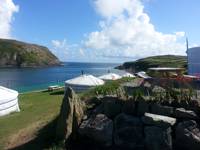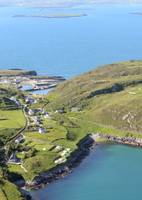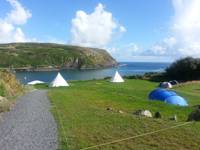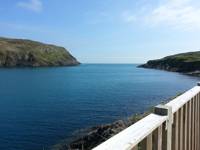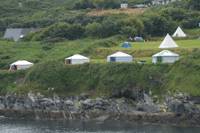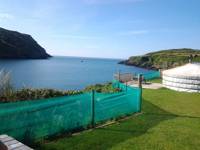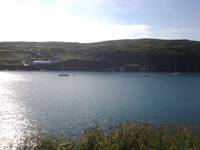 Best Price Guarantee, with no fees
Instant booking confirmation
Trusted for over 10 years
A chance to win £50 of Cool Camping vouchers!