Intimate site located on a natural lake, with superb access to Germany and Austria
As its name suggests, Zellersee is all about its lake. It's not a huge lake, but what it lacks in size it makes up for in sheer convenience. You can literally slide out of your sleeping bag, forward-roll through your tent-flaps and slip straight into the lake's watery embrace: the perfect way to wake up. This tranquil waterhole lies in the breathtaking Chiemgau valley in the Geigelstein nature reserve next to the Alps. Enough said.
Afterwards, treat yourself to a nice hot coffee and fresh bread from reception whilst you decide what to do with your day. A bike ride to the Chiemsee (9 miles/15 km) where you can swim some more? A paddle boat cruise to the Herrenchiemsee – a collection of Versailles-like palaces. Or perhaps you fancy some more watery action at Lake Taubensee – just a 1,138-metre hike up the hill.
For those preferring a flight of fancy, there's the world-famous gliding school in nearby Unterwössen, offering gliding and paragliding. This is the place to catch the most amazing thermals – the kind that keep you afloat for up to 560 miles (900 km), so make sure you know how to get down before you take off.
In the evening, unwind with a beer from reception and reflect on how everyone around seems to be so smiley. Is it that there's a community ambience that fills every camper with a warm glow? Or could it be that you forgot to get dressed after your morning dip? Whichever it is, Zellersee is an open-minded place, so just keep smiling.
Best Price Guarantee
Easy and Secure, with instant booking confirmation
Trusted for over 10 years
A chance to win a brand new Coleman tent!
Gallery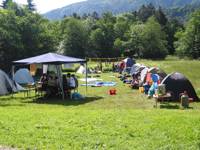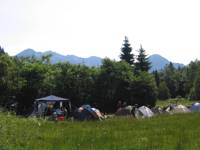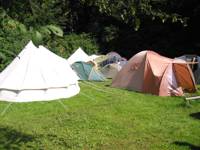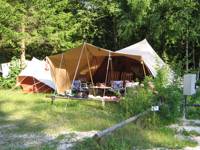 Reader Reviews
Add Your Review
Quiet and chilled campsite
Lovey campsite for back to basics camping. Surrounded by wildlife and really dark so good for star spotting at night. Lovely little lake for cooling off after days out and good location for accessing nearby lakes in Austria and Germany. Very "German"campsite but we managed without being fluent in the language. There aren't many toilets or showers so there can be queues but all very clean and only one access point for water ( in main utilities area) Unfortunately no fires or charcoal BBQ's allowed, presumably because of woodland surrounding site. We enjoyed our stay and found it very relaxing due to the general chilled vibe on the site.
Camping Zellersee August 2014
We arrived just before rain started, and it looks like we'll be leaving with a wet tent.  Because there had been so much rain, some pitches couldn't be used, and we wanted one with electricity, so our choice was limited to three, all of which were stony.  However....  It's a great site, very friendly, and excellent facilities.  Our pitch was small, but the site is quite quiet, and in such a fabulous setting.  Mountains all round, and it wasn't windy at all (I'm writing this on our last night here, so I may regret saying that, I suppose!).  The 'lake' is a large pond really, but wonderful to get a boat onto, or to swim in, if you're a good bit younger than me.  Would certainly recommend it, even if we have had to buy new tent pegs to replace all the bent ones!