Domaine de Soleil Plage
Domaine de Soleil Plage, Plage de Caudon, Vitrac, 24200 Sarlat, France















Riverside fun with water all around
Slither into your swimwear, tuck a towel under your arm and start to spin. Yes, spin. Now close your eyes, keep spinning and point. Keep spinning. Keep spinning… aaaaaaaand stop!
This is the best way to start your experience at Domaine de Soleil Plage where water-based activities are as extensive as the campsite's restaurant menu. Hemmed inside a meander of the Dordogne River, a beach beyond your tent flaps offers fishing, swimming, canoeing and kayaking with an onsite rental service that allows you to daytrip downstream past cliff top châteaux and medieval villês. If you find your finger pointing away from the river, then it's probably the aquatic area you're heading for. The stylishly designed indoor swimming pool with adjacent hot tub is ideal on cooler days, while the paddling pool, sports pool, water slides and spa are divided up by tree-dotted patios and tiny wooden bridges. If you haven't grown a pair of gills by the time you leave this campsite then it's fair to say you're doing something wrong.
It may all make the place sound like an action-packed site and when you factor in things like mini golf, three playgrounds, a tennis court and an indoor games room, you can't be blamed for thinking the place is all too commercial. However, this family-run site has built itself from years of experience and the myriad of activities is little more than a reflection of the area. The Dordogne Valley is a magnet for cyclists, fishermen and waterborne explorers looking for somewhere to take a break and enjoy a plethora of other sports in the sun-kissed setting. For the adventurous, paragliding and horse riding allow a more inventive view of the region. Beautiful medieval villages – Sarlat, Beynac-et-Cazenac and Les Eyzies, to name but three – are close by, while the prehistoric caves of the Perigord Noir are also just a short drive away.
Back at the campsite, lounge on the beach or relax beneath the shade of the trees dotted around the camping area. The site is divided into three hedge-lined spaces. Furthest from the river are the fully furnished chalets, while the other two sections house the camping pitches, each with a well-maintained sanitary block, washing area and chemical disposal point. While not all pitches enjoy a river front position with exquisite views of the opposing cliffs, every spot has a good amount of space, easy access to the beach and a prime location in one of the most beautiful regions in France.
Gallery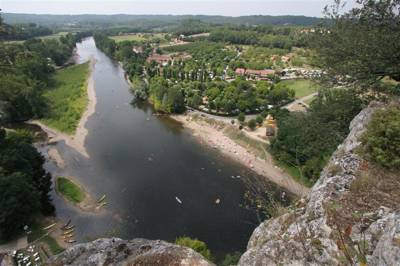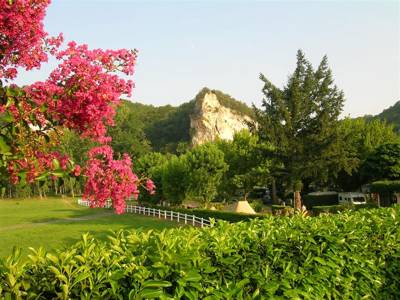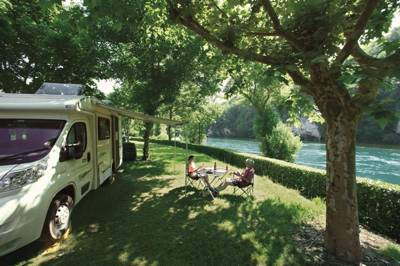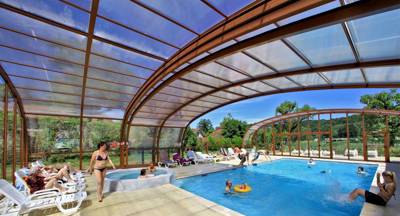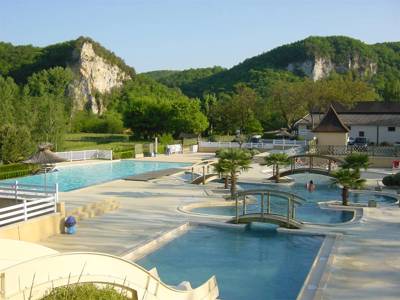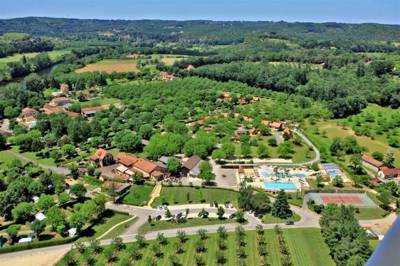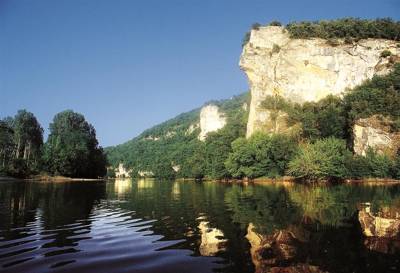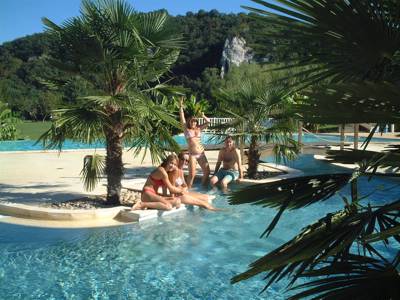 The Owner Says
Reviews
Sign up or sign in to leave your review of Domaine de Soleil Plage
Good campsite
Beautiful, spacious riverside pitch, but by late August it had no grass left, so we had quite muddy mornings until the sun warmed everything up.  Fabulous pool complex best enjoyed early or late as it was completely packed in the afternoons.  The restaurant food was perfect for us in the evening, but on the one afternoon we tried to get a late lunch, the few staff were very polite but frazzled as they were overwhelmed by the customers waiting.  The showers and toilets were kept very clean and there was plenty of hot water.  Only 1 washing machine and drier that we found near out pitch.  Our children had a ball at this campsite.
Best Price Guarantee, with no fees
Instant booking confirmation
Trusted for 10 years
Chance to win camping goodies in our regular competitions!