Le Capeyrou
24220 Beynac-et-Cazenac, France









Huge lush grounds beside a gently flowing river and one of the best castle views in the south of France.
In the heart of the Périgord Noir region, along one of the most jaw-droppingly perfect stretches of the Dordogne Valley, is the village of Beynac-et-Cazenac. Nestled under the vigilant gaze of the Château de Beynac this magical little village clings to the hillside as if it's been flung there by a giant. With its turreted witch's hat buildings and storybook red-tiled roofs, it's clearly medieval, though people have lived here since the Bronze Age. Pull up a chair at a riverside café, order a cool beer, and ponder Viking longships prowling up-river as they penetrated the valley in the 9th century. Head upstream to La Roque-Gageac to hire a kayak, then float downstream past cliffs and castles peeking through the vernal river bank. Situated in this 'five castles valley' in the heart of the Périgord Noir, Camping Le Capeyrou sits beneath the fortress of the Château de Beynac. Waking to the sound of the nearby Dordogne River it's hard to imagine a more enchanting view than this. The site itself is well catered for, with a generously sized swimming pool, volleyball court, and homely bar, with 120 pitches enjoying plenty of mature shade. Pitch up by the river banks or in the meadow, away from civilisation. Come evening the bar, with its exposed stone walls and outside patio, is a pleasant spot for sundowners. Inside the recreation room, its walls festooned with old bicycles, there's a huge hearth and grill, where people bring their own meat to BBQ (there's a butcher a few minutes from the site). And if you're feeling decidedly British there's even a darts board.
Gallery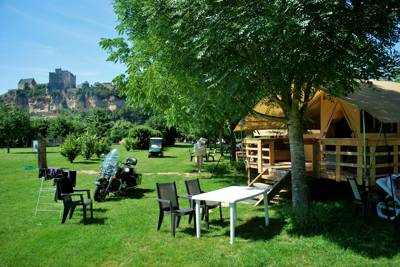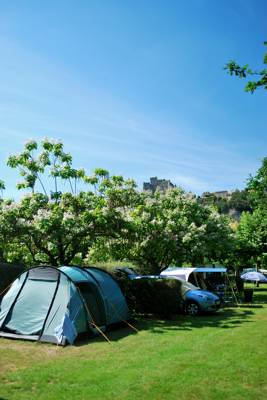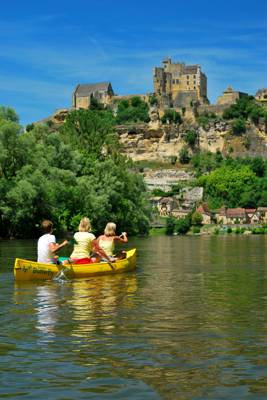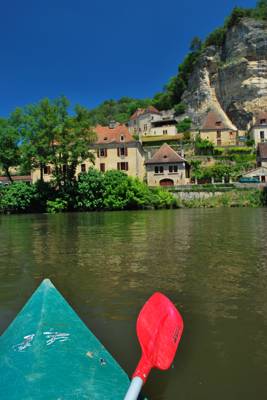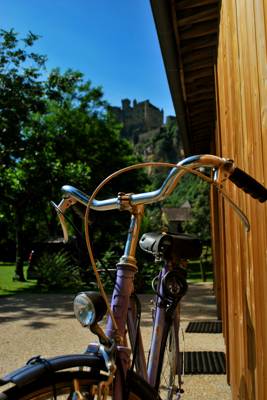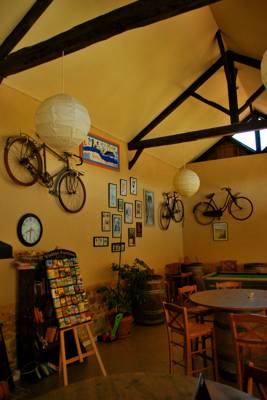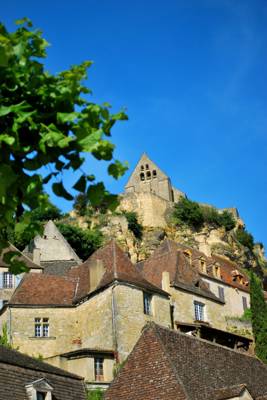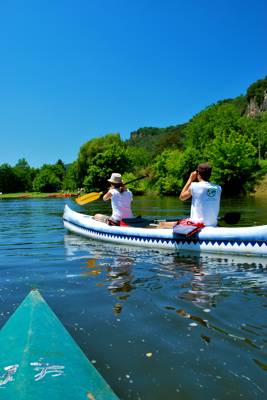 The Owner Says
Reviews
Sign up or sign in to leave your review of Le Capeyrou
Beautiful setting, facilities could be better!
The toilet facilities weren't great here, it wasn't that clean probably due to the volume of people in August and a not great design. Tiles that just collected water and mud. Smelt bad.There also weren't enough toilets. There was a queue in the morning. I'd have expected better facilities from a site of this size, and i've stayed at cheaper sites that have had nicer and cleaner sanitary blocks. Water for dishwashing was often cold or lukewarm. Beautiful site, very well designed with lovely pool and bar area and great staff but they seriously need to improve toilets.
Riverside delight
Nice campsite in a fantastic location - we paid extra for a view of the chateaux and river. River view wasn't an initial, got this through gaps in the hedge so we had some privacy from the path but could sit and watch the rover flow by. Chateaux was visible from the pitch but moving around the site meant we could admire this fantastic site. The location meant we had pitch side water but were a long way from the electricity point (more than our 15m cable), the owners quickly helped to resolve this with the loan of a short extension. Facilities were excellent, pleasant bar area, lovely swimming pool and showers/toilets (with paper, seats and soap) kept clean throughout the day. I found the main block got very busy at times, e.g. queuing for a cubical or shower/sink, the smaller block nearer to the entrance never seemed to be a popular though. We found the staff were very helpful and it's location meant access to shop's and restaurants in Beynac - a nice walk during the day even better in the evening without the crowds. It's true about the bakers opposite - there bread and cakes were superb, as was meat from the butchers next door. There are several safari tents and predominantly English families staying on site which provides a certain vibe. Location means you're able to do loads of activities (canoeing on the Dordogne is spectacular if busy) but detouring from the main routes means you're able to find some hidden gems.
Nice
Big and well organised. We went first two weeks in July with our pre-schooler, the site was fairly full but we only had to wait for a shower once, pool area brilliant, everywhere clean, reception really helpful. They don't freeze freezer blocks! Which we found a bit odd, kids also still quite noisy and 'playing out' past 11pm Situation is great, facilities are great – can totally see why it is in this guide book. I'd perhaps not go again, but, down to it being in the Dordogne rather than the site – if you are heading to that area it is well worth considering.
Noisy and cramped
A noisy and sardine-packed campsite with exceptional views of chateau and river. Small pitches were overpopulated with tents and motorhomes. Very noisy overall, but the constant radio noise from individual pitches was particularly annoying. Our pitch was very exposed to sunshine, although some pitches had better shade. Facilities much as you'd expect at a municipal campsite. An evening stroll to the chateau was wonderful, but the music and noise until well past 1am meant that we moved to an alternative Dordogne campsite the next morning, forgoing our deposit. Overall, not-at-all cool camping at a fantastic location.
THE VIEW!
I was blown away by the view which can be seen from the whole campsite. The pool was warm in August probably due to the lovely weather. The river is lovely with a beach by the bridge with canoe trips also leaving from the bridge. Canoe trips are spectacular but the river does get very busy. The toilets were mixed which I wasn't keen on but that was the only gripe for me.

Best Price Guarantee, with no fees
Instant booking confirmation
Trusted for 10 years
Chance to win camping goodies in our regular competitions!
Nice campsite
Just returned from our stay at this site.  We must have stayed during the busiest week of the year as the site was full to capacity.  It was quite noisy (what seemed like the whole campsite walking past our tent on the grit footpath all through the night!!) Also it is next to the main road to Bergerac so there was a lot of traffic noise from about 6am - midnight.
The pool was really lovely.  Very clean and modern.  Probably needs more sun loungers during busy time of year.  Gorgeous view from pool area - right up to the stunning castle/chateau on top of cliff.
The larger toilet block was not kept very clean but I suspect that this was due to the business of the site at the time.  Frustrating showers - lukewarm trickle which lasts about 15 seconds.  The best toilet block (and cleaner) is the seemingly newer, smaller one near the site entrance.
The bar/terrace area was great for sitting out in at any time of the day.  Really relaxed.  Some evenings there was a food van selling food (Sushi, thai and chips) Would have been great for a different one to come every evening - the site was big enough to justify this.
Overall a nice stay.  Kids loved the playground.  A good base to explore the region from.  Lots of beautiful scenery and wonderful castles to visit.  Would prob go back but would aim for less busy time of year.

Le Capeyrou Aug 2013
We've just returned from a fantastic two weeks here. We travelled with friends and had large pitches next to each other with sufficient shade on each. The facilities are just right. Stand pipes every other pitch, toilet facilities that were kept very clean ( no mean feat with a full campsite, peak season), great pool area and table tennis set up. There is also a pleasant bar area with great views of the chateau. The owners were very welcoming and helpful throughout our stay. The access to the river is easy and we spent many an hour paddling, swimming and canoeing along the river. The children had a lovely time with the site being safe for them to explore and play. Would highly recommend this site for a relaxing, well situated venture into the region.
Top Campsite in the Dordongne
We stated for 4 nights in June 2013 and had a great time. The facilities of this campsite are second to none with clean toilets and showers etc. This makes an excellent base to explore the surrounding area and there is also plenty to see and do locally too. The hosts are friendly and helpful - even advising us to avoid the pitches near the road as they would be too noisy. When we stayed there were move caravans and campers vans than tents and grass coverage seemed sparse for so early in the season. I would rate this campsite as equal 1st in the Dordongne region along with camping Le Paradis further north at Saint Léon sur Vézère. 
This campsite is a fair size and may not be to everyone's liking but we found it an wonderful base to explore from and a great place to chill at the end of each day.
A canoe trip on the Dordogne is great fun and can be arranged directly from the campsite or go up stream to Cenac and search out Canoe Raid for a journey in a proper Canadian (Old Town) canoe. Canoe Raid was run by a great man who, sadly, died last year but his two sons have taken over the business and we wish them well.
If you don't like mosquitoes then don't select a pitch by the river bank and if you don't like the sound of traffic then avoid pitches near the road.
Le Capeyrou
We stayed in this campsite in 2010 and had a lovely stay. The owners are friendly, accommodating and always willing to help out. The facilities were clean, tidy and very well maintained. The site is within walking distance of Beynac and facilities are only a few minutes walk away. The stunning River Dordogne is adjacent to the site and there are beautiful walks and activities which don't require you getting in a car!  We would certainly return to this beautiful site!