Les Olivettes
Les Olivettes, Hameau les Pourcelles, 04190 Les Mées, France











Superb view, boutique chic, personal, loving touch.
Nora and Michel met and fell in love while working in Paris; she was a web designer, he a documentary cameraman. They both wanted to escape the bustle of inner-city life and so began their three-year search for the perfect site. Les Olivettes was a winner for such a visually acute couple; this staggering mountainside vista, in the heart of Provence, bursts with colour all year.
The site is over 50 years old, but Nora and Michel took up the reins in 2009, bringing a touch of Parisian chic to its rural setting, giving it a boutique but bohemian vibe. The most recent additions are a solar-powered pool with a meditation area, a stylish BBQ spot with tables and chairs, and tastefully painted cornflower-blue amenities – in the modern mode. Michel, whose other love affair is with wood, has further plans for bespoke fixed tents and naturally sympathetic, but architecturally sophisticated, cabins. Yet there will always be a place in this olive grove for campers, as Michel admits they like their 'temperament'. Each camping and caravan pitch has been carefully considered and levelled, offering a variety of east- and west-facing pitches, with some olive trees totally shading you from the Provençal sun.
Ecology is important to Nora and Michel; both the showers and pool are solar-powered and all rubbish can be separated. The only additional lighting comes in the shape of small solar lights, which are only light enough to guide your way through the site at night. They certainly don't pollute the incredible view of the staggering star- flecked sky – which is said to be the clearest in Europe. If you need more proof, then from July to mid-September scrutinise the night sky further at the astronomical observatory in nearby Puimichel.
This star-crossed couple left life in the fast lane – and they believe that you should change down a gear, too. Nora and Michel want you to empty your mind and breathe in the natural surroundings. Inevitably teenagers may find this a nul, but Les Olivettes is perfect for young families. The site is dotted with wooden toys, including a mini kitchen, perhaps to prepare little ones for future Provençal cooking. Keith Floyd would have raised a glass of vin rouge, too.
Although there is a supermarket in nearby Les Mées in summertime fresh bread and croissants are delivered and potatoes can be collected directly from the farmer. Twice a week baked delights such as Quiche Lorraine and home-made confiture are brought back from the bountiful local markets: at some point you'll want to experience these treats first hand.
Nora's little office at the entrance is stocked full of suggestions of what to do further afield and Les Olivettes is quite perfectly placed. Just a 20-minute drive to the A51 means a great distance can be covered and so a wide range of activities are on offer – from gliding and ballooning in the east to swimming and water sports in the west.
Just down the road from Les Olivettes is the moulin, where Michel and Nora press their olives into oil in March. There's also a small museum that celebrates this special 'elixir of Provence'. Which, of course, is locally sourced and lovingly made.
Gallery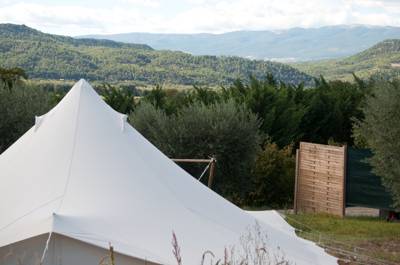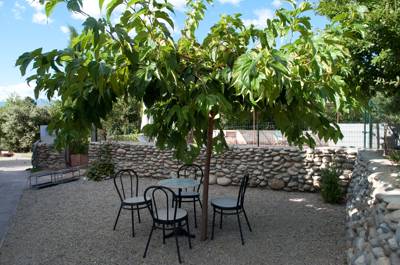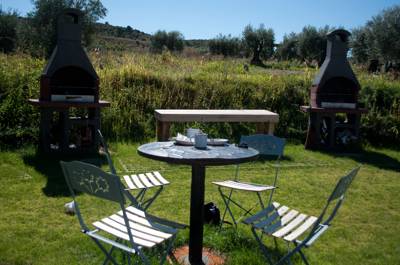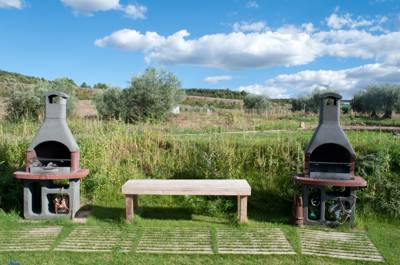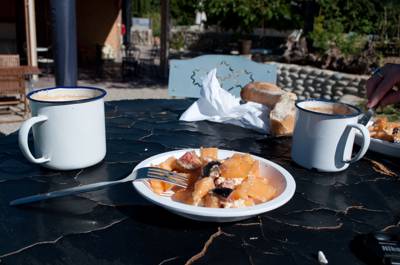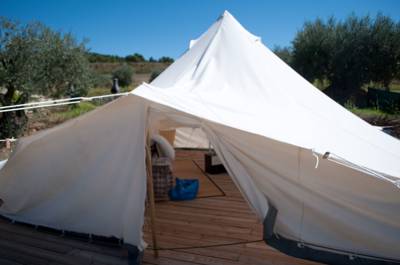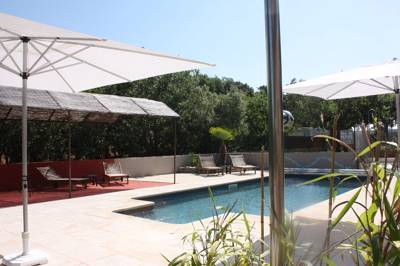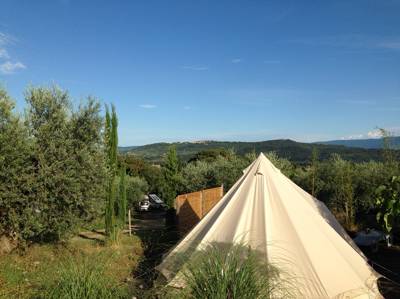 The Owner Says
In order to ensure you 100% holiday camping and optimal integration into the landscape, we made the choice to have no mobile homes. Camping is on a human scale so nothing is far away, the pitches are spacious for privacy and common places for conviviality.

Reviews
Sign up or sign in to leave your review of Les Olivettes
Beautiful. Clean. Quite
I stayed here with my two children this summer for 7 nights. This site is really well run and perfect for a quite family holiday. Very, very peaceful and relaxing. I found the facilities to be spotlessly clean, conveniently located and the staff very helpful. The shade of the trees is a must in the summer months. The only 'fly in the ointment' for our stay was a recommendation to use Pam Pam cafe in nearby Oraison for free wifi - I did this, purchasing a couple of coffees and soft drinks for the children and found the owner to be unhelpful and assumed I could not understand his insulting conversation with another local customer. I was also short changed on leaving. By contrast, the Tourist Information centre in the same village were welcoming, helpful and offered free internet for 30 minutes without any hostility!
Beautiful
Stayed here for a week in August with my husband and teenage daughter. The site is beautifully laid out and very quiet. It is very clean and the owners have added lots of little touches to make it lovely. They are very strict with the rules and you will be told off if they are not followed, even if you didn't mean to make a mistake! On one hand this is lovely because parents have to keep their kids under control but on the other it made us feel a bit on edge. People were proper publicly chided for making a mistake. My husband was yelled at for accidentally using the shower at the wrong time and I for borrowing a chair without asking. We would love to go back but this has put us off a bit. A shame also that they don't provide toilet paper and soap, but that's just a small annoyance. It was a very beautiful and well kept campsite.
Restricted
We have camped en masse with another family for years and this was the first time we felt uncomfortable. There are many rules to follow and we seemed to be chastised constantly. We have five children in the group who want to be children but we felt paranoid about noise they made. This was our annual holiday and and we love being with our children and having family meals. Our neighbours complained about how much noise we made very early in the evening, rather spoiling the atmosphere. The facilities are spotless however are constantly shut for cleaning which was inconvenient. The two eldest children were shooed away from the pool even though we'd been told they were allowed in without us. A beautiful campsite but totally spoilt by rules.
Superb site, shame about the unfriendly owners
Without doubt, Les Olivettes is a very pretty campsite in a stunning location and the facilities are spotless. Overall we had a great week, but it was marred by the frosty reception from the owners. Apart from the super-friendly guy who works on reception, we came away with the impression that everything was too much trouble. The rules are rigorously applied, which I can understand. But it's the way Michel snapped at the couple of small children playing (and not causing any problems) in the bar area; again snapping at another small child for climbing a small olive tree; how they turned up at 11.30am, when we were clearly taking down the tent, to remind us that checkout was 11am; and an almost hostile response from Nora on reception (we put off any visits to reception until the younger guy was there). All in all, it does feel a bit like you're a house/garden guest. Shame.
holidayheavenmo
We have just returned from a lovely relaxing week at Les Olivettes: my husband, myself and three children aged 15, 12 and 9. I reaffirm all the positives about this lovely place. As previously pointed out, Michel and Nora do work really hard in order to make the experience for their guests a calm and comfortable one. There are alot of rules on the site regarding maintaining cleanliness and the calm ambience, but I guess that all helps to make the whole thing work. Prior to our stay I was a bit concerned about children playing noisily around the pool, (based on a previous review.) My fears were unfounded though, as there was plenty of fun had in the small pool by everyone, within reason.The cleanliness of the sight is to the owners' credit, (the pool is sparkling,) as is the boutique feel of the bar and BBQ area; the evening sunsets were lovely with Michel serving drinks and his tapas. Nora ran a really informative reception area, where she happily helped to plan our days for us, enabling us to explore the stunning surrounding area. Les Olivettes is perfect for a family wanting a quiet, relaxing, experience with beautiful views.
There are a couple of points to note: the pool closes from 12noon until 2pm everyday. (I was not sure why this is so, as it is not lifeguarded and children under 12 have to be acompanied by parents.) So if you make your breakfast a long lingering affair, as we did, you will be arriving for your morning dip just as it is closing! The lovely bar area serves drinks only and closes at 7.30pm.
One other point of information which we had not come across before: upon arrival at the campsite you are asked to pay the full balance of your stay without even seeing your pitch. (Although having been there now I can confidently say that Nora allocates pitches with a great deal of consideration according to the needs of the family, eg larger families on bigger pitches.) This payment method might put off more free spirited campers who like the flexibility to move on if the weather changes etc. If you leave a day earlier than you had booked, you will not be refunded. Though this is an unlikely scenario, as wanting to extend your stay is the more likely dilemma in this  tranquil olive grove.
Best Price Guarantee, with no fees
Instant booking confirmation
Trusted for 10 years
Chance to win camping goodies in our regular competitions!
Very calm
This is a lovely campsite. The pitches are large and have shade (an olive tree in ours!) There is a good pool and a chill out area behind it- also a barbeque area all set out behind the bar. Lovely seats to relax in and beautiful, clean sanitaires. While we were there, the children who were camping formed up into bands of happy friends- Dutch, English and French- and ran around having a great time- but it was never too rowdy, and always quiet by bed time. It is in a lovely part of France, with loads to explore. There is a good bathing lake in nearby Les Boissons, just outside Oraison, if you like to swim.  We stayed a week, but would have loved to stay longer. 
Outstanding
Rather than write a long review listing all the positives about this site I will try and keep it concise. 
We (2 adults and a 2 year old) have recently returned from this site, it is the 5th we have tried out of our coolcamping book.
This site is simply superb, the aspect, facilities, cleanliness and friendliness are unsurpassed.
It is well organised and the owners and staff do not stop working, and it shows. 
Should we end up in this part of the world again we will look forward to staying again and wouldn't hesitate to recommend it. 
les olivettes
This review is a little out of date since we stayed at Les Olivettes for 3 weeks in the summer of 2012 but it all still feels pretty fresh to me. There were four of us including my 2 children who were 10 and 8. All in all we had a good time here, there were were some drawbacks but positives first. The site is absolutely beautiful with amazing views across the valley, its also quiet and peaceful (they make a big thing about that as you will see from the website) but much of the peace and quiet comes from large pitches which are well spaced. The facilities are great - toilets and showers are spotless and well designed and the swimming pool is fantastic particularly with the little garden next to it, festooned with hammocks and with a great lawn - perfect for chilling on a hot afternoon.

There are lots of rules and regulations on the site concerning how you must behave and I always felt the owners wanted their guests to enjoy themselves, or have their holiday, in a very particular way. One that the owners themselves may have enjoyed. We also had a very strained relationship with the lady after an incident which unfortunately happened 20 minutes after we arrived. I won't go into details but I have been thinking about this for nearly 3 years now and there is no way that it was our fault. At most it was a minor misunderstanding with no-one hurt, nothing broken and no reasonable person could have taken offence but nevertheless we felt the need to apologize profusely for something we hadn't done to avoid being thrown off the site only a few minutes after arrival. 
Despite all that we stayed 3 weeks and had a great holiday, so it cant have been that bad !!! The area is a bit remote but the site is lovely - its a shame as I would like to go back someday but I won't.
Utter Bliss
We intended to stay at Les Olivettes for four nights and ended up staying for 11 days, which tells you pretty much what we thought of it. It is the most delightful, calm, restful, easy, cool and beautiful campsite we have ever stayed on. Michel and Nora were wonderful hosts and provided exactly the right balance between being a relaxed beautifully appointed site with a variety of different types of pitches, those in the sun have pergolas, which were all very generous in size with the usual expectation of peace and quiet after 11.00, which suits us fine. 
The site rests amongst Olive trees, which provide shade and provençal glamour. We loved sitting at Michel's 'bar' each day sipping wine and Pastis and watching the stars in the incredible starlit sky after dark. In fact, the communal areas enabled fab people watching opportunities as well as a chance to chat to other people. 
A previous review stated that children were expected to be well behaved? This suited us perfectly as I suspect we have quite a French attitude to our girls, who understood and abided by expectations that being calm and respectful were very reasonable expectations. Our daughters loved this site too because of the gorgeous pool, the table tennis, boule area, free grenadine at the bar each evening with a plate of tapas. We loved it because we left it with heavy hearts, but with the mich reduced levels of stress before we'd arrived and we fully intend to return next year for longer and for more of the same. Don't change a thing, keep the toilets smelling of Lavender by the way!
See you next year!
The best campsite
We go camping most years and this has to be my favourite ever. So why so good? Well in no particular order
The pitches are very large, very private, and have a little sun shelter.
It's clean, very good showers and toilets.
It's super quiet, no animations,no music being played, total silence after 11pm
It's full of wildflowers and Olive trees
The owners are lovely, really helpful and great with local information
Very tasteful bar area with communal BBQs
Super little swimming pool
Amazingly reasonable (think we payed about 170 euros a week in peak season
And a great area for you to explore
Oh and hardly any English people (which I like)
perfect summer retreat
My boyfriend and I spent two weeks at Les Olivettes in June 2014 and have a bad time now that we're back in Berlin. The site has been beautiful beyond our expectations (you don't really get the entire picture with the photographs shown), I don't even know where to begin! Nora and Michel have put so much detail into everything: bathrooms smelling like lavender, hammocks underneath shadowy treetops... The site itself is beautiful and doesn't really feel like a campsite, more like a cozy garden - with a beautiful view down the valley and a superb sundown every night, for free. On every place where you feel like, 'I wanna sit here and contemplate life', there is a chair right there. Everyday, when we finished our tours and our little adventures, we were happy to return to our campsite. You might describe our feeling as 'instant relaxation and bliss'  every time we entered the site.
Nora and Michel are the most sympathetic couple, smiling and waving at you every time they see you. Michel speaks a very charming version of Frenglish, he is also quite a talented painter. As he told me, he wishes to display art and even sculptures on the site one day.
We absolutely loved the natural and aesthetic charme at Les Olivettes. We have stayed on four different sites recommended by Cool Camping so far. This one surely is one of the best places listed!
Lovely Les Olivettes
We loved this campsite. We stayed in Summer 2013 and it was our first camping excursion with our children (then 8 months and 2.5 years) so were a little anxious about how it would pan out! We were made hugely welcome, accommodated in a large shady pitch so the children could be cool during the day for naps and things and found the owners friendly, very helpful and warm with our children.  The facilities are great - clean, modern but not institutional at all, spread around the site so you are never far away from sink /loo, lovely pool, a few kids playground bits and pieces and great BBQ area next to the pool.  If you want to spend all day everyday on the campsite with young children this probably isn't the place for you - there isn't an extensive play area and the pool isn't huge- but for us generally out in morning and for lunch and back in the afternoon it was great. It is safe, quiet at night and a very beautiful situation - great views, child friendly walks on doorstep, quiet back road cycle to nearest town and set in a stunning olive grove. It was a great start to our family camping experience and we found owners and other campers tolerant of our children even when our baby's sometimes difficult bedtimes clearly disturbed their early evening drinks...
Summer Magic
Very happy memories of an idyllic week spent in the Olive groves here. In fact it was so good it is hard not to keep it too yourself! We found this to be an oasis of calm. The views fabulous, the facilities immaculate and scented of lavender.
The communal BBQ area was so very sociable and we had many happy evenings sharing the Barrie and meeting new friends.
Nora and Michel ,the owners are delightful, Nora patiently helping me with my French.
Andrew enjoyed the local cycling,as did I at my own pace. Although in a more rural area there was lots to see and do. Including the lavender fields and the Verdon Gorge ...a must!
We gave been enjoying the virgin olive oil from the dire since we got home. 
Hope to return soon. 
Lovely Provence site, a bit 'snotty'
This review is long overdue – we stopped at Olivettes on our way down to St Tropez – having started driving from Geneva in June 2012. We arrived a little later than planned – I think the cut-off is 5pm but we ended up arriving at 7, so the owners were kind enough not to make a fuss (although I'm a firm believer that being somewhat flexible is necessary when running a camping site anyway). 
Having driven about 5hrs from Geneva and being delayed by traffic we were understandingly super excited to have arrived in the 'south' of France, apparently we got somewhat over-excited and being the only French speaker out of 4 UK girls (I'm 1/2 French myself) I was the unlucky recipient of a slightly snide comment from the owner 'kindly' telling me that if I found the campsite via coolcamping then I must have read the description saying that this was a relaxing, calm site and therefore BE QUIET... Bearing in mind we're all 25+ young professionals I hardly think that was necessary and it definitely soured our experienced a little bit. 
The campsite itself was lovely, the showers were hot, very private, clean etc. Nothing to complain about. The pitches were secluded enough –bearing in mind June is not yet high season. The morning after we packed up, moved the car out of the pitch onto their parking area and were allowed to use their pool until the official checkout time which I think was 12 noon. The pool was absolutely fab, warmed just enough by the sun, clean, perfectly sized. Since there were only a few other campers we actually had the area to ourselves for those few hours before driving down south which was lovely. All in all it's a fab campsite in turns of facilities and pitches, and a really good half-way point for those not wanting to drive down to the coast in one stretch. The only 'ick' was the comment that was made which we felt was condescending and not very accommodating.
Les Olivettes
A beautiful and comfortable site!
Les Olivettes

Of all the campsites we have visited from Cool Camping, this was the most disappointing as a family campsite. We thought it was going to be really friendly, particularly for kids, but we found the owners abrupt and at times rude. There are notices round the swimming pool saying to be quite as it is a meditation area, it's quite difficult to keep 4 year olds quite when they are round a swimming pool on holiday!
If you don't have children then it's probably a lovely campsite; it is very clean and the views are amazing but there are much nicer campsites for young families.
Les Olivettes
This is a super campsite! Having had a mixed experience at other sites on our way south this place was a revelation! Very easy to find even with out sat nav. The location was superb, off the beaten track. We were welcomed by the lovely Dez, with a huge smile and bonjour! Our pitch was delightful with superb views. We were given the grand tour and lots of useful information. The facilities were excellent, clean, wonderfully set out. The swimming pool was fantastic and all the campers respectful and friendly. We even made friends with a Dutch couple who we have kept in contact with and are coming to visit us soon! We sorely wished we had made our stay longer and we will return soon. Well done Les Olivettes!