Camping le Sougey Huttopia
Lac Rive Ouest, 73610 St Alban De Montbel, Savoie, France











Family camping on the wonderfully preserved shores of France's emerald jewel – lake Aiguebelette
There are numerous lakeside campsites in France but few can boast shores as renowned as those of Lac d'Aiguebelette in the heart of the Rhone-Alps region. One of the biggest natural lakes in France, no fewer than seven hot springs help bring the water to an appealing 28-degrees during summer, while the surrounding mountains and the great limestone wall of L'Epine – 'the thorn' – shelter the emerald, smooth-as-glass waters, cut through only by the occasional sailing boat or pedalo. Swimming? It's a must. Canoeing? It's an option. Camping nearby? We know the perfect place...
Set just a hundred metres or so from Aiguebelette's western shore, the partially wooded campsite in the village of Le Sougey spreads across some 12 acres of space and has over 100 different pitches where you can pop your tent and make a lakeside base. Two separate washroom blocks provide modern facilities (disabled access to both), while the main reception building has all the staples of a self-respecting French campsite – fresh croissant and baguette delivery each morning, free Wi-Fi, heaps of tourist information brochures and some metal boules to borrow for a family game on the court outside.
While a playground for tots and table tennis tables add extra activities to the campsite, most of the fun here revolves, unsurprisingly, around the lake. The beach at Le Sougey has a lifeguard throughout summer and you can hire pedalos, kayaks, canoes and stand up paddle boards for a very reasonable price. The blanket ban on motorboats only adds to the tranquillity that has helped ensure Aiguebelette's vast tracts of protected areas are rich in wildlife.
Although the A43 Chambéry-Lyon motorway has brought the pristine waters within easy reach of city day-trippers, Aiguebelette still feels like a real discovery. The upshot for campers is a speedy journey in both directions, either to vibrant Lyon for a day of city fun or an adventure further east into the thick of the mountains beyond. In the middle of it all, meanwhile, the lake remains a perfectly peaceful retreat. As Condé Nast Traveller put it, "with its beaches, its reed-beds and its neat, eco-friendly éspaces poubelles (rubbish collection points), Aiguebelette is about as far as you can get from the stress of a high-season Mediterranean beach holiday."
Gallery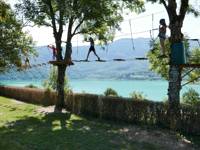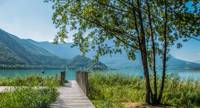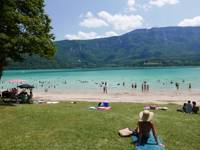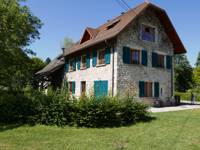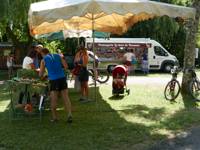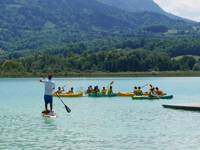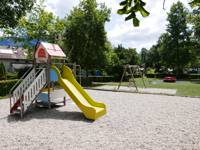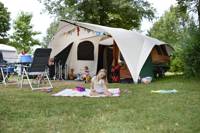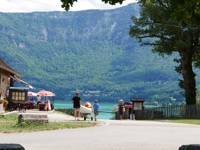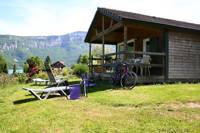 Video Tour
The Owner Says
Tranquil emerald waters bordered by picturesque boathouses and little houses on stilts, the mountains, and the remarkable flora and fauna of the Regional Nature Park: Lake Aiguebelette and its islands welcome you for an enchanting holiday escape.
In the heart of the foothills of Savoie, near Chambery, ideally located on the shores of Lake Aiguebelette, Le Sougey campsite invites you to stay on a 5 hectare site with a family-friendly atmosphere.
Nature lovers will be enchanted by the beautiful wooded site with its calm, green setting and access to the beach. Swimming, cycling, hiking... on Lake Aiguebelette and in the surroundings, there are endless possibilities for active holidays in Savoie. Thanks to the exceptional location of Le Sougey campsite, you will be able to enjoy the pure Alpine environment, the lake and the diversity of the surrounding mountains all in one trip.
Camp on a small, friendly campsite the way you like best. Set up your tent, caravan or campe van on one of our pitches or choose comfortable glamping accommodation... the choice is yours!
Reviews
Add Your Review
They are engaged
In high season it is to loud. There are lots of older kids (probably youths groups) between about 10 and 15, who are playing at the toddlers playground and throwing stones on each other (and the toddlers inbetween them) In the evening they are screaming and shouting until at least 10pm. The lake and the beach is nice, but there are so many daytrippers that you nearly sit on your neighbours towel. The campside and the staff is nice, but it has nothing to do with cool camping. The Toilets are cleaned everyday, but often so dirty. One morning there was a lot of **** right in front of the showers. I am disappointed.
Lovely quiet site, amazing location
The proximity to the lake is probably the best thing about this campsite - it's a short stroll back past reception and down the hill to a beautiful spot with sandy shores, a little playground and some grassier spots under trees if it's particularly warm. The campsite itself is lovely - secluded pitches (they're narrow - be warned, we had to park our short-wheel-base VW T5 across the opening rather than at 90 degrees, in order to have enough space to put our awning up). Lovely playground in the centre and well maintained, clean facilities. Super hot water - great showers and washing up facilities in particular. Lovely staff and an adorable bouncy puppy at reception, plus a TV room and table football for the rainy moments. Didn't rate the croissants I'm afraid (!) but the flutes were lovely.
Win a £100 Blacks Voucher!
If you've stayed at Camping le Sougey campsite, please take a minute to tell us about your experience. Every month, one lucky reviewer will be picked at random to win a £100 voucher, courtesy of our recommended retailer Blacks. Each review counts as one entry, so get writing!

Best Price Guarantee, with no fees
Instant booking confirmation
Trusted for 10 years
A chance to win camping goodies in our regular competitions!