Mobil Home Cottage 2 rooms
(15)
Sleeps 6

(max 6 adults, 5 children)

Electricity
Cooking facilities
Beds Provided
Private Bathroom


Bed Linen Not Included
Wooden chalet, for up to 6 people
The Owner Says
It contains a main room with kitchen area equipped, bathroom with toilet and shower cubicle.
The chalet can accommodate up to 6 people.
Video Tour
Our Best Price Guarantee
We guarantee our prices at Cool Camping are the same, or lower, than booking elsewhere. If not, tell us, and we'll match it or beat it. Click here to read the full terms
View Gallery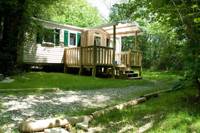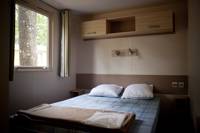 About Camping de Lyon
Suitable For
Tents, campervans, motorhomes, caravans, families, groups, couples, pets… everyone!
Nearby
There's a bank 50m away, tennis courts 400m away, a supermarket 500m away and, most importantly, a bus stop 50m away with regular buses running into Lyon city centre. The Musée des Beaux-Arts (0033 4 7210 1740) is a must – stunning but manageably sized, it showcases France's finest collection of sculptures and paintings outside of Paris, include works by Monet, Matisse and Picasso. Stop for a drink on the café's stone terrace while there. On top of the hill, the late-19th-century Basilique Notre Dame de Fourvière is lined with intricate mosaics and is the city's main attraction. Tours run throughout the day. The newer, rejuvenated neighbourhood around the confluence of the Rhône and Saône rivers is now an exciting place to visit, including the Musée des Confluences (0033 4 2838 1190) – a science-and-humanities museum housed in a futuristic, distorted steel-and-glass transparent crystal and one of the city's iconic landmarks. Lyon is also an extremely bike-friendly city. Ditch the bus and take the tour along the quais (the banks of the River Saône and Rhône), particularly Quai St Vincent (underneath La Croix-Rousse looking up to Lyon's miniature version of the Eiffel Tower).
Food & Drink
There's an on-site café-restaurant (July and August only, plus evenings during the French May and June bank holidays) where you can have a drink on the terrace and enjoy homemade pizzas or grills. There is also a bar, open every day. Fresh bread and croissants are available each morning if you order the day before. After that, there's the whole of Lyon to explore and who are we to pick from the endless restaurants? Le Kitchen Café (0033 6 0336 4275) on 34 rue Chevreul, though, is a favourite (but be prepared to queue), while trendy L'Ébauche (0033 4 7858 1258), at the bottom of the city's central hill on rue de la Martinière, is another excellent spot.
Location
Camping de Lyon is located at Allée du Camping International, Porte de Lyon, 69570 Dardilly, Lyon, Rhone, France
Getting There