Book campsites near Ferme Noemie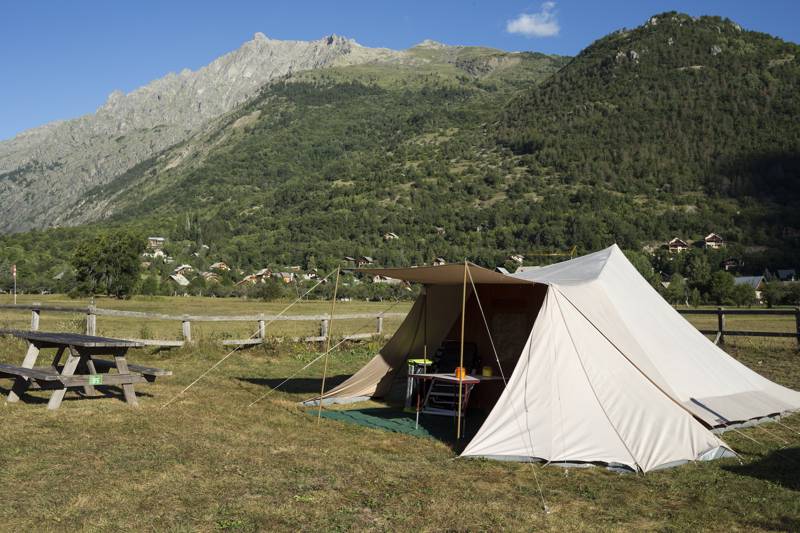 Campsites in Hautes-Alpes
Campsites in Provence Alpes Cote D'Azur
Available:
5 Pitches
3 Cabins
2 Safari tents
Everything about the site is cool: the location, the view, the British owners, the fresh air
Mention Bourg d'Oisans and most travellers will think of Alpe d'Huez, the world-famous ski resort that sits 21 hairpins above the bustling town. Advanced cyclists are likely to froth with excitement; they view these mountain bends the same way that Catholics view Lourdes, harbouring lifelong desires to visit. It's not for the actively-challenged, however: the climb is steep and it can take three hours to pedal to the top (under an hour for the pros), but once there you can buy a certificate testifying that you've conquered what was the first Alpine climb introduced to the Tour de France, in 1911.
Alpe d'Huez may also boast the longest black ski run in the world, the 16km 'La Sarenne', but as thrilling as the snow-covered mountain range is, summers here are truly special. Regardless of whether cycling is your bag or not, time spent sprawled on the lawns of Bourg d'Oisans' outdoor swimming pool will do wonders for your limbs. It will bronze them at the very least; and after a tartiflette lunch in town, you can march off the frighteningly calorific local dishes on the 680km of walking trails at Ecrins National Park. It's the largest of France's six national parks, with a landscape that's a helter-skelter of peaks and valleys, visible in all their glory from the Ferme Noemie campsite at Les Sables, just up the road from Le Bourg d'Oisans.
Ferme Noemie has 20 numbered pitches, in homage to the Alpe d'Huez hairpins. The owners Melanie and Jeremy are great skiers. They met working for a UK ski-holiday company in the late 1980s and basically never returned home. He's good with his hands; the chalet shower block and loft apartments are all his own work. And Melanie is a consummate hostess. Should the nights turn chilly at this high altitude, warm blankets are handed out. An office reception is crammed with information leaflets, a coffee-making machine, microwave and fridge. If you've run out of beer, the couple will lend you theirs; they won't want anyone to go dry. In fact, they give away the cider made from their own apples for free.
The adjoining cliff-face is striking and majestic. Caravans have to park on the right of the driveway so that they don't spoil the alpine serenity. 'Camping for softies' is the couple's latest project: bell tents with beds, duvets, wine glasses and a sheltered cooking stove. So successful are these tents that there are now four on site, cosy and contemporary in green and cream.
The nearest places of interest are all pretty niche – various museums celebrating minerals, hydro-electricity and crystals. But you could spend a day perusing the Domaine de Vizille's exhibitions on the French Revolution, set in a stunning deer park. Then, perhaps, you could try a spot rock-climbing, rafting, horseriding or, er, 'parapenting',' which involves running off the side of one of the mountains with a large gliding canopy attached. This certainly isn't a campsite to be idle – you'll be fighting fit and ready to tackle those hairpins yourself by the end of your stay!
Details
Facilities
Twenty pitches and 4 part-furnished bell tents (sleeping 4 each). 1 chalet-style wash block, gorgeous inside and out, with showers and disabled facilities. In reception there's a coffee machine, fridge, freezer and microwave. Bread and croissants can be delivered to your pitch in high season. Washing machine and drier €4. Badminton net. Free Wi-Fi. Communal BBQ, no campfires.
Suitable For
Tents, campervans, caravans, dogs, large groups, young groups – yes.
Nearby
Cycle the Alpe d'Huez, a 13km climb from Bourg d'Oisans to Alpe d'Huez, renting a bike from town – road bikes, mountain bikes and electric bikes all available (reserve online or at the campsite). There are also 2 riding centres nearby, if you fancy exploring on horseback. For info on the Domaine de Vizille 18km drive call 00 33 4 76 68 07 35 or visit www.domaine-vizille.fr.
Food & Drink
La Muzelle (0033 4 76 79 58 02) in Bourg d'Oisans is highly recommended and there's a pizzeria just at the end of the campsite road. For something different, make a detour to the right to stop off at the kind of bonkers art-deco restaurant that you'd expect to see on a film set. Hôtel de La Poste in Corps-la-Salette (00 33 4 76 30 00 03) serves a 5-course set lunch that you'll not forget in a hurry. Chintzy decorations fill every inch of space inside and huge serving plates of oysters, pastry canapés, sweet roulades, and shell fish are served on the balcony terrace or indoors.
Open
April–October.
Location
Ferme Noemie, Les Sables, 38520 Bourg d'Oisans, Isère, France
Getting There
Plane or TGV train to Grenoble. The 'Romans' route is very easy, most of it is a long, straight, fast road that leads you on to the Grenoble bypass, the Rocade Sud, and up to the Oisans Valley. Follow A48, A41, or A51 into the region and you will finally find the town lying on D91/D1091. More windy, but with spectacular scenery, is the route de Napoléon that runs via Corps-la-Salette.
From Grenoble and Lyon buses run to Bourg d'Oisans (€15). Then take a taxi the 21⁄2 miles (4 km) to Les Sables.
Reviews
Add Your Review
Rated ★★★★★ over 3 reviews
Fantastic campsite!
We stayed at Ferme Noemie campsite in late May. It's pretty much perfect, level camping, sufficient clean facilities, a bike lock up, peace and quiet, lovely scenery, bread delivered to site, welcoming friendly owner and best of all it's VERY dog friendly. The campsite is in an ideal location with lots of walking, cycling and other activities should you want them. Melanie, the owner, is on hand and happy to advise on routes. We loved it here so much we kept extending our stay. Highly recommended!
Highly recommended - great spot, crowd, and very helpful hosts!
I stayed at Ferme Noemie a couple of times while cycling on several large sportives and can't recommend it enough - the spot is fantastic - lovely surroundings - great modern amenities, and there was no issue with my arrival in the middle of the night. The hosts were amazingly helpful - I managed to get a flat tyre on my hire car from Switzerland - the hosts must have spent about half an hour on the phone for me between Avis in Switzerland and Avis France to organise a replacement car - thanks guys! The campsite seems to draw nice friendly guests to boot - wasn't kept up in the evenings with noise at all, handy when the next morning is a 200km event!
Camping Ferme Noemie: Aug 2014
We found this site to be lovely.  Nestled in a valley in the shadow of the Alps, the site is less than a mile from the main road, however, you feel a lot further away than this!  The welcome and assistance is warm and genuine, the facilities are of a really high standard.  Fresh bread can be ordered and picked up from reception every morning, or the town is only a couple of miles down the road for everything else.  There is loads to do in this region in the Summer, even if you don't cycle.  We will definitely be back!