Book campsites near Le Grand Champ
Available:
10 Pitches
1 Safari tent
Campsites in Hautes-Alpes
Campsites in Provence Alpes Cote D'Azur
Available:
13 Pitches
2 Bell tents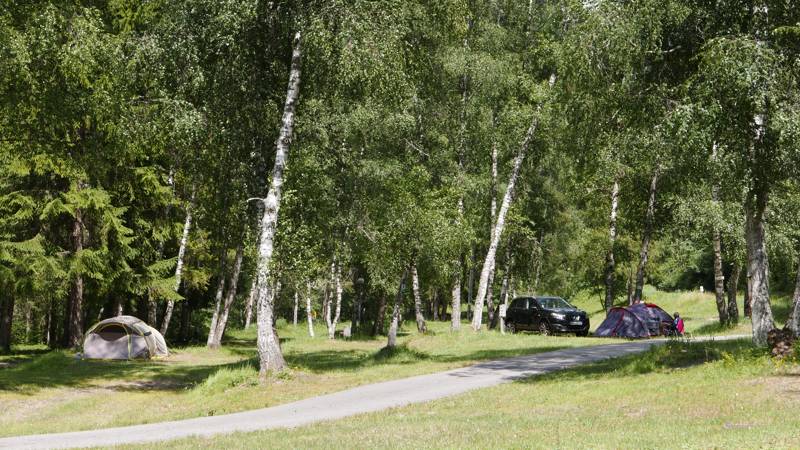 Campsites in Savoie
Campsites in Rhône-Alpes
Available:
4 Pitches
2 Bell tents
Leafy camping in the shadow of Mont Blanc and the Aiguille du Midi
In the foothills of the legendary Mont Blanc mountain range, directly beneath the towering peak of Aiguille du Midi, you'll find Camping Le Grand Champ – and what a find. Run by Françoise Dudas and her family, the site is in a tip-top location, 1000 metres up in the sky, with mountain views wherever you look.
The jagged and oft-snow-topped blocks of rock that dominate the horizon in every direction, make this place feel like a secret valley, cut off from the world and stranded in happy seclusion. And whilst the spike-strewn view is the most obvious of the sites charms, there are plenty of other reasons to recommend Le Grand Champ as one of the most appealing of Alpine camps.
The beautiful terraced garden boasts pretty pitches, all grassy and green, and separated by a neat but natural jumble of trees, bushes and hedges. Even though there's room for up to 100 tents or caravans, you'd never guess, since the layout of the gardens lends a very intimate feel. Whilst groups are welcome, they are directed to a separate area, ensuring peace and privacy at all times for the other tenters.
Françoise and the gang do everything in their power to make sure the site functions perfectly. The facilities are in decent shape, with three sanitary blocks (sinks and showers, hot and cold water), access for disabled visitors, washing machines and electricity; there's even a basic but cosy little communal room. And if you're running low on supplies, just pop along to the reception, where you'll find a few essentials on sale. Fresh bread is delivered every day during the summer months, just in time for breakfast.
The nearest supermarket is in the town of Les Houches, almost 2 miles (3 km) along the road. Comprised of a number of hamlets, Les Houches has a certain alpine charm, as well as great ski slopes, a lake and castle ruins. Climbing fans will enjoy the town's indoor wall, whilst walkers can begin the Tour du Mont-Blanc there.
Nearby, Chamonix is a far cry from the peace and tranquillity of the site – but, it's a bit of a mixed blessing. With its myriad cafés, restaurants, tourist facilities and activity centres, it makes a fantastic hub for anyone wanting to explore the region. But (and you knew there was a 'but' coming), with up to 40,000 people a day in the surrounding valley during peak season, it has a resort atmosphere that erodes its more natural charms.
Although this area is best known for its ski slopes, it offers something for every kind of thrill-seeker. In fact, it would be easier to list what it doesn't have: you can hike, cycle, climb, raft, kart, golf, abseil, glide, swim, snowboard – and that's just for starters. Entrées could include canyoning, hot-air ballooning, paintballing and off-road mountain biking. And, why not round the menu off with a sedate bit of horse trekking or a game of boules?
And if you should tire of all the activities and feel in need of a well-earned rest, then Chamonix offers the opportunity to be indulgent as well as active. There can't be many campsites in the midst of a natural wonderland that also offer cinemas, beauty salons, casinos and shopping so close by.
At the end of the day, just zip up the tent flaps on that vertiginous view, snuggle into your sleeping back and join Le Grand Champ's version of the mile-high club – snoozing at altitude in this freshest of mountain air.
Details
Facilities
The facilities, while decent enough, are a little tired. It's not often you find squat toilets in France these days, but there are still some here (plus sit-down ones, too). There's hot water and hot showers, though, and a washing machine. A basic but amenable campers' room is pretty handy, too, and there are disabled facilities.
Suitable For
Tents, campervans, caravans, dogs – yes.
Nearby
If you have a head for heights, like a real head for heights, you simply have to take the cable car up to the top of L'Aiguille du Midi. It rises in 2 stages from Chamonix town, which is at about 3,000 ft (900 m) to over 12,000 ft (3,600 m) in a matter of 10 minutes or so. It's expensive, though, at €25/€42.50 per person return summer/winter (though for some reason they also sell singles) and, once up there, it's an extra €3 to take the lift up to the very top. But the views across to the summit of Mont Blanc, just another 3,000 ft (900 m) above you, are second to none and, if you're lucky, you'll be able to pick out some climbers. For a more sedate ride, take the Mont Blanc Express up through Argentière and over the Col de Montet into Switzerland: it's a lovely Alpine ride.
Food & Drink
There are basic provisions available at the site, including fresh bread and croissants in the mornings, but not much else in the immediate vicinity, so it's best either to stock up in Chamonix (where there's a decent-sized Super-U on rue Joseph Vallot) or just hang it all and eat out in Chamonix. The cheap option is Mojo's Sandwich Café on place Jacques Balmat, where you can sit out, or there's mid-priced Munchies, a Chamonix institution, down narrow rue de Moulins, which serves great modern international cuisine (00 33 4 50 53 45 41). Finally there's the restaurant at the Hameau Albert 1er (00 33 4 50 53 05 09). It has set menus from a mouth-watering €56 to an eye-popping €138. But then again, it does have 2 Michelin stars.
Open
May–mid October.
Pricing
Standard pitch €6, large pitch €8. Then it's €5.20 per person per night, €3 for children up to 10 years. Electricity €3.
Location
Contact Le Grand Champ, 167 chemin du Glacier de Taconnaz, 74400 Les Bossons, Haute-Savoie, Chamonix
Getting There
For the past few years there have been extensive roadworks on N205 leading out of Chamonix, which means various exits are sometimes closed. However, the site is signposted just past Taconnaz on route Blanche, a few miles short of Chamonix. Once off the main road follow route de Vers le Nant to chemin du Glacier de Taconnez and turn left up the hill. The site entrance is on your left. There are good mainline rail links into the Chamonix Valley and a regular railway service on the Martigny–St Gervais Mont Blanc Express, which stops at Les Bossons and Taconnaz (a request stop). It's then a 10–15-minute walk to the site. There are also regular buses from Chamonix that stop at the shops about 875 yards (800 m) from the site.
Reviews
Add Your Review
Rated ★★★★★ over 4 reviews
Campervan stopover
We stayed here a couple of nights on our way to Italy. Being called le grand champ I was expecting a big field, so I was pleasantly surprised that it was a terraced campsite with very private pitches. It was perfect for our VW T5 campervan with gravel lanes leading to the pitches there was no worries about getting stuck. You might need to be an experienced driver to bring a big motor home or caravan to manage the gradient and turns though. The site has 2 pin electric hook ups but we managed to borrow an adapter from the owners. It's also very quiet at night. My five year old's normal voice is like a foghorn and was very noticeable, but that's not to say families aren't welcome! There's a half hourly bus into chamonix from the bottom of the road (about 10 mins). I highly recommend it.
Absolutely beautiful
My girlfriend and I just spend a week at the site in what could be said less than ideal weather, but we had a lovely stay none the less. The site itself is beautiful, with each plot split by beautiful mature plants and tress, many of them in Blume while we were staying. All the plots felt really private and secluded, whilst the facilities were exactly what you need though rather simple. Cannot rate highly enough! 
Le Grand Champ 2010
An excellent site, basic but clean facilities but fantastic areas for camping providing a good degree of privacy, quiet and the pitch we had was extra large, picnic benches provided on some, an absolutely beautiful setting! A lovely warm welcome from the owners, lovely bread and basics from the site, but most provisions are better picked up from Chamonix itself. Absolutely loved staying here and we will be back. Very happy campers :)

Le Grand Champ, August 2013
What an amazing site - we loved it! My first visit to the Alps, and to be able to see the mountains and glaciers from our pitch was just fantastic.  Site facilities are not new, but are kept clean, and are certainly adequate. Shop closed just after we arrived, which was a shame because it had been providing excellent organic bread and croissants. Pitches very nice and private, and we'd definitely recommend it.