Taking camping in the woods to a whole new level in this mini-town of safari tents. This campsite is too special to leave.
It takes a forward thinking campsite owner to transform a natural swathe of woodland like this into one of the greatest campsites in the region. While other sites in South East France were mowing their lawns and preening their caravan pitches, this natural woodland wonderland was busy pioneering a concept that, today, every campsite is catching up with… glamping.
Peek through the trees of this nature reserve forest and beyond the dotting of colourful tents and natural, shady pitches, a cluster of humungous safari-lodges looms into view. Close to the limestone scenery of the Parc Régional du Vercors, this settlement was long at the forefront of next-level glamping, with a set of sturdy canvas homes perched on wooden decks in the trees behind an 18th-century inn. The canvas lodges are simply huge; you'll stretch your legs just fetching a glass of water and families can hang out all day without feeling claustrophobic. Choose between a covered or uncovered terrace porch, then tie back the front flaps to create an open-plan abode filled with double and bunk beds and full-sized wardrobes.
Outside, in the arboreal wilderness beyond, regular campers also capitalise on the fun of pitching in the trees. Spots vary in size, so you'll need to wander around and find a space the right size for your group. If you're yearning for the heat of the sun, meanwhile, you can head for the more open pitches beside the grassy meadow. Wherever you choose, the noise of happy campers mingles among the sound of the swishing, breeze-blown leaves and the chirping of the birds that live among them. Expect a healthy dose of wildlife; this is a nature reserve after all.
Once acclimatised, you can explore the park by bike or on foot; or simply take off to make the most of the campsite's wonderfully home-spun facilities. The open-fronted bar-café is built from wood and has a deliberately rustic feel, encircled by the same style of stick fence that fronts the safari tents. It offers ample refreshments and has a fresh bread and pastry delivery service if you order the night before. Then there's the swimming and paddling pool for lazing in the sun, a volleyball court and a small playground. If you find time to leave the site, the local villages, hidden in the hills, are certainly a joy to explore. But really you could stay in the woods here for days!
Best Price Guarantee
Easy and Secure, with instant booking confirmation
Trusted for over 10 years
A chance to win a brand new Coleman tent!
Gallery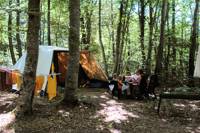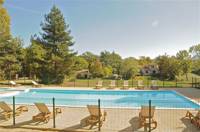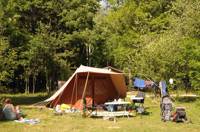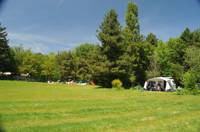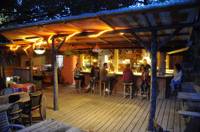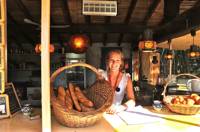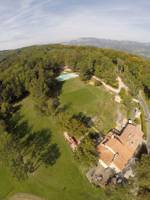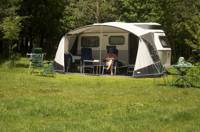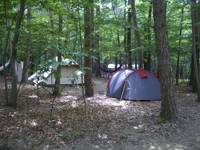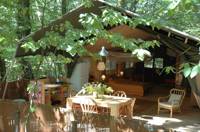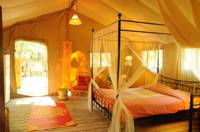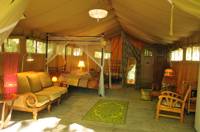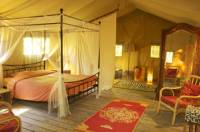 The Owner Says
Le Grand Bois is a spacious, quiet campsite in the forest. It is located at 650 metres above sea level, a perfect altitude to enjoy hot summer days in this part of Southern France. In combination with the pure woodland air and tranquil environment, this is the ideal place for a relaxing holiday, where you can soak up the sun, swim in the pool, enjoy a good cup of coffee, refreshing on-tap beer and other beverages at the bar, and dine on tempting snacks and freshly prepared meals from our restaurant kitchen.
We offer a variety of accommodation styles, ranging from rooms and apartments in the guesthouse, to luxurious safari-lodge tents, to tunnel tents and pitches on the camping site for your own tent or caravan. Our six-acre (2.4 hectare) campsite offers 28 pitches for tents, caravans and camper vans, mostly located in the shady forest. There are also a few sunny pitches, ideal for camping during spring or autumn. The pitches are located in a natural, protected setting and offer plenty of privacy. You can access the pitches by car to load and unload, other than that, the campsite remains car-free, to allow everyone to play safe and carefree.
With its pleasant atmosphere, peace and quiet, varied nature, sun, a large swimming pool, and the pretty villages of Dieulefit, Bordeaux and Saoû in close vicinity, offering a multitude of sights and activities, Le Grand Bois is the ideal place for an unforgettable holiday.
Reader Reviews
Add Your Review
Woodland Camping
I stayed in the woods here last summer (2015) and it was really great. Hot but plenty of shade because of the trees, really friendly campsite owners and great for the family. I always have to camp somewhere with a swimming pool and this campsite was nice, clean and friendly! Thanks very much for our stay.

LOVED IT!
We were travelling around for two weeks with our camper but treated ourselves to two nights in a safari tent at Le Grand Bois. It was perfect! We loved it so much as did our nearly 4 year old!!! Beds and bedding is so comfy, fridge, freezer and electricity really useful!  Pool was great as are the owners!!! REALLY lovely couple. I thoroughly recommend you stay here. Nearby village is gorgeous too. perfect stay.

A week of relaxing
We had a fantastic 6 nights in a safari tent with the most comfortable beds! The campsite is clean, well organised, and all staff very welcoming.  Our 2 children (age 6 and 9) loved the pool, making dens in the wood and cycling round the site.  It is set in the most beautiful surroundings with amazing views, wildflowers in the meadows and gorgeous villages and towns. We spent almost every day at the campsite as it was so relaxing or popping down to the local river to paddle and sit in the sunshine.  Thank you

Book campsites near Le Grand Bois
i
Campsites in Drôme
Campsites in Rhône-Alpes
Campsites in France
Available:
1 Pitch
2 Cabins
3 Safari tents