Camping at the foot of the Jura mountains with Lake Geneva on the doorstep and plenty to keep you occupied onsite
There's a bit of an irony to all the facilities at Camping Divonne Les Bains on the Swiss-French border. Set within the edges of a thick forest that tumbles down one of the highest mountains in the Jura range – La Dôle – it has a magnetic location for all outdoorsy types. Yet, geared to accommodate family campers, as well as hardy backpacking folk, there's a complete spectrum of onsite options too. A tennis court, heated outdoor swimming pool, volley ball court and pétanque pitch all leave you wondering, why the need to create such an elaborate onsite playground when the continent's natural playground is right on your doorstep?
The resulting campsite is expansive, with almost 200 different pitches. Massed among the trees, however, each pitch still retains its own sense of privacy, while multiple wash-blocks – immaculately clean and well looked after – mean, wherever you choose to pop the tent, you'll never have too far to walk. With so much on offer, there really is something for everyone and the campsite is a diverse mix of backpackers, rock climbers and mountain bikers, combined with friendly family groups, lounging by the poolside or warming up on the tennis court.
It's away from your pinecone scattered pitch that the real benefits of this campsite are found, though. Right from the entrance of the campsite there are trails leading into the trees and up the angular sides of La Dôle – a summit of 1677 meters. If you're feeling lazy, you can drive a few minutes into Switzerland and up the paved road in Gingins to Chalet de la Dôle just below the peak. If you're walking it's a great place to stop for fuel. From the top, the Alps spread away to the East, while Lake Geneva spreads below. It's here, on the waterside, that you can spend the rest of your days, boating, bathing and generally having a boon.
Gallery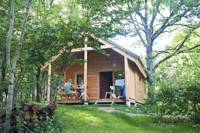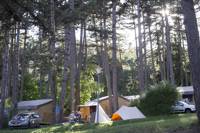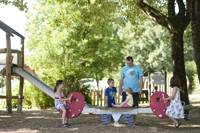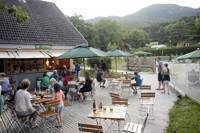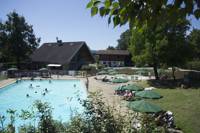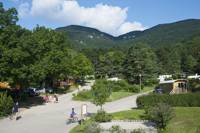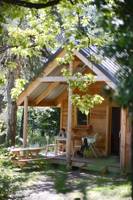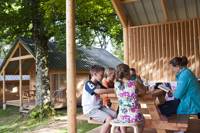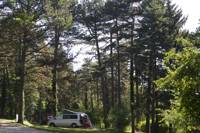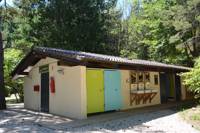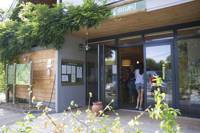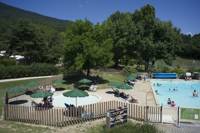 Video Tour
The Owner Says
Choose a nature stay at the foot of the Jura mountains, just a few kilometres from Lake Geneva and at the gateway to Switzerland!
On a 9 hectare site, tents, caravans and motorhomes can set up camp on terraced pitches, some of which offer unspoilt views of the lake and the mountains.
Under the trees or in the sunshine, there is something for everyone.
Reader Reviews
Add Your Review
Idyllic spot
For the first time ever we chose to leave our trusty tent at home and to book a pre-pitched tent (Class IV) at the Huttopia Divonne Les Bains. We were not disappointed by our decision. After a long drive we were greeted with a spacious four-man tent on a large pitch shaded by trees. The tent was well used but clean and all essential equipment provided. The only down-side was that the wooden decking on which the tent was set was very squeaky. The site was well managed and the toilets/showers were clean and regularly checked. There was even a toddler/baby bath in one cubicle. We liked the quietness and space of the site. Whilst it has over 200 pitches it felt small and personal. The site is well positioned for day trips to Geneva, Annecy, Nyon and Lac Blanc, as well as for touring the Jura Mountains. We have already talked about a return trip which will tell you how much the site suited us.
Woodland pitches
A pleasant wooded site with very good clean facilities. Best suited to families with young children who make regular use of the pool and activities, otherwise a little expensive. There are extremely few non-electric pitches, most of which are on uneven patches of ground. Take good pegs and a tent footprint as many pitches are stoney and full of roots. The shade is welcome on hot summer days but the sun disappears early so don't expect warm evenings. Plenty of fresh-air activities nearby, our favourites being swimming/SUP on the lake (which enjoys the sun until much later in the evening) and cycling up the mountain roads from the site.
Great relaxing family holiday location
We booked this site choice, last minute, and as an alternative to the site in the Ardeche region. How lucky we were. Our hearts go out to the people who were caught up in the flash floods there.. This location is amazing. In the foothills of the Jura mountains, behind, with a glorious view of Mont Blanc to the front, and Lac Leman in between. We spent our time in the camp pool, which was clean, well sized and great for kids, I even managed to get a swim in in the morning on my own. Swimming in the clean waters of Lac Leman was wonderful too. Nyon Plage and Paquis de Bains in Geneva are essential spots to swim and people watch. The camp was fully booked and, although busy, it never felt overcrowded. The staff were helpful and informative and if they didn't know something they were keen to help search online. Our son joined in with the kids club activities which were well ran with the multi-lingual restrictions in mind and allowed us parents a well deserved 1-1/2 to 2 hour break. We didn't know where to put ourselves!! (well, for all of 5 minutes). A great area for running (road, hills and trail) and cycling with twisty steep mountain passes and well marked trails. Great local markets, 30 minutes from Geneva and a 2/3 hour drive to Chamonix with great public transport facilities, this is a great base for exploring this part of the French/Swiss border. If i have to add a negative to balance out the review it would be that there was no vegan option in the pizza restaurant. I didn't ask for one as I normally do but that is probably down to my own irrevocable English politeness. The food looked pretty good anyway and I was assured that it tasted good too. We had a small issue of a broken light in our sons room which we dutifully reported but after 3 attempts to get it fixed it was obviously lost in translation forever, so we gave up. Thank you Huttopia and all of your staff for a truly relaxing time and a well maintained camp site with everything we needed. Au Revoir 'til 2019
Best Price Guarantee, with no fees
Instant booking confirmation
Trusted for over 10 years
A chance to win £50 of Cool Camping vouchers!