Family camping in the foothills of the Alpilles, complete with a picturesque old town that inspired one of Provence's most famous novels
Most Brit's haven't heard of Alphonse Daudet but in France this native novelist encapsulated southern culture with his light-hearted tales of life in Provence and colourful outings to the coast. His most famous work, Letters From My Windmill was set here in Fontvieille, which, to this day, retains the narrow streets, stony market squares and inviting old café-restaurants of his stories, where wooden shutters are flung open and the sound of nattering spills out. Just beyond the post office, past the tourist office and after Ramey Windmill – the very one that inspired Daudet's famous novel – you'll find the village's well-known, family-friendly campsite. Sadly Huttopia Fontvieille wasn't around in time to feature in any mid-19th-century masterpieces. A few pages in the latest Cool Camping guidebook will have to do.
Set in almost 10 acres of pine-clad parkland, this well-established campsite is run by the renowned Huttopia group and, consequently, comes with all the bells and whistles you'd expect. Facilities are excellent – family washrooms, free Wi-Fi, tourist information and fresh bread every morning – while the likes of an outdoor heated swimming pool, volleyball courts and a playground happily keep kids at bay for hours. With a little help from the locals, they'll even return from the holiday as pétanque aficionados. Those who don't fancy pitching the tent, meanwhile, can choose from one of their fully furnished glamping options: a family-sized safari tent or a wooden summer cabin.
For all the man-made frills, Huttopia Fontvieille still has a wonderfully informal, natural feel. The humming of cicadas (Provence's tree crickets) and the sound of the breeze in the pine trees wakes you most mornings and the charming old village is refreshingly free from the tourist trappings of the nearby south coast. It's still an easy half hour drive to the beach or an hour to busy Marseille but, for a quieter holiday experience, retreating into the greenery of the hills behind Fontvieille – the Parc Naturel Régional des Alpilles – is a joy. Or stay put and enjoy exploring the village itself. Start at Château de Montauban, Daudet's favourite holiday spot where there is now a museum dedicated to his work, then follow the one-hour signed trail to the author's four beloved windmills. Throw in ancient troglodyte houses built into the hills and the tiniest of village cinemas and you'll quickly realise the beloved culture of the south is still very much alive and well.
Best Price Guarantee
Easy and Secure, with instant booking confirmation
Trusted for over 10 years
A chance to win a brand new Coleman tent!
Gallery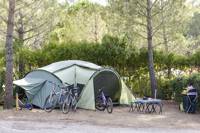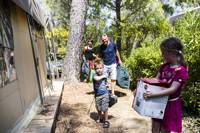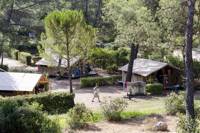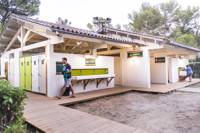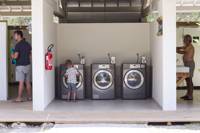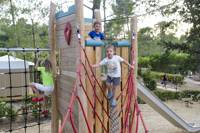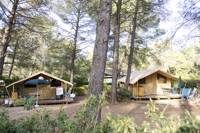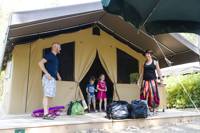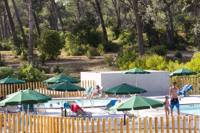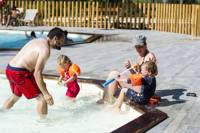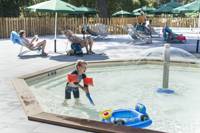 Video Tour
The Owner Says
In the very heart of the Alpilles in Provence, Huttopia Fontvieille - Provence campsite boasts an exceptional location in the pine forest of Fontvieille.
Reader Reviews
Add Your Review
Enjoyable, relaxing stay.
We recently stayed in Huttopia Fontvieille for 2 nights on our trip along the south coast of France. We initially chose the camp site for it's close proximity to Marseille airport (within an hour). After staying in a 5 star resort in Frejus we thought the campsite wouldn't be as good but was pleasantly surprised. It's location close to the beautiful town Fontvieille with a short scenic walk through a wooded area was a great bonus. The manager was very helpful when we arrived and catered to our extra needs with a baby cot and other items we required at short notice. The bar/restaurant is perfect for home cooked meals next to the small but nice pools. In all the campsite is clean and great for the family. We enjoyed the tranquility before returning home. Definately visit again. Thanks
Friendly, relaxing, clean, ready to go back now...
We've returned from a 5 night stay here with 2 children, aged 7 and 5, and really enjoyed our stay here. Staying towards the end of August, it wasn't full, so although we were allocated a pitch, they were happy for us to look around and choose a different one if we wished. We could easily fit our 6 man tent and a large estate car on the pitch and still have room to sit/play cricket. Some pitches were better for shade than others. The staff were friendly, informative and helpful and the manager even cycled around on our last night to warn people to keep bags out of sight in their vehicles as the weather was a bit windy and 2 years previously they'd had a break-in in similar weather - they now have greater security, but he just wanted to ensure that we were aware. No issues this time as a result. There were plenty of loos, sinks, showers, all of which were cleaned twice daily, but also with friendly reminders to do your bit too - shower squeegee/loo brush or whatever... A large freezer for ice packs if not using electric. A playground and 3 refreshing pools, all next to the bar/pizzeria - this was shut during lunchtime, but delicious evening pizzas, cold beer and in the morning you could collect your pre-ordered breads/pain-au-choc/croissants and order a coffee too if needed. A 10 minute walk to the little village of Fontveille is worthwhile, which has several restaurants, bakeries, bars as well as the windmill mentioned above. There's lots to do locally and I certainly would go back to this site to explore more.