Family-run lakeside camping with top notch facilities and beautiful countryside surroundings
Situated in the midst of the beautiful countryside of Charente, we love this big, spacious, rural campsite – a large 20-acre site with just over 80 large pitches set on one side of a pretty lake and with all the amenities you could wish for. It's family-owned and run, which just serves to underline its greatest assets – pure, homespun tranquility, yet with enough in the way of facilities and activities to make you never want to leave.
You can camp with your own tent, campervan or caravan, opt for the pre-pitched 'canvas lodge' or book one of two mobile homes. Pitches are flat and grassy and most have electrical hook-ups, with the choice between full sun and shadier spots, set beneath the rows of mature, leafy trees. There are drinking water points dotted around the place and one of the two shower blocks has been recently refurbished, with brand-new showers, washbasins and toilets and a separate accessible bathroom with family-friendly facilities. The result is the provision of services you'd often expect on larger scale site, though with a much nicer, twist, owed mainly to the family-run vibe. Fresh bread and pastries can be ordered each evening for next day collection at reception – a French camping must – plus there's plenty of tourist info stashed alongside the main desk, along with local walking and cycling maps, board games and puzzles. To top it off, there's even a mobile beauty therapist who drops by from time to time!
It's a convivial place, with regular events during summer, including live music evenings, dedicated food nights focused on things like moules-frites and BBQs, and a popular boules tournament every Sunday afternoon. Plus there's fishing on the lake and an abundance of wildlife around the site. The neighbouring village of Les Bouchauds is worth a visit, home to the well-preserved ruins of an ancient Roman amphitheatre surrounded by a thick shield of trees, and the regional capital town of Angouleme is only a 20-minute drive away. That is, of course, if you can tear yourself away.
Best Price Guarantee
Easy and Secure, with instant booking confirmation
Trusted for over 10 years
A chance to win a brand new Coleman tent!
Gallery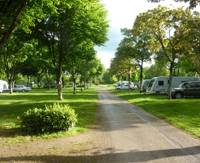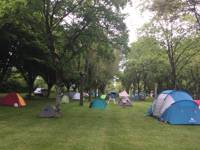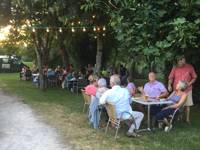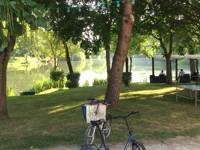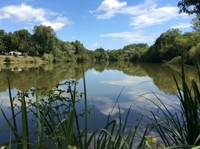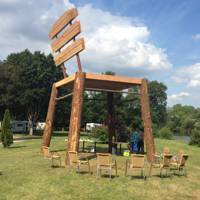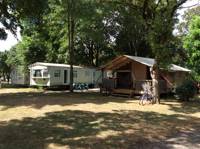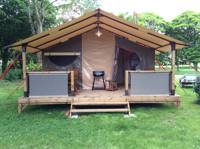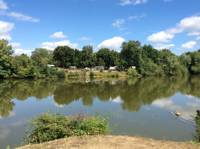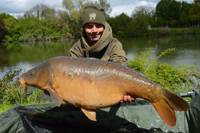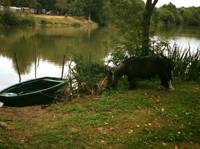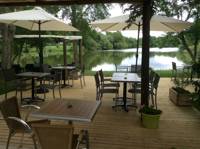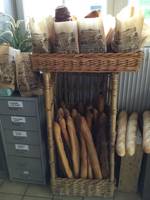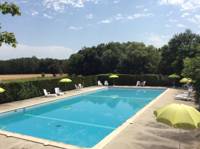 The Owner Says
Family-run lakeside camping with excellent facilities and beautiful countryside surroundings.
Reader Reviews
Add Your Review
The pool, the lake, the bistro, the people, the peace of the place
We chose this site as a stopover en route to the Vendee. The owners are a lovely English family who make you feel very welcome. The little bistro and bar overlooking the lake is lovely and they have regular musical entertainment in the evenings for those who want it. There was a special calm and peace about the site that we all enjoyed and the pool is the biggest and best we came across in the two weeks and six sites we visited.
Another relaxing visit.
Looking at sites for next year and we will be back at this quiet and unique place. We've been going for a long time and have seen the changes since the family took over some years ago. There is a steady programme of improvements to a site that already had so much going for it. The bar/bistro with it's deck by the lake is great as the sun sets and the facility blocks have changed from being a bit dated to amongst the best we've seen anywhere. The emplacements are large at about 10m x 10m and there's plenty of choice for shade or sun depending on the time of year. Whether we're just after a stopover or a couple of weeks relaxation, it has become a favourite - but the owners aren't resting. They are always trying to improve the experience, whilst keeping the cost reasonable, and it's better every time we go. We're Cool Camping fans and we were not surprised to see this one added to the list.
Un camping idéal
Cela fait presque 10 ans maintenant que nous venons régulièrement dans ce camping. C'est un endroit superbe, très paisible et assez unique. Il s'étend le long d'un lac et chaque emplacement (très large!) est délimité par des rangés d'arbres. Il a quelques emplacements fantastiques le long du lac et toujours des emplacements ombragés disponibles sous les arbres. Les sanitaires viennent juste d'être rénovés et sont d'une qualité exemplaire. Il y a un aussi un bar/restaurant très agréable qui s'ouvre sur le lac. Il y a eu quelques changements de propriétaire au fil des années mais le camping appartient depuis trois ans à une famille anglaise particulièrement accueillante et dynamique. Ils sont très attentifs à ce que le caractère unique du camping soit préservé, soucieux du bien-être des campeurs et le camping ne cesse de s'améliorer depuis leur arrivée. De loin un de nos camping préférés !
I Loved this Campsite
This is a beautiful and quiet campsite owned by a lovely family from England. The facilities are newly refurbished with plenty of toilets, hot showers and washing up facilities. The grounds of the campsite are well looked after. There are plenty of shaded pitches and some lovely pitches around the edge of the large fishing lake. The campsite has a bar which is open in the evenings and you can also order food. We were there out of the main season and the campsite wasn't busy which we like. Over the main weeks they offer plenty of different entertainments, musicians and food nights. We stayed here in June 2016 during the Euro's and the family were good enough to let my husband watch a few matches in the bar, as I said they are a lovely family, very accommodating, keen to make sure you enjoy your stay and I hope they have much success with their new venture in France. Excellent in all ways.