Idyllic, peaceful, riverside camping for adults
The River Charente may not be the longest or most famous of French rivers; nor does it have the same iconic status as the mighty Loire and it's vineyard-filled valley. However, this languidly meandering waterway has its own unique charms. Once decreed by no higher authority than French monarch François I as 'the most beautiful stream in the kingdom', La Charente snakes its way through some of south-west France's most ancient counties. It is also where visitors to this enchanting corner of the country can find the region's newest (and dare we say) loveliest new campsite, Camp Laurent.
When expat Tracey first laid eyes on the Poitou-Charente, it was love at first sight. Setting up camp (quite literally) in the summer of 2013, Tracey's vision was of a tranquil retreat– easily achievable due to the adult's only admittance policy.
Nestled in eight unspoilt acres just outside the sleepy village of St-Laurent-de-Ceris, Camp Laurent has ample room for just 10 emplacements with six hook-ups. The pitches overlook the river and valley below, while butterflies, rabbits and the odd roe deer dominate the scene. Facilities are more than adequate with wet-room style bathrooms featuring hot-showers, modern toilets, laundry and a washing-up adjacent to the 200-year old stone barn. With the river on your doorstep, you could be forgiven for neglecting the brand new, open-air, wood-panelled pool – just the ticket for cooling off in France's second sunniest region.
With 400 metres of river frontage, the site makes an ideal base to fish the Charente's abundant trout, carp, pike, perch and eels. A lazy paddle in a canoe or a cruise in one of the numerous pleasure boats makes for a great way to explore the idyllic nearby towns and villages. You'll take in such famous names as Angoulême, Saint-Savinien, and Cognac – yes, the very same. Just be sure to appoint a designated skipper for the way back to camp.
Best Price Guarantee
Easy and Secure, with instant booking confirmation
Trusted for over 10 years
A chance to win a brand new Coleman tent!
Gallery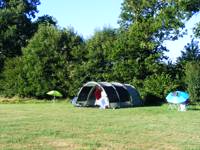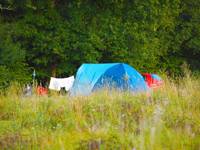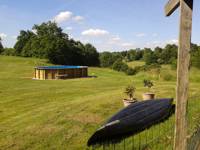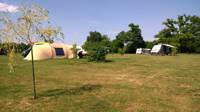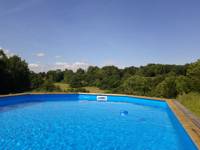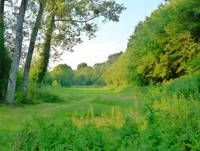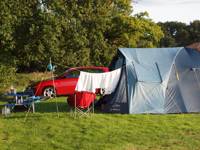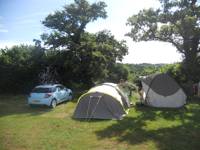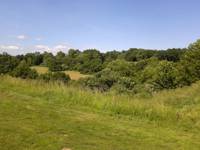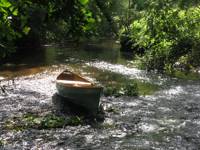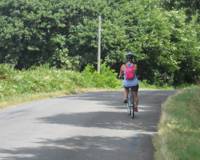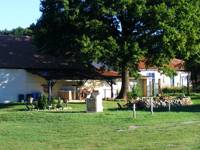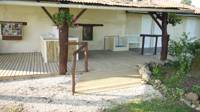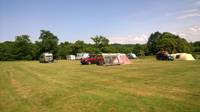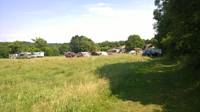 The Owner Says
Tracey, Pete and our little French Bulldog Lucy would like to welcome you to Camp Laurent.
Camp Laurent is a place that has been lovingly created to offer camping exclusively for grown-ups (but not too grown up!).  Lucy would love to invite friendly dogs to join us at Camp Laurent and make some friends along the way.
We spent many years looking for campsites to visit that offered a peaceful, tranquil, scenic ambiance and allowed us to escape the hustle and bustle of everyday life.  This is why we decided to move to this beautiful region of France and set up camp, with Camp Laurent.  We have always used the Cool Camping Guide to find those little hidden gems, so we were obviously inspired to be part of it and why we created this little place we call Camp Laurent as well as our new home.
If you are seeking a little oasis of peace and relaxation this is certainly a place you can fall in love with.  To wake up every morning to the beautiful panoramic view over the valley. While watching the Birds of prey gliding over the woodland and river that borders our site. 
For those of you who love wildlife we have an array of beautiful butterflies, damsel flies and even the odd firefly which glow in the evening.  Not to mention the uplifting sound of bird call at sunrise and sunset.  As the evening draws near and the sun begins to set on our vast horizon you can bask in the glow of the sun as it makes a Technicolor sky comes alive.
Our Philosophy......
Is for people to have freedom...while using common sense and courtesy.
We have no rules at Camp Laurent... no allocated pitches, no curfew on the pool (a midnight swim in the pool can be quite nice in the hot summer months).  Ok, when I say we have no rules, that's not including the one rule... the only rule... to enjoy Camp Laurent (including the many bottles of wine you will enjoy while you are here)!!!
At Camp Laurent we have room for 10 very spacious places to camp.  Our lovely pool is only ever a few degrees below ambient temperature so very nice to cool off in while enjoying more of that lovely panoramic view, which is at its most breathtaking here.  Our toilet facilities are held to the highest standard with a ladies and gents wet room style bathrooms with plenty of space to prepare for the relaxing day ahead.
We can arrange bike hire for you during your stay so you may explore the area more intimately.  Or why not wile away the hours with some fishing or canoeing on the river that borders our site..
Other stuff... Washing facilities, washing machine, tourist information, book club, useful maps, grey and toilet waste disposal.
Camp Laurent is not just a campsite but our home.  We hope you can make it your home from home and enjoy all that the French way of life and it's beautiful surroundings have to offer...
Look forward to your visit to Camp Laurent  :-)
Reader Reviews
Add Your Review
Tranquil, peaceful, relaxing
Just returned from a beautiful week in the Charente at camp Laurent . Great site, enjoyed the peace and quiet and the huge plot, plenty of space for each pitch. Very clean facilities and the plunge pool was a bonus. Great place for cycling and walking if you're feeling energetic, thank you Tracy and Pete
So good we're going again
Last year after suffering from bouncing balls in Brittany along with an un-swimmable swimming pool, we sought out one of the few adults-only campsites in France, Camp Laurent. We certainly made the right decision as this site was wonderfully tranquil. After we'd both had a year to forget at work we were more in need of relaxation than ever and this was the perfect place to do nothing - we only left the site to get food and take our dog to the vet (helpfully booked for us by Tracey). Thankfully the weather was hot and sunny, so hot that the pool felt very cool initially but was wonderful for cooling down and really invigorating after dozing off while sunbathing around the caravan. There is good space between the small number of pitches so you're not even disturbed at night when fellow campers are outside their tents/vans talking/eating/whatever. The fairly level pitches can be quite far from the hook-up posts but there are extension cables to use. The showers/loos are very nice - they were always clean. The washing-up facilities even had cleaning brushes and washing-up liquid provided - a nice touch. The river's water quality seemed to be suffering from a hot summer and it didn't look very inviting except to Ted, our Border Terrier who would dive in for an afternoon swim and chase sticks. Among the other tents, motorhomes, and caravans there were quite a few dogs but all were well behaved. We were there at the same time as the previous two reviewers, Claire & Andy, and Fran & Dan - hi guys! Finally, the ultimate recommendation: we're returning next year.
Peaceful & Relaxing Stay
We chose Camp Laurent for exactly all that Tracey has described, small number of pitches, tranquil location and it being an adults only site. The facilities were excellent - always clean and with plenty of hot water anytime of the day or night. The pool was a great place to cool down on the few very hot days we had. Loads to see and do in the area and to sum up it was the best place to unplug and recharge the batteries - Tracey and Pete have got the ambience and vibe just right! I'm sure we'll be back!
An amazing week
We were on our honeymoon and chose this place for the peace and quiet and this was what we got, it was brilliant ,the best move we made. The site was perfect and so were the owners, the area was lovely and we even put the canoe on the river for a splash around. The site was very clean and had everything we needed. Thank you very much Tracey , Pete and Lucy
Perfect place to Propose!
We stayed at camp Laurent in May and it was a perfect start to our holiday, Tracey & Pete are great hosts and have put a serious amount of effort in to making the site what it is. The showers and toilets are as good as a hotels, fresh clean and spacious with a great eye for detail. Its super peaceful and beautiful with a great little river at the bottom which, if you want to you can have a paddle up stream and pop the question!!
In short great people great location and great site.
Neil & Sharon
Loved it !!!!!!!
We stayed here in August 2015, what a place! Lovely and relaxed, very well run, very clean and luxurious bathrooms/toilets. We really liked this campsite and if we owned one we would like to run it the same, with the relaxed type of atmosphere Tracy and Peter offered.We highly recommend, we had a lovely time and a lot of fun and laughs, in beautiful surroundings.
John and Sarah 
This place just gets better and better
This is my 4th visit to Camp Laurent and our hosts Peter and Tracey could not be more hospitable and helpful.
On arrival we discovered that the poles for our awning were broken and our power lead wasn't working, however we went to ask where we could replace these Peter said that he could repair them for us.. saving us time effort and money!
I can also recommend the free range eggs on offer from the Camp sites very on chickens, they were absolutely delicious!
All in all, between the friendly hosts, fantastic hotel standard shower and wash facilities, that are not at all what one would expected from a campsite. Not to mention the fantastic pool, (much needed on the hot summer days that the Charente has, I am pleased to highly recommend this place on.
Our visit
Nice location with really good facilities ,however we did not feel welcome.  On arrival was given no information just grumpily told park where you want, shecome and see you later. Parked up only to find there was no water supply in the vicinity of our motor home.  Lady did eventually come to see us only up say, keep your dogs under control, at the time they were sleeping on their beds next to us. Didn't feel relaxed, glad we only stayed one night.

Responce from the campsite owner:

Dear Stan and Alison,

I am sorry you felt the greeting you received on arrival was not welcoming. You were invited to pitch up where you would like, shortly after I invited you to the office where I gave you all the relevant information, followed by a tour of the campsite and its facilities.

With regards to the vicinity of the water supply, you chose to pitch the furthest point away from them. 

Through our website and cool camping we clearly promote the message 'dog friendly for friendly dogs'.  It is also explained on arrival that we are happy for dogs to be off the lead if they are under the control of their owner. 

Why would we come and speak to you regarding keeping your dogs under control if as you say they were "sleeping on their beds next to us"? I was offended when I read this. The truth of the matter is your dogs were running freely around other guests (around 50 metres away) on several occasions that afternoon and were unresponsive to your relaxed approach to recall. The camping field is not a 'dog park'. There is plenty of allocated space for dogs and their owners to enjoy freely.

I'm sorry you didn't enjoy your stay and we appreciate your kind words regarding our really good location and facilities. We understand we can't always fulfil everyone's expectations. I felt I should respond to you and provide cool camping readers my own thoughts on your experience here.
Great campsite & awesome owners!!!
The campsite looked great on arrival with the swimming pool, the river close by, amazing sundown, brand new bathroom facilities. The owners were really helpful & friendly, giving directions & the best advice on whats around & things to explore....most of all they were really welcoming & great people!!!
We watched the sun go down in this beatiful setting. The house was lit up that added a little charm to the camp site. The weather was unspoilt & we highly recommend going there for a chilled break!
Ticks all the boxes and more!
We stayed in August '13, had an unforgettable time. A true escape. Relaxing atmosphere after a warming welcome from Tracey and Pete. Made us feel at ease enjoying a drink together in the evening. Friendly fellow campers. Felt comfortable on site. Great facilities. We used there canoe along the river one day and it was so tranquil and secluded, unforgettable paddle with the damselflies. We are looking forward to a return in the future!! 
Great Place Bringing our dog next time
We stayed here in October at the end of the camping season. We loved the place, the area, the showers, the hospitality and of course Lucy the French Bulldog aka camp mascot. I would definitely recommend staying here and would now like to go back in the summer.
What a find
What a find! This is proper camping in a lovely, peaceful spot. Pitch where you like and chill are the only rules of the site.  It really felt like we were visiting friends, Tracey and Peter made us very welcome. We originally booked for 2 nights and ended up staying the week.  Lottie the dog loved the freedom of not being on her lead all the time and had plenty of walks along the lovely riverbank.  Tracey also very kindly booked our vet appointment for us at her vet a short distance away. The variety of numbered, signed bike routes on the doorstep also kept Graham happy for the week and there are plenty of other interesting things to do and see in the vicinity.
The amazing hotel style bathroom and little touches such as washing up liquid and sweeties provided at the sinks all add to this perfect camping experience.  Well done to Peter and Tracey on their hard work.  Please visit this lovely site, you won't be disappointed, even if the weather isn't all it promises to be (as it was during our week).
Fab if your a couple looking for peace and quiet!
If you live in a big city and just want to feel like your in the middle of now where this place is perfect! Coming from a classic French municipal campsite this place was much appreciated, a proper loo with soap and towels and loo roll, yipee! Even though it is essentially a big field your pitch feels surpisingly private and our little campfies in our tin bbq bucket kept us toasty under the stars! There is tons to do - country bike routes, lakes, long lunches in pretty French villages its just not as touristy as Loire/Dordoyne which is really quite nice!

Peaceful
A lovely peaceful and relaxing campsite, with bathrooms you'd find in a hotel! It's very rural, so great for looking at the stars in August.. We had such a lovely stay here and it was so nice to come back here in the evenings after a day exploring the Charente: swimming in lakes and rivers, walking, and visiting nearby Cognac. I would highly reccommend this campsite for anyone who appreciates peace and quiet, in a beautiful countryside setting.
Sophie  

Chilled!
I am no camper and agreed to do it under sufferance as my partner is so keen! This camp site made the experience pleasurable. The bathroom facilities were equivalent to many household facilities with shower toilet and sink all in one room. No hauling stuff from shower to loo to sinks! And no queues. The pool was wonderful and whilst it would comfortably take more than 4 people at one time there appeared to be an understanding amongst the campers so that there was never more than 4 people in at anyone time.... Bliss. No children soup at this campsite! I would happily go again ... Indeed I hope I do it was tranquil relaxing and an altogether stress free experience.
A Gem of a Place
Camp Laurent – what a little gem! My first experience of camping since I was a child and at 70 I was a little apprehensive. My daughter and I arrived late, but Tracy gave us the warmest welcome and we felt immediately relaxed. The site is located on the banks of the lovely river Charente, ideal for fishing or just relaxing.  Everything is wonderfully clean with washing facilities, a walk-in shower and a pool for a relaxing dip. Plenty of free drinking water and electric hook ups plus fridge facility if needed. We ate well at the excellent restaurant in the nearby village  and returned to the site where we were able to enjoy a peaceful night, without discos or noisy neighbours. As we were travelling onwards, we only stayed one night but would certainly return.

Peace and quiet
We stayed in july/august.  This is a superb rural site within easy reach of Confolens and many small French villages. Not too far away are some superb swimming lakes.  The site is very well kept by Pete and Tracey who make you feel very welcome and find nothing too much trouble. The facilities are first class with plenty of hot water and space to get changed. As this is an adult only camp you can enjoy the company of other like minded people with plenty of space around you.  The swimming pool is superb for a dip to cool down in the day or late into the evening.  You can find a nice relaxing spot down by the river to read a book or do a spot of fishing. It is even possible to borrow the campsite canoe.  All in all I thoroughly recommend this campsite to anyone wishing to get away from it all and enjoy the beautiful rural countryside.
Chilling is not optional!
We have just returned from this adult only site in very rural Poitou Charente and it is the epitome of what a 'CL' style site should be. Tracey and Pete have taken over the ownership this season and since the opening in June, they have begun to establish a corporate identity for the site that suits many campers but is rarely available; particularly in France. There is a gentle slope to the site with shade on each side either at the end of the day or the beginning. We chose to pitch at the high side taking the morning and daytime sun; warming and drying the dew by 10am and shade by 17:00. The facilities were always clean and well looked after, even by most of the other campers! There is also a covered wash-up area and the usual disposal points etc. Hook-up points are available. The site is restricted to about ten units and with the current facilities, this is about right. Tracey and Pete have plans to develop the site more but are keen to retain the style and atmosphere that is currently obvious: few rules, choose your own pitch and quiet relaxation is compulsory as is a daily dip in the refreshing pool!  
The river Charente runs through the boundary of the site and I also enjoyed some good fishing, taking 30 lbs of silver bream from it in an hour on one occasion.The immediate area is typical of rural France; Confolens, the local town, is pleasant enough with a beautiful Medieval bridge and some ancient buildings. We were lucky enough to catch the annual festival of dance and music from around the world and we were caught up in the atmosphere of celebration. Angouleme is a thirty minute drive and has all the usual attractions of a small city including old and new parts of the town. 
Tracey and Pete are to be applauded for the progress made so far and I look forward to returning to Camping Lauren to witness the improvements and renew my friendship with Lucy the French bulldog with a huge personality! Whatever unit you travel with, if you like your camping simple but civilised, this is the place for you.

Fantastic
We stayed for two weeks in August. The site is peaceful, calm and laid back. Quiet, as it is adult only which we like but hard to find in France. There are no 'set' pitches so you have the freedom to locate where you want and there is enough space not to be on top of each other. There is an above ground pool which is great when it gets hot. Tracy and Peter are great hosts, they can't do enough for you but give you lots of space. Exactly what you want on a camp site. The location is great, in a stunning part of the Charente. The stars at night are breathtaking as there is no light pollution. We have really enjoyed our stay and would highly recommend this site.
Cool in the Charente
Booked for a week and still here 2 weeks later... peaceful, relaxing, laid-back, excellent and clean facilities, no disco & no kids great for getting away from it all and seeing the real France. All hosted by the easy going Tracey & Peter. 
Best Price Guarantee
Easy and Secure, with instant booking confirmation
Trusted for over 10 years
A chance to win a brand new Coleman tent!