Book campsites near Huttopia Oleron Les Pins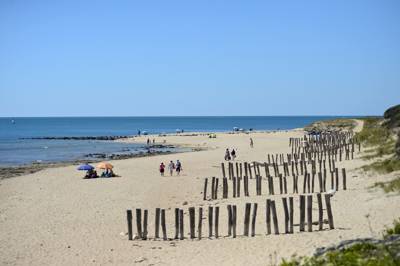 Campsites in Charente-Maritime
Campsites in Poitou-Charentes
Available:
5 Pitches
5 Safari tents
Sandy, shady, woodland camping on the gorgeous Île d'Oléron
It was back in 1966 that the two-mile bridge connecting the French island of Oléron to the mainland was built (the longest bridge in the country at the time). Before that it was a gorgeous, Biscay ferry journey that took you out to the isle, crossing the pearly blue sea and passing Naploenic Fort Boyard of 90's TV fame. Admittedly the bridge does make holidaying on the island about ten times easier and has led to a wellspring of excellent campsites popping up in the area. Among them is Huttopia Oleron les Pins , a wooded, 12-acre campsite with a pitch for every type of camper.
Though shrouded among a shady maze of tall, slim trees and thick green shrubs, the campsite feels more like a sandy dune-scape than a forest. Sand under-foot makes it easy to pitch your tent and lends itself to all the activities on site; beach-style volleyball, boules and a children's playground that also acts as one giant sand pit. The other facilities are built on sturdy wooden platforms – a pizza wagon and terrace, a heated swimming pool and a second paddling pool area. The decking is a perfect spot to laze away the evening after you've returned from the beach.
For those without their own tent or campervan, there are some pre-pitched 'glamping' options too. These include safari tents, kitted out with kitchens, proper beds and extra furnishings, of which there are around 50 on the campsite. For the best of the tent spots, meanwhile, tuck yourself away in the most wooded areas at the back of the campsite and you're sure of some extra privacy.
Rent bikes from reception if you haven't brought your own. It's an easy pedal through the St Trojan forest to Petite Plage beach, just a kilometer away, while larger Gatseau beach is a few hundred meters further. Elsewhere, touring the pretty harbour villages and tasting the freshest of seafood is a must. You can also still take boat tours out from the island if you want to visit smaller isles and catch a glimpse of Fort Boyard for old time's sake. Between bridge and boat you get the best of both worlds.
Details
Facilities
There's a heated swimming pool and paddling pool and surrounding wooden decking with a snack bar and pizza restaurant during peak season. A central lodge with internet and free Wi-Fi, a playground, boules pitch, table tennis, table football, volley ball court and indoor board games. 'Camper's corner' shop for any essentials you've forgotten, a library corner and tourist information in reception. Bikes available for hire. Activities for children throughout school holidays.
Suitable For
Tents, campervans, motorhomes, caravans, families, groups, couples, pets… everyone!
Nearby
The campsite has partnered up with an environmentally-friendly shellfish gathering company that lead groups out picking on the local beaches. Tours of the fish auction and a seaweed tasting discovery session are also available. The local beaches – Petite Plage and Gatseau Plage – are both within easy cycling range and are relatively well sign posted from the campsite. It's a nice route through the forest too – far nicer than driving. Be aware of strong currents around Gatseau Plage when swimming in summer.
Food & Drink
The snack wagon on site serves excellent homemade pizzas, along with a host of other snacks and drinks best enjoyed out on the terrace. It's only open over the May public holidays and through July and August. Outside of those times there are still plenty of great eateries in the nearby harbour towns – the best spots to go for fresh seafood.
Open
May–September.
Location
Contact Huttopia Oleron Les Pins, Huttopia Oleron les Pins, 11, avenue des Bris, 17370 St Trojan Les Bains, Île d'Oléron, France
Getting There
By car: From Bordeaux: take the A10 motorway, then take exit 25 in Saintes, towards Ile d'Oléron.Take the road to St Trojan-les-bains then follow the signs for Huttopia
• From Nantes: take the A83, then take the exit for La Rochelle, and follow signs for Marans / La Rochelle / Rochefort / Ile d'Oléron. Take the road to St-Trojan-les-bains then follow the signs for Huttopia
• From Paris: take the A10 motorway, then take the exit for La Rochelle / Rochefort, and follow signs for Surgères / Rochefort / Ile d'Oléron. Take the road to St-Trojan-les-bains and follow signs for Huttopia.
La Rochelle TGV train station (70km)
Nearest airport: Clermont Ferrand Auvergne (10km)
Reviews
Add Your Review
Rated ★★★☆☆ over 3 reviews
There's nothing cool about camping here
We are amazed that this campsite is featured on Cool Camping. Having used and enjoyed the recommended sites for years, we were truly disappointed to arrive at this one (all the more disappointing having left a wonderful Cool Camping site further south). Pitches are packed together like sardines in a can. Ours was between the road and the children's play area. Although our 3 year old enjoyed a slide in such close proximity, the noise was absurd until 10:30/11 at night (and beyond from the road) meaning that there was very little peace or privacy. Evening entertainments seemed popular with many but are so not the reason we camp: a noisy magician and a rock duo. No thanks. Facilities left a lot to be desired too: the toilet block was busy (queuing for showers), smelly and had intermittently decent showers at best. Pictures show a smaller pool but both are deep which is surprising for a family campsite. On the plus side the receptionist was friendly and helpful, the town nearby is nice and we hired bikes from the campsite and visited a lovely nearby beach which was good fun. You can order bread and pastries which we enjoyed and the on site pizzas are tasty. Other than that, we haven't enjoyed our stay at the campsite (a shame for the final stop of a touring holiday) and would urge Cool Camping to reconsider its inclusion at all. Here's to better luck next time...
An expensive mistake
We booked a pitch for 5 nights costing £185 We turned up and our pitch was so tiny I had to check I had it right. The receptionist was lovely and relocated us to a different pitch. This one was marginally bigger in that we could actually fit our (medium sized) tent on it. It was in front of the toilet block and on the 'crossroads' of the site through traffic so we had nowhere to put our cooker or chairs. We endured shouting, banging of toilet doors, flip flops walking right next to our heads until 1am. The toilet block was really smelly as well. Poor girls that had to clean it! Pool was also out of use. We packed up the next day and left for a new campsite. If you enjoy being packed in like sardines and being charged a premium for that, this is your site! The safari tents looked a little better. I think we got given two awful pitches to be honest. Having booked so many times through cool camping I am surprised they include a big brand like Huttopia on their listings because the other sites we have used have been perfect - quiet, beautiful owners and exactly what camping is all about. Managed to get a refund so I was happy about that! It won't affect me using cool camping.com I will just stick to the smaller, rural sites in future :)
Fabulous holiday in beautiful surroundings!
We had a fabulous holiday this year. The site is fairly busy but didn't feel crowded, enough kids for our 1 pre-teen to make friends very quickly, so much so we had to drag him off site on occasions! Brilliant location, you can cycle/walk/run very easily on designated paths so we rarely used the car. Lovely tree lined paths were appreciated in this hot summer! The local small town is 1/2 mile walk away and has the best bakery ever (although the bread we ordered on site was pretty good too!). The local beach was a bit 'jelly-fishy' (yuck!) but the atlantic coast beach is just wonderful. Nice pool on site, great mix of evening entertainment without being cheesy or annoying. The on-site pizzas are FAB! The staff were friendly and helpful. We're already planning a second Huttopia holiday next year...