A small campsite where nature flourishes and your hosts allow you to pick apples from the tree. No forbidden fruit here, but still a beautiful little Eden.
The climate, the history, the café culture, it's no surprise camping is so popular in France. But it's become so commonplace that all too many campsites lack that unique Cool Camping feel. Happily some still manage to buck this trend, and Camping le Verger is a great example – the perfect small-time site that everybody is searching for exuding the warm, friendly atmosphere of a business run on a wonderfully personal level.
"It's less a campsite and more our garden", the owners Catherine and Sylvain tell us, though to be more precise it is part garden, part orchard. Beneath the fruit trees, grassy spaces provide ample room for camping, with space for 60 people in total. Pitches are not designated in any specific way and on arrival you're given a cute wooden sign to stick in the ground, claiming your numbered spot. After that simply kick back in the shade or, if you've picked the right time of year, pick fruit from the trees to eat.
Cycling seems to be the big thing round these parts. The neighbouring canal has an adjacent bike path that leads from here all the way into the quaint old port of La Rochelle (8 kms away), an easy and enjoyable ride that you can finish off nicely with a cold drink overlooking the Atlantic in one of La Rochelle's many harbourside bars and cafés. You can also easily cycle to the nearby Ile de Ré – a quaint sandy island that has some of the best beaches in Western France and is itself criss-crossed by cycle paths. Plus cycling there means you avoid the €16 fee for the toll bridge. A savy little trick.
It's these tips and more that mark Sylvain and Catherine out as well-practiced hosts. Their time living here means they know the area like the back of their sun-tanned hands, and the size of the site means they have time to afford you a personal service, chatting you through the local hotspots and dropping a phone call to the village restaurant if you want to make a reservation. It's all part and parcel of allowing you to camp in their garden – in itself a wonderfully friendly gesture that perhaps sums the couple up.
Gallery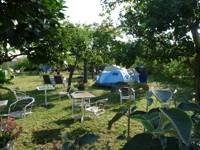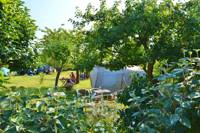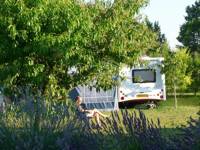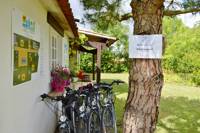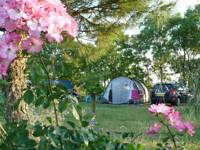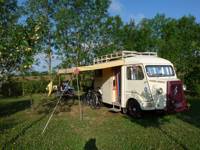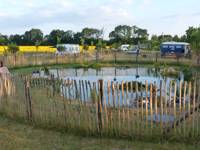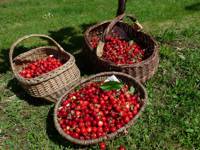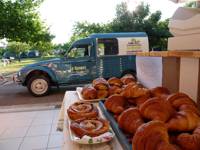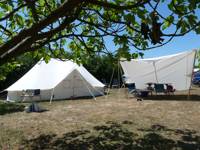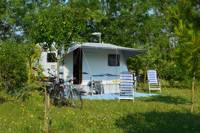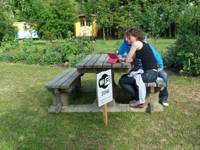 Reader Reviews
Add Your Review
Near La Rochelle
I visited in the August (2016) heatwave staying for four nights with my wife, son and daughter. On arrival the owners offered us a choice of three pitches - two with electricity or one in the shade of a tree without, during our stay we were glad of this shade. It did result in a slight first-world issue in that our mains coolbox couldn't be used - however the freezer allowed us to freeze ice-blocks. 
There was a lovely atmosphere on site with mainly French families or cyclists staying overnight. There were lots of cycling routes to enjoy and our children (8 and 4) were able to cycle into La Rochelle - predominantly off road or along quiet roads and the local village which had all the essential shops. We asked the owners advice about the best local beach (Châtelaillon-Plage) and cycling routes, both were happy to provide lots of information which proved accurate and helpful.  
Few minor aspects which others have commented upon; the site is next to a D road which led to some passing traffic noise and depending on the wind there could be barking from the kennels. Both were intermittent and not disruptive - they didn't detract from our holiday. It was an ideal location for many Vendee sites and somewhere we'd head back to. 
Unlike some sites there was no reservation fee/deposit - this was a surprise because the site was full upon our arrival and is a little example of the owners manner. Whilst there various food vans arrived - Breton crepes were superb and made catering for a hungry family easy!
Good campsite
All of my family enjoyed this campsite, despite or perhaps because it was quite small.  We did the easy cycle into La Rochelle with our young children.  Showers and toilets were kept clean, although the washing up water wasn't that hot.  Very helpful owner - his recommend for a nearby restaurant for mussels and oysters was A1.  Tasty croissants could be ordered the night before.  The nearby kennels didn't keep us awake.  We'd go back.
Lovely campsite!
Really enjoyed our stay here.  Lovely site, and great location for cycling along the paths either to La Rochelle or Marans in the opposite direction.  The owners were very friendly and gave us great advice about places to visit.  Sometimes had to wait a few minutes for a shower to come free, but it was peak season when we were there!  Would definitely go back!
Noisy
The site itself is ok but being next to a dog kennels (constant barking), a relatively busy road and the flight path for La Rochelle airport, it's far from the "sound of a laid back atmosphere" mentioned in the cool camping review. 
The pitches are big and the facilities generally OK but the pictures above do not do it's weirdly suburban location justice. 
Sweet campsite
Great location situated just 9km from centre of La Rochelle.  Local canal has a cycle path right into the centre.  Friendly owners who willingly opened shop for essential wine!
The site has the feel of an orchard  with small trees breaking up spaces and hollyhocks in the flower beds.  Wifi zone is easy to use from an area of garden benches - friendly
Best Price Guarantee, with no fees
Instant booking confirmation
Trusted for over 10 years
A chance to win £50 of Cool Camping vouchers!
Book campsites near Camping Le Verger
Available:
1 Pitch
1 Safari tent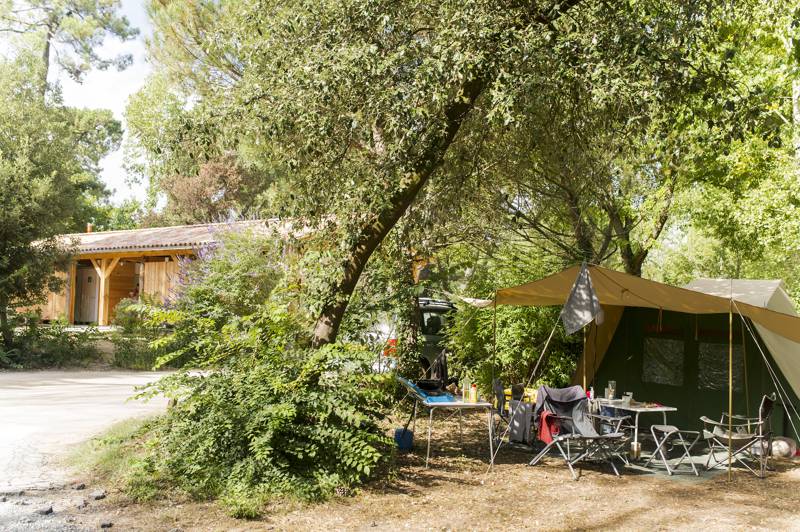 i
Campsites in Charente-Maritime
Campsites in Poitou-Charentes
Campsites in France
Available:
1 Pitch
1 Cabin
1 Safari tent