Huttopia Versailles
31 rue Berthelot, 78000, Versailles, France







Just 3 clicks from Paris makes for a city break in the Great Outdoors
If you enjoy a good pun and are seeking a campsite that feels rustic, has an element of luxury, and is close to Paris, then Huttopia Versailles might be just the ticket. Despite being one outlet of many and owned by an internationally expanding company, the overall experience is far from cult-like or corporate. In fact – I'm lovin' it.
Developed within a fringe of woodland, Huttopia Versailles has a peaceful vibe. Only 20 minutes from the Eiffel Tower and with the Palace of Versailles even closer – an easy 3 km walk – Huttopia is still enjoyable for more than location alone. The site has a number of subtle touches, adding to the ambience of comfort. One of the shower blocks, bedecked in hotel-quality fittings, has a wood-burner wafting a fragrant aroma of pine into the air. Much more appealing than, say, damp feet. And a family shower room with basins and plenty of space to hold three makes life easier for parents. There's also a nice compact play area next to the terrace, which is beside the restaurant and pool, creating a useful family base, as the kids can be seen from the terrace wherever they chose to wander. No surprise, then, that it's families who most adore this place.
The beautifully designed huts that give the site its name are actually beautifully designed cabanes, sleeping up to six people. They also have roulottes, snug affairs accommodating up to four in a double and a couple of bunks. But if you just can't sleep without the sound of rippling canvas above your head, there are plenty of regular tent pitches too, open and high at the rear of the camp. Mature trees shade much of the area, which means the ground can feel a little uneven due to tree roots. It's easy enough to find a level spot, though, and besides – nature is lumpy.
Off-site activities need little introduction. You don't camp on the edge of Paris without spending most of your time exploring the city, but went you want to return to your little pocket of nature, Utopia is always here. Huttopia we mean… though, for some, the two are much the same.
Gallery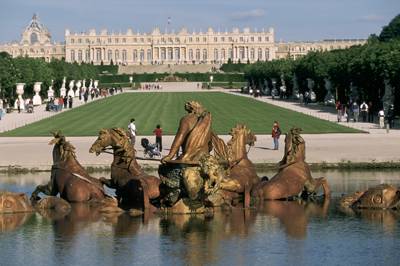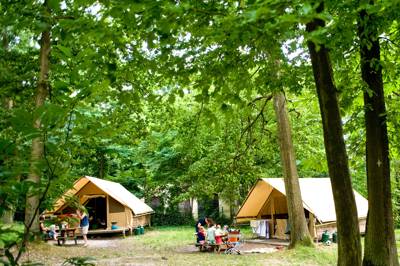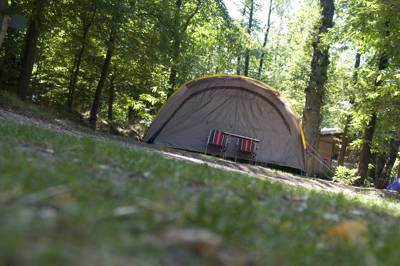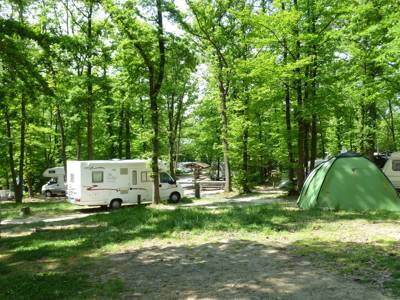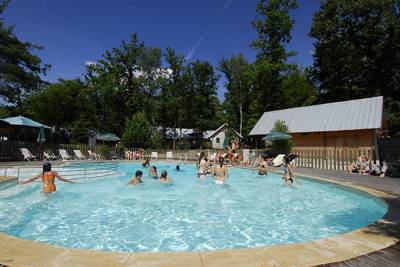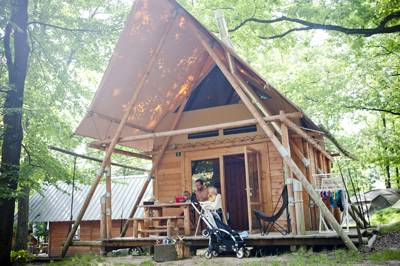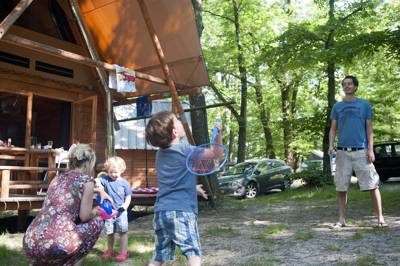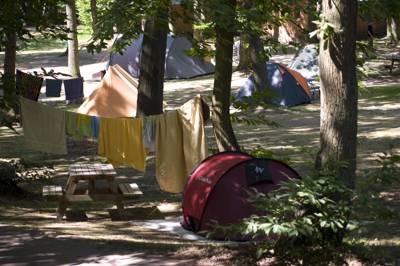 The Owner Says
If you are seeking a campsite that feels rustic, has an element of luxury, and is close to Paris, then Huttopia Versailles might be just the ticket.
Reviews
Sign up or sign in to leave your review of Huttopia Versailles
Loved it!
I was really worried after reading these reviews, but I thought this campsite was fantastic. The pool is far bigger than most campsite pools, they've taken the trouble to make every pitch absolutely flat, and the facilities are clean and well organised. There are also many things you don't get at every campsite - loo roll, free freezer facilities and a dryer as well as washing machines. Best of all, they make the most amazing pizzas, in a restaurant where you have your choice of board games while you wait. There is also a takeaway pizza van if you'd rather take something back to your tent. Yes it's expensive, but you're ridiculously close to Versailles and 20 mins from central Paris - if that's what you want, you will love this site.

Dirty and dusty
I'm very sorry to say that this is by far the worst campsite we have stayed in. Admittedly it was in August, but it was full to bursting and the facilities just don't cope. The shower blocks were not cleaned nearly enough. There was a constant smell of drains and the pitches are small, very close together and there is so much dust, dirt and stones that you simply can't hope to live in a civilized way. We love the outdoors and nature and this felt like it was a campsite purely aiming to extract the most money it could, without any care for the environment and it's customers. It is marketing hype at its absolute worst. I can't recommend this and am so surprised that it makes the coolcamping guide. 
Amazing little gem a short ride from Paris city centre
I stayed at Huttopia campsite in Versailles last summer for a week in order to visit Paris. The location was amazing, a few minutes walk to the RER (train taking you to Paris in a short time), yet in the middle of this amazing forest. Difficult to believe you're only a short drive to the centre of Paris ! The facilities were all clean, obviously well maintained. We only ate at the restaurant a couple of times as we also ate out in Paris centre and in our cabin. Pizzas were nice and homemade, none of these pre-made ones you often find on campsites! The swimming pool was welcome in the August heat, and the kids loved it. It is a very family friendly campsite, where I would feel safe leaving my kids play on the restaurant terrasse while I enjoy a drink. The staff was very helpful, gave us directions and advice about Paris and what to visit. The Chateau de Versailles isn't far either, and is a great place to see. I would recommend this campsite to anyone who wishes to visit Paris without being right in the centre, and who would like to enjoy a friendly and nature atmosphere! I cannot fault our stay.
Totally terrible site
This campsite is truly awful. The website is just a lie - camping in the woods? Back to nature? Forget it, this is the ultimate pack 'em in and pile 'em high chain camping site. The pitches were almost on top of each other. Even the word pitch was a joke, more like a bit of rocky scrub earth that we could barely squeeze our normal size tent onto. Too small for people to manouvre campervans and caravans safely as well so we lived in fear of being run over. Heaven help you if it rains as it is on a slope with ditches that fill up and flood. Some basic site maintenance would have helped. Washing facilities ok, but dirty. Staff hopeless as we were booked onto a pitch where someone had already pitched, moved to another, and then asked to move again half way through putting our tent up. The Starbucks of branded camping - don't stay here. The only thing that can be said for this site is its location - Versailles is walking distance and the train into Paris is great. Although both take longer than their lying website advise. If no stars was on option that would be my rating.

A soulless chain
This looked so promising. Turning up at the Senonoche branch of this centre parks-like chain of French Camping you might be decieved into thinking you had come to camping uttopia - fresh natural swimming pool, kids clubs and fishing in the beautiful lake surrounded by forest. However just scratch the surface and there is something inauthentic and creepy about it. There are no birds not even at dawn and very few insects ( just look at the industrial farming landscape that surrounds it to see why) just a ton of identical perch swarming in the waters of the lake - put there for you to fish out and then just throw back in). They collect in a riddling mass under the deck. Yuk! The staff are friendly and identical too - all high blonde pony tails and perfectly plucked eye brows. helpful polite but somehow without soul. I cant put my finger on it but it felt like I had come to the pret a manger of camping.
Best Price Guarantee, with no fees
Instant booking confirmation
Trusted for 10 years
Chance to win camping goodies in our regular competitions!