Le Bois Coudrais
35270 Cuguen, Brittany









Friendly, family-run, traditional camping in north Brittany.
'Turn left at the crossroads and then look out for the drapeau Britannique on your left,' grinned a helpful couple. There's a French flag flying outside the site, too, but it's mostly British and Dutch campers who appreciate the friendly, family run, traditional camping here. At night the peace and quiet is only disturbed by leaves rustling in the poplars, but the myriad birds deliver a dawn chorus, so if the other kind of twittering disturbs you, then best drive by.
The reward for getting up early is the sweet smell of fresh croissants delivered before 8am, and perhaps a chance to visit the goats, chickens, and ducks. Children so enjoy petting and feeding them that the animals need to be put on a diet come summer's end. In high season the owners bake cakes and make quiches, lasagnes, or salads, so campers can eat outside the bijou café- bar next to the pool. Inspiration and activities are on a map showing Mont St-Michel 20 minutes in one direction and the fairy-tale feudal castle at Fougères, with towers and turrets in all the right places, 35 minutes in the other.
Gallery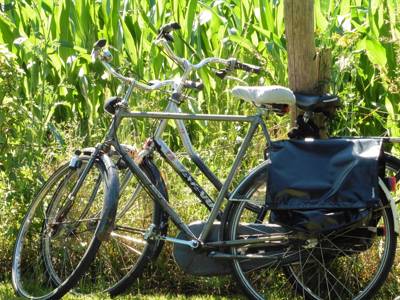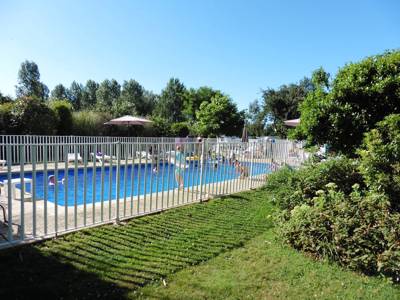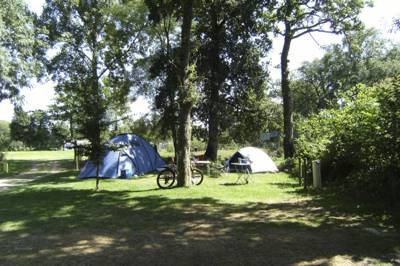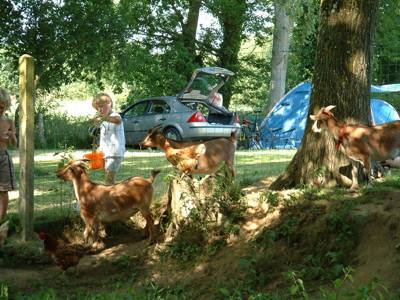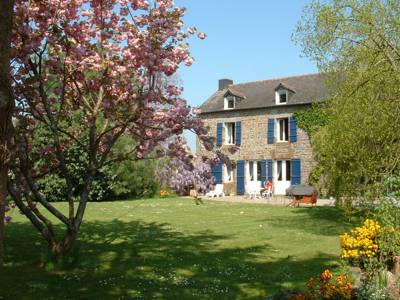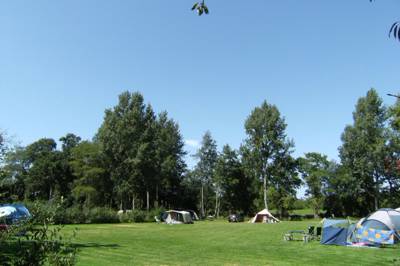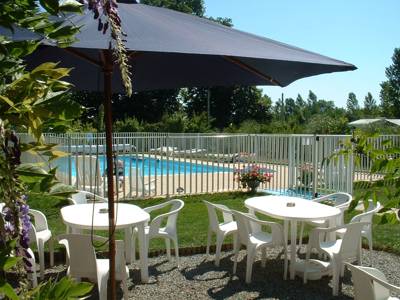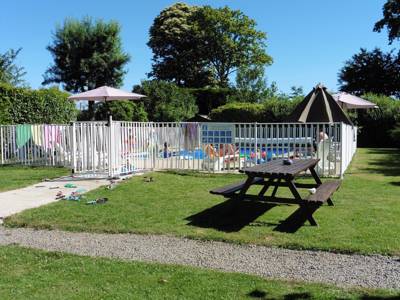 The Owner Says
Small, peaceful and family-friendly campsite, ideally situated in northern Brittany.
Reviews
Sign up or sign in to leave your review of Le Bois Coudrais
Wonderful campsite
This was our second site during a two week holiday in Brittany and we spent 7 nights camping at Le Bois Coudrais in the main camping field. We camped as a family with two daughters (aged 6 and 2) and we all had a fantastic time. It's a very laid back site and very welcoming. The obvious attraction is the excellent swimming pool, especially during the hot weather we were lucky to enjoy. The owners are welcoming and helpful and keep a smart campsite plus a lovely little reception/cafe which is always open for drinks and ice cream. In the evenings they can provide a short menu, including good burgers and frites. The campsite facilities are modern and kept clean and maintained, including showers, basins and washing up, plus a useful washing machine and freezer. One innovation we liked was the food recycling shelf - anything not wanted was placed up there for others to pick up, reducing waste. More campsites should have one of these. The main camping field was great for all the kids to play balls games etc in and was very communal and good fun in the evenings. The location is great, with wonderful places like Fougeres and Dinan a short drive away, plus Mont St. Michel. All in all, wonderful and we hope to return next summer!
Jaime Thornton
This camping site is perfectly placed for days in and around Northern Brittany. The site itself had good sized pitches and the amenities were second to none. Warm showers and clean communal areas were complimented by a refreshing swimming pool and a bar, where as you would have read you could order food to be freshly prepared if required. The bonus was putting in a bread order to be delivered the very next day for breakfast! The children loved feeding the goats and ducks and enjoyed the play area. Night saw wonderful flying displays from bats and the star gazing was very clear. The only downside to the site was the barking dogs situated near by (a few fields in fairness) but we definitely knew when feeding time was. However we would thoroughly recommend this site and will definitely be returning in the near future. Big thanks to Claire for making us feel very welcome and looked after.
Sweet little campsite
We had a very unfortunate run of weather staying here with clouds, drizzle and some torrential rains, so didn't really get to make use of the pool, although we did have a few icy dips to keep the children happy and would definitely say it wasn't heated! The campsite has some very pretty bits, a lovely playground and the animals are obviously exciting for the children to visit. There are some beautiful and secluded pitches down at the end of the campsite amongst the trees and around a field. The electric pitches are along a road running the length of the site from a small parking area and I would say that they are quite small and exposed. We had the second pitch along from the parking lot and felt a bit on show. I think ours might have been one of the larger ones along the road so other people seemed quite squeezed in. Having said that, the owners were friendly, the facilities were clean, the grounds were well kept and we enjoyed the pastries and bread delivery every morning. The site was dead quiet from about 10 at night which we loved. You can pre-order food for the evenings and we were quite keen to test drive the burgers but ended up leaving early to chase the sun so ran out of time. All in we enjoyed our stay but we were just a bit disappointed in our pitch as we made assumptions from the photos that we'd be in a field under the trees. This was our first experience of booking an electric pitch as we are used to wild camping in the UK and we know for next time to book a non-electric pitch if we want something more secluded. With hindsight this is obvious but we were a bit misled by the photos!
Response from campsite owner:

Thanks for the comments, however we would like to stress the following for others who may read the review:

The pool is heated . During peak season, if the thermostat drops to below 25.5 degrees, the heating switches on and heats to 27.5 degrees, or more on a hot day.  With the heating, the lowest the pool can drop to is 25.5, unless the weather is unseasonably cold.

We feel that all the photos shown are a good representation of each of the 3 camping areas. The main photo on our advert shows the top camping area where each pitch is separated by hedges for privacy. The smallest  pitch on the top camping area is approximately 120 m sq, with many being a lot bigger,  we don't feel that they are either small or exposed.

There are pitches with electric hook up in all three areas of the campsite. Our regular guests can request their favourite pitch, which is one of the reasons we have so many repeat customers. 

Happy Camping!

Claire and Philippe
wonderful, family friendly campsite
Lovely, family friendly campsite in the heart of the region. We only used it for 3 nights stop-over before getting the return ferry from St Malo but would gladly have stayed longer. Kids roam around all day in complete safety - it's small but that adds to the charm, and between the playpark, animals, swimming pool and well stocked games/library they are kept more than happy. Pitches are large and everything is kept clean and is obviously well looked after. Best of all though is the atmosphere...after 3 weeks on some really lovely campsites around France - this was a very relaxed "digestif" before our journey home. Highly recommended :-)
excellent
We have stayed at this campsite on many occasions and have loved every time, it is very well maintained, well run and a lovely haven of quiet country life. the hosts can't do enough for you, the pool is lovely and so are the surroundings. Children love to visit the animals which keep them amused for hours. We will definately be back for more visits and look forward to 2015

Best Price Guarantee, with no fees
Instant booking confirmation
Trusted for 10 years
Chance to win Vango camping goodies!
Third Visit
This July we visited le Bois Coudrais for the third time. That in itself speaks volumes for this site. Super owners, large pitches and lovely atmosphere. Also ideally placed for the ferry port at St Malo. We are already planning to visit again next year!
The Perfect Family Camping Holiday
I booked this site as I wanted a small friendly site and that is exactly what we got with much more. It is beautifully maintained, the pool and pool area are spotless, the café a life saver and Claire and Philippe an absolute joy!
This is the ideal camp site for families with young children. It is big enough for them to feel like they have independence but small enough to make lots of friends and be safe.
the location is rural but close enough to some towns with all the necessary facilities.
Also it is within easy reach of some beautiful beaches too.
A wonderful experience!

Great for families
Fantastic camp site for families, great location with loads to do, all in all a fantastic 8 nights and we wish we had booked for longer.
Le Bois Coudrais
Just returned from a long weekend at Le Bois Coudrais. Brilliant intimate camp site, large pitches, great atmosphere and very friendly hosts. Highly recommended.