Camping du Letty
32 rue du Canvez, 29950 Bénodet, France






Easy living camping with an exquisite sandy beach on your tent-step.
Beach holidays have one small problem. After you've splashed about in the shallows and lounged on the beach for a few hours, getting sandy, salty, and suntanned, you really don't feel like performing an accidental striptease changing out of your swimwear and then stepping into a car that's also been gently roasting in an open-air oven. The solution is to get as close to the sea as possible. Camping du Letty has this covered, enabling you to stroll to the showers before ambling back to your emplacement refreshed and ready for action. Or inaction, of course. You don't have to be busy here, but as in many of the other larger coastal sites, there's plenty happening on site – Camping du Letty comes complete with what one camper, who preferred slightly quieter scenarios, described as her bête noire, 'the whole hurdy-gurdy thing of discos, bars, and entertainment'. To add to this excitement, in 2011 there will be a brand-new swimming pool and aquapark, too, with slides and a retractable roof.
And yet, despite what this may suggest, campers can have a lovely, peaceful holiday here, if they so wish. A short distance along the corniche from the shops and restaurants of the summer resort of Bénodet, Camping du Letty is run by two generations of the Le Guyader family. Marc and his parents have their work cut out here as the site is spread over 25 acres (10 hectares) with about 600 pitches, but their enthusiasm and commitment are obvious. More to the point, the site has been established for decades, so the shade-giving trees are mature and the abundant hedges give each camping area a real sense of privacy and seclusion. In fact it's perfectly easy to forget that you're really in the midst of a veritable tentopolis.
Unlike some other sites there is no supplement to be paid for booking a sought-after beachside pitch, and once you're established you can stay for as long as you wish. The disco-cum-performance building is far enough away from the sleeping areas for people not to be disturbed – and it's not open at all on Fridays, because that is party night in Bénodet, and there's no point competing with that.
The campsite abuts Plage du Groasguan, a strip of golden sand along a slinky lagoon at the mouth of the River Odet. Across the placid water the Dunes Dominiales de Mousterlin stretch away, providing a sandy horizon that blocks out the sea's swell. The result is a choice between a backwater that's ideal for paddling or launching the kids on to the not-so-high seas (they can learn the ropes at one of the local sailing schools), while their parents lie back on the shore, or the alternative of the real beach and bigger waves, which is just a short hike away from the site. This one is overlooked by a lighthouse that winks flirtatiously at every passing vessel after dark.
As you stroll along the shore, past the colourful art-deco changing rooms, and then further along Plage du Trez and around Pointe du Coq, you'll be getting closer to the old port of Bénodet, where river cruisers can ferry you upstream to Quimper. This is the place to come to for seafood that is so fresh that it may still be flapping about; perfect to fry up in a butter and white wine sauce. Because freshly caught food is surely the other main reason you like being right beside the seaside.
Gallery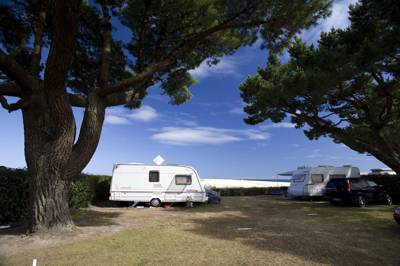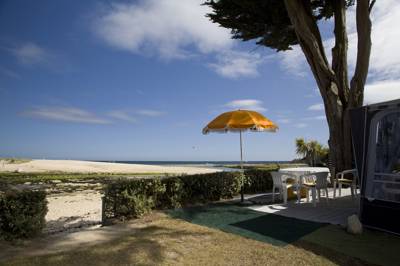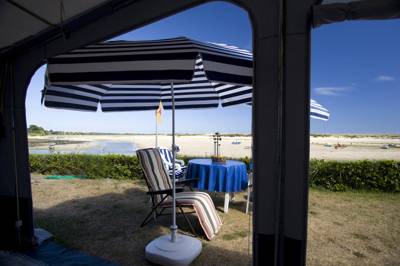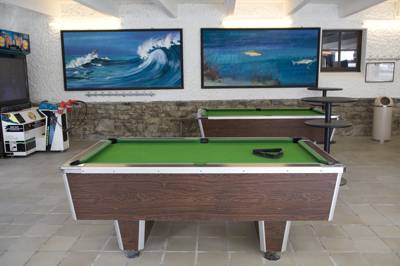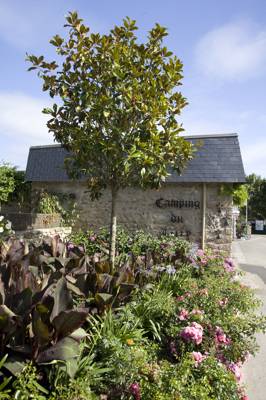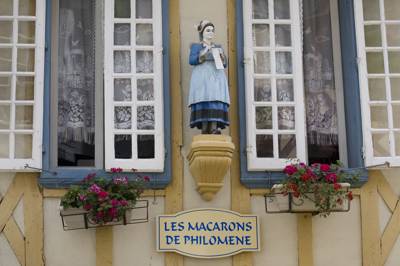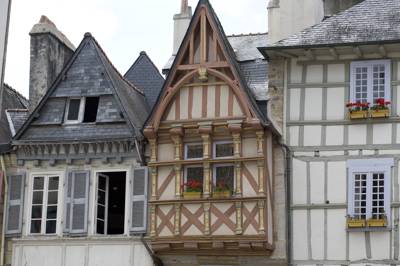 The Owner Says
Reviews
Sign up or sign in to leave your review of Camping du Letty
Not our cup of tea
This is a tricky review to write this site is very much not our cup of tea. So so busy very very loud until very late at night. Lots of unsupervised children on bikes rounding blind bends at top speed. Pool is great but again is rammed with unsupervised kids. Loud entertainment until 1am. This is fine but with canvas there is no-where to hide. The beach at Letty is not great considering what Finisterre has to offer. The sand is sharp and not sand castly. The showers are next to the busy reception and bar?! Plus they are very very dated. All in all if you're looking for all of the above you may love it. I don't mind noise as long as there is a reasonable quiet time. This was madness.
Letty is changing...
I used to write rave reviews about this campsite.  However, in the last three years it has changed massively, to the point I wonder if it would still feature in Cool Camping.
The tariff has gone up enormously, in peak season you're probably now looking at £60 per night.  It's very, very busy, it's full of Brits these days and has lost much of its French charm.  Don't even think of trying to arrive without a reservation in peak times, you'll probably be turned away  
The pool is great, it does get busy but the kids love it.  The beach is a bonus as ever, just be sensible with the tides and you'll be fine.  If you enjoy pootling with a kayak you'll find some great places to go.  
It's definitely not the tranquil hideaway it used to be since the introduction of the pool, but is still an enjoyable family holiday.
Le Letty
We had a great four night stay here with our two children, aged three & seven.  The facilities are good and the beach is so close and really pretty, especially at sunset.  The children enjoyed the pool and slides and it was helpful having the shop and takeaway on site. 

A fun site, busy and vibrant.
We have never stayed on a site like this before, it has loads of facilities and did feel a bit commercial. Our pitch was very close to the pool, but was still quiet and fairly secluded. The pool was great and it was not normally too busy so easy to get a sun lounger. There is aqua-aerobics quite early every morning, so we got woken up by loud music every day. It was fun and we enjoyed the busy atmosphere, but be aware that it isn't a quiet site. The little cafe was great and the shop sells fresh croissants each morning. The toilet blocks were totally fine. We really enjoyed our stay. Take your bikes, it was lovely to cycle into Benodet and catch a little ferry across the harbour to reach large secluded and sandy beaches on the other side.
Well run, clean but very big and commercial
We stayed 3 nights in a pitch with part shade and were lucky to be away from the bar and pool area which gets very noisy. Great facilities on site, although the pool area did feel a bit like Butlins when the entertainment gets going. The older kids will love the water slides. Pitches are quite small, and roads get very busy with traffic in the daytime, which is not great for kids especially as the play park is at the opposite end of the site from pitches. The nearest beach is only reachable by crossing a river inlet which becomes very deep and fast flowing on the high tide. We saw several children in distress trying to cross back to the site at the end of the day. Better beaches to be had a short drive away. Nearby town of Benodet is great for markets and restaurants, also has a pleasant beach with a kids club.
Best Price Guarantee, with no fees
Instant booking confirmation
Trusted for 10 years
Chance to win camping goodies in our regular competitions!