A newly-opened family-run campsite with a rural feel, despite effortless access to Granville and the best bits of the Normandy coast
There's something undeniably surprising about the quiet, rural feel of family-run O2 Camping in Normandy, France. It's a 10-minute drive from the immensely popular sandy beaches of Mont St Michel Bay and almost the same to the bustling centre of Granville, one of France's earliest seaside resorts. So initial expectations are generally of a cheap-and-cheerful holiday park that's heavy on Brit-based fun and light on all things authentic. Thankfully, Stéphane and the Arondel family are here to prove you wrong.
Down a narrow country road, O2 Camping is some 27 acres in size, with ample room for the diverse collection of tent, campervan and caravan pitches, along with glamping options that range from basic bell tents to up-market 'canvas lodges'. All have access to the brand new ablutions block (the campsite only opened in summer 2016), while facilities include a covered swimming pool, visiting masseurs in summer, volleyball courts and a well-stocked reception shop and bar.
It's not family table tennis tournaments and aqua-activities that make this campsite stand out though. While the facilities do indeed provide all the French staples – fresh croissants in the morning and sandy pétanque pitches – it's the open, natural countryside feel of the place that makes it different from the Normandy norm. Mature trees and foliage break up the site; there are goats and chickens; a cute herb garden offers free-to-use seasonings for your barbecue; and old farm tracks and footpaths lead out into the surrounding area. It has an ideal blend of modern, man-made functionality but with a traditional, countryside feel.
Off site, busy Granville remains a popular port for catching the ferry out to the Channel Islands and taking day-trips to the rocky and immensely pretty Chausey Isles, 17 kilometres from shore. The UNESCO World Heritage Site of Mont St Michel, meanwhile, is around and hour away (stay late in summer to catch the light show dancing on the medieval ramparts of the island), while Normandy's historic D-Day beaches and memorials are a half hour further than that. You're certainly not short of things to keep you busy. So whether it's a dip on the beach, a tour of the trés chic Dior Museum in Granville or simply borrowing a book from the campsite library and kipping in a hammock, O2 Camping is a number one camping spot.
Best Price Guarantee
Easy and Secure, with instant booking confirmation
Trusted for over 10 years
A chance to win a brand new Coleman tent!
Gallery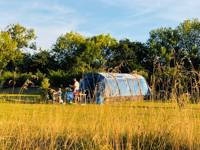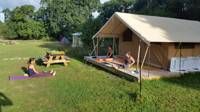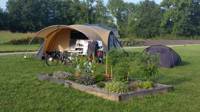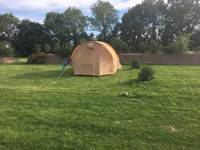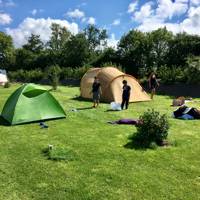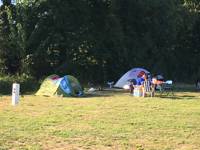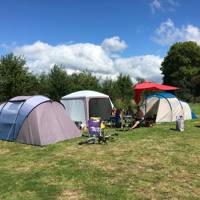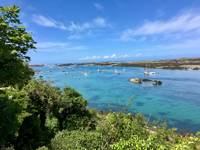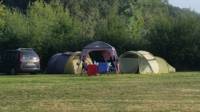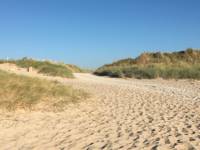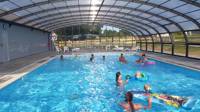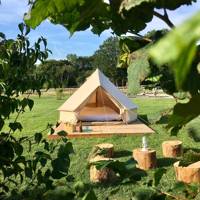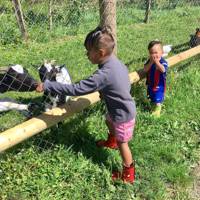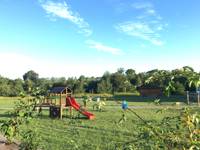 The Owner Says
O2 Camping is all about simplicity, well-being and sharing. All of these values are bound in our desire to provide memorable and relaxing holidays! We run a natural, Normandy campsite and welcome you to come and stay.Our favourite quote? "Paradise is not a place, it is a state of mind".
Reader Reviews
Add Your Review
Just what we needed - peace & calm
I couldn't believe how warm and welcoming the owner was when we arrived late and travel weary. He made us feel completely relaxed in a matter of moments and made us laugh, which was perfect therapy for us! He couldn't have been more helpful in the choosing of our spot. We had a peaceful and restful stay. We loved the campsite and the facilities and also the goats. I highly recommend staying here if you want a relaxing holiday. Even the weather seemed calmer!
Very friendly and spacious
I stayed here with my children in the first week of August, and we had a really great time. The campsite is very well run, and very clean. The pool is a good size, very warm and the children loved it. We had heaps of space, and lots of choice of where to pitch. The weather was very hot, and I really appreciated getting some pointers as to where we'd get some shade. The morning delivery of bread and croissants is very welcome. This was our first camping trip to France, and I'd definitely recommend this campsite!
Fantastic holiday
Just back from a wonderful holiday at O2 campsite. The owners are incredibly friendly and welcoming, and very helpful and patient with our French speaking, especially helping the children to feel confident in trying their language skills out. Lovely to have goats and chickens there, also table tennis, boules, barbecue area, and of course the lovely indoor pool. Such an unspoilt site, but with great facilities. Really loved the croissants etc. that we could order for breakfast, and a nice selection of products to buy at reception too. We had a very quiet spot which was exactly what we had asked for. A perfect experience of a well organised, friendly and calm campsite. Looking forward to going back!
The swimming pool
Nice, quiet, spacious campsite. Mostly full of young British families, it has a nice swimming pool, friendly staff and a couple of goats. There could be more toilets as we often had to line up to use them. Also a bit over priced compared to other campsites in France.
Rural bliss
Thanks to Stephane and everyone - we needed to get away from it all, and despite arriving in pouring rain, we didn't care - we had a lovely pitch and the weather soon improved. The heated indoor pool was a real bonus, and the surrounding area is very attractive. It felt like a real family run site with a lovely atmosphere and my kids ran free. Thanks a lot - we'll be back.
Peaceful and friendly, clean and green
We had a great week here camping with our two girls aged 8 and 6. We found it hard to go out as they just wanted to go in the pool every day, twice a day. We ordered croissants and a baguette most mornings and even a pizza when the van came on Saturday night. There were also bats to borrow for ping pong. Great holiday!
Pool, clean, not too cold
Basic campsite. Friendly and clean. Central to nearby places to visit. Personally although mixed toilets I do not like urinals in the toilets used for both sexes. Luckily we did not have children with us. But if I had young girls would not like that. My husband also did not use it for same reasons.
Lovely dog friendly countryside camping
We spent a week with our 15 month old puppy (her first trip to the continent) and had a great relaxing week. Stephane was very welcoming and sympathetic of our poor french too! The site itself is beautiful, a mix of landscaped pitches, bbq areas and lovely wildflower meadows. The facilities are also very good quality with clean, well thought out toilets and showers plus a very nice indoor swimming pool. There are even a pair of resident goats! The site also has a number of great glamping options, from a set of simple bell tents to some very luxurious safari tents, though we were staying in our own tent on a powered pitch. The site is away from busy roads and is surrounded by quiet farm tracks, perfect for relaxing dog walks and nature watching. It is also only a short drive to the beaches north of Granville and a 5 minute drive to a very good E.Leclerc supermarket, as well as a number of other shops. We had a really relaxing stay there and were very happy, we would definitely stay again!
Book campsites near O2 Camping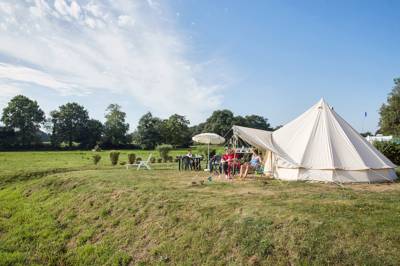 i
Campsites in Manche
Campsites in Normandy
Campsites in France