A family friendly campsite in the gardens of a French château, limited to a few pitches so that space is guaranteed
A thousand years ago, the cling clang of armour and haughty laughter of French aristocracy reverberated from the walls of this picturesque little château. Its grey stones and romantic round tower were as attractive then as they are today – if these walls could talk.... Since its commission by William the Conqueror, Château Monfréville has housed all sorts, from the family of Walt Disney to the invading German soldiers during World War II. Today, this scenic abode offers accommodation to those who venture into its beautiful gardens. Here, in the most quintessentially French surroundings, a thoughtfully-run campsite provides the perfect family getaway.
From the second you arrive at Le Château de Monfréville the quaint rusticity of the place is overwhelming. Parked beside the leafy apple orchard you are met by the rumble of a vintage tractor, your transport around the chateau to the vehicle-free pitches beyond. Bobbling along in the wooden trailer, a spacious site is revealed, limited to just 25 tents so customers are guaranteed to never feel crowded. There is ample room for children to play, open spaces where Bert the donkey can graze, and a natural swimming pond perfect for an authentic camping dip!
The greenery of the château gardens are unmarred by sanitary blocks. Instead campers head into the cellars of the castle where immaculately kept ablutions are accompanied by power sockets, fridge freezers and a washing machine. And, if a quick blast under the hot showers isn't enough for you, back outside a steamy hot tub is sure to help you unwind. Those who wish such luxury to continue can forego the tent to stay in one of the two gypsy caravans – small but well equipped, and furnished with an eye for detail. A double bed and bunk-bed allow space for up to four, while ample storage space, two gas hobs, tables, chairs and every kitchen utensil required mean all you'll need to bring is your toothbrush.
Overlooking a stunning national park, Le Château de Monfréville is the perfect place to grab a bike (free-to-borrow onsite) and head into the trees, discovering migrating storks, hooting owls or gregarious bullfrogs that offer a dawn chorus each morning. A longer cycle ride also takes you to the coast, a 15 minute journey in the car. Here the historic sandy beaches of D-Day are backed by fascinating museums, while sites like the famous Bayeux Tapestry are also close at hand.
At its heart, however, it is not just the pleasant countryside and rich history of Normandy that make the site so special but the real thoughtfulness that goes into how it is run. Owners Zoe and Paul are attentive and welcoming, while their smallholding of animals and tiny onsite honesty shop reflect the easy-going, rural atmosphere of the site. Children can socialise with fellow campers, parents can relax beneath the shady trees and everyone can leave vowing to return the following year.
Best Price Guarantee
Easy and Secure, with instant booking confirmation
Trusted for over 10 years
A chance to win a brand new Coleman tent!
Gallery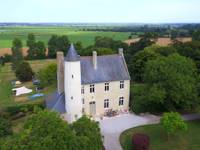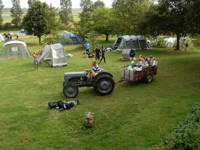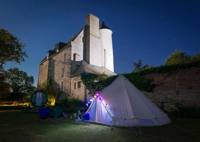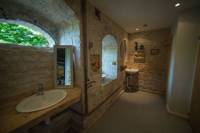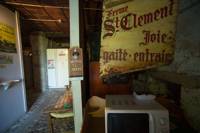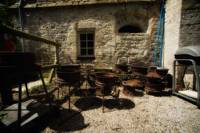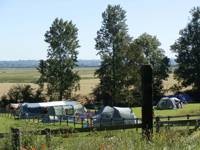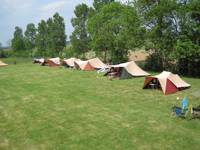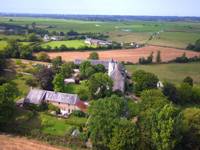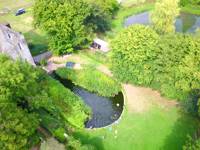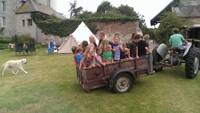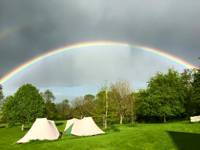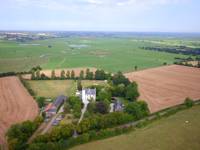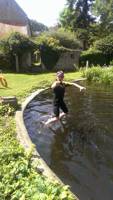 The Owner Says
We love running our little camp site in the heart of the Normandy country side. The best part of it, is all the people who come to stay and especially the ones who come again and again who have now become good friends. If we had to descibe what makes this a special spot, it would have to be the total ambience of nature and history combined together. The site overloooks The Cotentin' national park which is home to storks, herons, kingfishers and many other birds whilst the chateau has baffling history dating back to William the Conqueror. With a 'No Car', policy on the site, this makes a super happy relaxed atmosphere, with kids running freely and parents relaxing without the worry. The naturel swimming pond is a highlight as you get to swim in what is essentially a beautiful garden with frogs on lilly pads overlooked by the mighty east wall of the chateau. The hot tub is also extremely inviting as you can sit and enjoy warm bubbles overlooking the spectacular views.
The animals all make quite an impression on people, especially the children - Bert the Donkey has a naturally naught character & loves a baguette if any is going spare. Ippy and Saffie are close pals to Bert of the equine variety & roam the field adjacent to the camp site. Mungo & Bluebell are just the best looking kitty cats & Hector is the best Labrador, ever! New editions are Bernard and Reny, the kune kune pigs who are hysterically funny and hopefully somewhat trained by the summer months! Reny does like to chatter when going for a walk whilst Bernard is constantly looking for a meal! The chickens will be on duty, laying the best eggs ever which are available in the honest shop.
The freedom to pop in & buy some eggs, wood, marshamallows, amazing home grown tomatoes, homemade jams and chutney's and various other goodies in the honesty shop is a relevalation for some! Pop your money in the honest tin and off you go! There is also a ping pong table, book exchange, local information and table football in the honesty shop.
In July & August we cook for every-one on a Thursday evening. This has become so popular that our customers make sure that they book in around a Thursday to ensure that they can have a massive bowl of the best mussles in cream sauce served with skinny chips. Moules Frites chez Chateau Monfreville! We host this in out huge outdoor barn which has long tables running up and down the barn with a retro feel and vintage bric a brac adorning the ceilings & walls. Many a party has been had and many more to be had! On Sunday's, whole roast chickens and chips are available as a take away - the two things you can't easily do when camping is roast a chicken and fry some chips so we've done it for you!
The idea of camping brings to mind the caption of, The Great Unwashed', which can bring chills to some at the thought of not having a proper shower and generally being rather dirty by the end of a camping trip. This couldn't be further from the truth when camping at Chatea Monfreville. Because we like our little creature comforts when camping, we decided to put in showers and loos that we would want! So, in the cellars of the chateau, are the most gorgeously decorated Men's and Ladies that one could ask for. Hot showers, no meters, power points for hairdryers, mobile phones & cameras. Theres even a sofa or 2 to pop yourself down, should there be a queue.
The wash up sinks, bins, recycle, 2 big fridges & microwave are also in the cellars of the chateau. We really hope that we have thought of everything.
To sum up, we think that Camp Monfreville, Rocks!!
Reader Reviews
Add Your Review
Excellent campsite
Had a wonderful stay at this lovely place - amazing facilities, location and hosts. Would love to come back again and highly recommend to everyone.
Fantastic - a little slice of heaven in Normandy!
Stayed at the incredible Chateau de Monfreville for 3 nights recently and had a brilliant time - the facilities are first rate and the owners Zoe and Paul have thought of just about everything. We were there for the pizza night and the moules et frites night where everyone on the campsite joined together in the big barn to eat and listen to live music. You even have breakfast delivered to your tent every morning! The pitches are relatively private and the lack of cars on the campsite itself makes a huge difference. Brilliant!
Fabulous
We all loved this site, even our 17-yr old reluctant camper.  The kids loved le ping-pong, hot tub and swimming pond.  We loved the friendly laid-back atmosphere, beautiful setting & really nicely done showers, toilets & washing up facilities.  The food they provide is a touch of genius, a real treat not having to cook & wash up with a great big campsite social thrown in & all very reasonably priced.   Tonnes to do in the region for all ages & interests.  Will definitely go again. 
Perfection
This was our our second year at the Château ,last year was perfect and it was if anything even better this year.everything was wonderful and so many things set it appart from your usual French site.The showers more of a power than the usual push button on continental sites.The animals that you can feed a real treat for anyone with kids.The informality of the camping pitches add to the charm just pick your favourite free spot.Paul and Zoe really make everyone's stay special and you are more of a friend than a guest.Everything they do adds to the experience the little things you can't do on the cooking stove the moules and chip night ,chicken Sundays and the marvellous new wood fired pizza oven made from the old Château boiler provides the best pizza I've had ever.Rural enough for peace and quiet but close enough for all Normandy has to offer.Will we be returning next year,just try and stop us!
My rating is 5 star only because I can't give it a 6 !
Favourite campsite yet
This was by far the favourite campsite we stayed at on our ten day tour of France. The chateau and grounds are stunning, facilities excellent and Zoe and Paul were so welcoming and hospitable. We have already recommended Monfreville to our friends and family and we will definitely be back! 
Book campsites near Le Château de Monfréville