Grass pitch
Sleeps 8

(max 8 adults, 7 children)
Our lovely and spacious grass pitches overlook the rest of the park and are all equipped with power sockets. Visit the grocery shop in the morning and collect your fresh pastries and baguettes for breakfast. In the garden enjoy our heated swimming pool, a spot of fishing in the lake, a stroll through the forest or hire a bike to visit the surrounding villages.
The Owner Says
Castel camping du Brévedent is a 4-star campsite located in the heart of Basse-Normandie. Enjoy a peaceful stay – dive into our heated pool, visit the picturesque villages of Normandy, or just take in the fresh air!
The grass pitches have the average surface area of 100m2. They are lovely and spacious and overlook the rest of the park. They are equipped with power sockets, most of which are European (You can ask at reception for adapters). We have three toilet blocks available for you to use, the first is the largest with spacious shower cubicles that are heated, sinks with large mirrors and washing up areas with beautiful panoramic views of the garden.
Our second toilet block is more suited for families, with large showers, baby bathtubs and sinks in the same unit. Our laundry room is also located here with a washing machine and dryer. The final toilet block is more traditional with single- sex areas.
In the garden enjoy our heated swimming pool, a spot of fishing in the lake, a stroll through the forest or hire a bike to visit the beautiful villages of the Pays d'Auge near Brévedent. Fancy breakfast? The baker delivers fresh pastries and baguettes to the grocer's shop every morning.
Let our reception team help plan your day! We'll recommend walking barefoot on the white sandy beaches of the Côte Fleurie or following the Route du Cidre. If history is your thing, you can easily visit the landing beaches or discover the long history of William the Conqueror. Or why not give in to temptation and explore one of the many local Calvados distilleries to sample this delicious liqueur?
Our Best Price Guarantee
We guarantee our prices at Cool Camping are the same, or lower, than booking elsewhere. If not, tell us, and we'll match it or beat it. Click here to read the full terms
View Gallery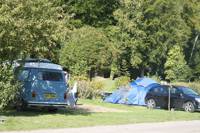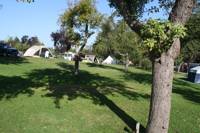 About Castel Camping Le Brévedent
Suitable For
Tents, campervans, caravans, large groups, young groups – yes. Dogs – no.
Nearby
What could be better than a ramble or cycle through gentle, rolling fields full of sturdy cattle and traditional, timbered Normandy farmhouses? Each camper is given a map detailing 3 local walks. Hire a pony from the horse-riding centre 1⁄2 mile (1 km) away. Or, for wilder animal thrills, go on safari at Parc Zoologique Cerza, which has 700 animals including tigers, alligators, and a rare Indian rhinoceros. Pont-l'Évêque 6 miles (10 km) away, which retains period charm despite taking a pounding in the Second World War. Apart from being home to a deliciously stinky cheese, the restored Mont St-Michel cathedral is worth a look. Art fans love the picturesque port of Honfleur, 151⁄2 miles (25 km) away.
Food & Drink
Thursday is the day for foodies, starting with the morning market in Blangy-le-Château. It might be small, but it's incredibly charming and has a fine fish van selling oysters and mussels. Soak up the atmosphere and treat yourself to a coffee or cassis in the bar-tabac opposite. On Thursday afternoon the campsite organises a trip to Les Bruyères Carrées, a small distillery, which produces top-notch Calvados and cider. For a fancy meal head 1 mile (2 km) further along D140 to the delightful Le Mesnil-sur- Blangy, where Le Restaurant de la Galerie (00 33 2 31 64 77 13) serves seasonal food (foie gras €14, duck €19) and doubles as an art gallery. Check out the cows at Ferme Spruytte (00 33 2 31 64 71 99), which makes and sells the local Pont-l'Évêque cheese. It's walking distance along D284.
Location
Castel Camping Le Brévedent is located at 241 Route du Pin, 14130 Le Brévedent, Calvados, France
Getting There
From Rouen take A13 to Pont-l'Evêque. Head 1⁄2 mile (1 km) south on the D579 towards Lisieux before joining D51 to Blangy-le-Château. From Blangy take D98 south 1 mile (2 km). The site is on your left before you reach the hamlet of Le Brévedent.