A quiet rural campsite as refreshing as the homemade lemonade and local wine that's on the menu
It was almost a decade ago that Cool Camping first pulled into the gravel drive leading to Le Poteau Campsite. Situated on the edge of the sleepy village of Castelnau d'Auzan, this charming spot lies in the heart of Gers' bountiful wine- and Armagnac-producing départment. Hidden among the corrugated corduroy of vineyards, the campsite's immediate appeal made it a shoo-in for our very first guidebook to France. It also made it a firm favourite with Scottish couple Alasdair and Fiona Downes, who visited the site in 2015 and promptly decided there was nowhere else they'd rather be. Today they've packed up the tent and live in the small house across the driveway, tending to all the new arrivals in what is now their garden.
The campsite itself, though kept to a manageable 20 or so pitches, sprawls out to offer ample space. There's an assortment of shrubbery, small trees and bushes to obscure your tent from your neighbours, whilst across the driveway, a covered dining area and a cute terrace bar are there to be sociable in. Alasdair was a chef in his former years and cooks up a mean four-course meal a couple of days a week, enjoyed in the shaded setting of the orchard. Glance at a menu board on other days of the week, and you can pre-order some of his traditional French food to take away instead.
The church spire of pretty Castelnau d'Auzan peeps above the surroundings. The village is a short walk away and has its own little tourist office and a few bar-restaurants. You get a real taste for agricultural France as you pass tractors chugging along roads lined with tall trees that have grown from either side of the road and entwined together above you. There are as many of these tree tunnels as there are vineyards around these parts and they seem to echo the rustic, picture-perfect atmosphere of the settlements. Montreal-du-Gers, Fources and Larressingle are all designated plus beaux villages and can be easily reached by bike. Or you can simply stay put in the garden-like setting of this plus beaux campsite. Long may its years of secluded success continue.
Gallery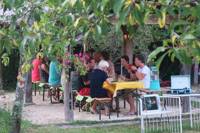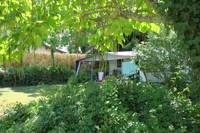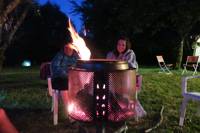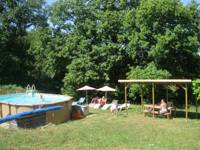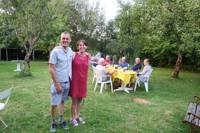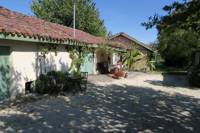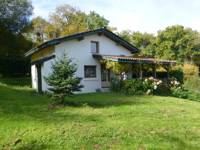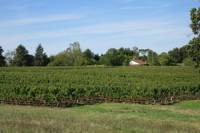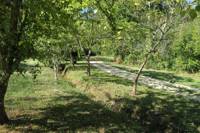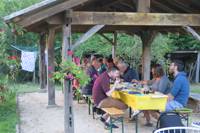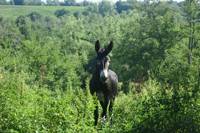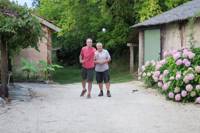 The Owner Says
We've been careful to preserve the things that made us fall in love with Domaine Le Poteau. It's a friendly, relaxing, quiet and beautiful little site where you can unwind, enjoy the wildlife and forget the hassles of the outside world. The most stressful thing you are likely to encounter is our very disorganised and not very serious boule tournaments. When you do peel yourself off your hammock or lounger, the beautiful Gers region beckons; rich with culture, gastronomy and outdoor activity. A fabulous, friendly, unspoiled region to explore.
Our pitches are large and shaded and carefully spaced to offer privacy and solitude and the two toilet blocks are kept spotlessly clean.
We have a beautiful and stylish Bell Tent. The main tent has a very comfortable bed, lamps, seating and storage. There is a separate kitchen tent with everything you might need. We also have a fully equipped tent. Slightly less glamorous but practical and roomy if you are travelling light.
We also have two gites, located at the far end of the vineyard, far enough away from the campsite to provide solitude but close enough to make participating in the campsite activities an easy walk past the ripening grapes. They are well equipped and have beautiful views over the surrounding countryside and village. Our guests describe them as "magical" "calm" "Idyllic".
We have a seven-metre, above-ground pool, nestled in a little hollow below a meadow and above our woodland. It is an unusual but delightful spot for a dip.
The vineyard, which used to produce Domaine Le Poteau's own wine and Armagnac, still borders our site, where you may see Jean Jacques, the vigneron, checking his crop. We make sure that as much fabulous local produce is available to visitors as possible – from bread and croissants delivered fresh from the village to the wine you can sip in the orchard and the ingredients used in the traditional French meals served in the evenings.
The local village, Castelnau d'Auzan is just an easy stroll from the campsite and gites. It is a really friendly and very welcoming village where you will be able to eat and drink with the locals. We feel that it is really important to support the excellent local businesses which support the life of our community. The other villages that surround us also offer a wide range of markets, festivals, cafes and restaurants.
Alasdair & Fiona Downes
Reader Reviews
Add Your Review
Absolutely fantastic!
My girlfriend and i spent a month travelling around France staying in 10 campsites in total and this little gem stood sky high above all the rest- absolutely fantastic!! The couple that own it are extremely friendly (without being overbearing in any way), you get a welcome drink on arrival before they show you around the beautiful grounds that include a vineyard with a small swimming pool tucked away behind it. A couple of nights a week they offer a lovely 4 course meal at great value which gives you a chance to socialize with other guests. If we had come across this place at the start of our trip we probably would have stayed whole month!
The welcome was amazing
Brilliant hosts. Great group meals Friday and Monday evenings where you get to socialise with all the other campers. Fiona and Alistair could not have made us more welcome. Gascony is a hidden gem and now my favourite part of france. I will definitely be back, and once the planned refurbishments have been completed it is a 5/5 from us. The donkies were a particular hit. Thanks for a great time. Amy and Bert x
Fantastic facilities in a superb setting.
My husband and I only had time for a short stay at 'Domaine Le Poteau' where the owners, Fiona & Alasdair, are wonderfully friendly and helpful. The facilities are spotless and very comfortable. It's rare to find such a feeling of privacy on a site but with the positioning of the plots and the well-kept natural surroundings, it felt like we were on our own personal retreat. We will return as soon as we can and cannot recommend this campsite highly enough. Thank you so much for helping us re-charge our batteries, literally and figuratively, in the beautiful Gers.
Chilled and delighted, only too short a stay
We could only stay a few days, on route (the long way round) to the Champagne region and Belgium, but it was well worth it to catch up with Alasdair and Fiona after so many years and to enjoy this fab site. Although we were mere aquaintances we were welcomed like old friends and soon discovered thats how everyone is treated. We loved the easy open garden feel of the place and the rustic but clean and perfectly serviceable facilities, the highlight was definitely the communal meal served up by the hosts in typically French style. The local village has a great open air pool and we swam under blue skies as distant storm clouds bubbled up and came to nothing. If only we could have stayed longer we would have loved to have explored more on our bikes, the roads being quiet and well surfaced and perfect for this. Next time we will book at least a week to make the most of it. A lovely spot, campsite and great hosts, see you again soon 10 out of 10 from us!
Lovely campsite set in a lovely part of France
We stayed at Le Poteau in August this year, originally only going to stop for 4 nights and in the end we stayed another 4. Fiona and Alasdair were very welcoming when we arrived, offering us a choice of large pitches and a welcome drink after setting up! Excellent facilities with an always immaculately clean family bathroom and washing up area which is essential for families with small children. We went with a caravan so were fairly well self-contained but on a couple of nights there were good meals on offer. The site is just by a small village where there is a small supermarket, bakers, a large park and a good fishing lake. We had a lovely time, were made to feel welcome at the site and would definitely recommend a visit! Thank you.
Great relaxing campsite to chill out and experience real France
Visited early on in the season. Had a great couple of days. The campsite is peacefull, relaxed and laid back. Pitches are a good size so you are not on top of one another. Alasdair and Fiona are excellent hosts, very sociable and work hard to make sure you have a good time. Lots of lovely villages to see in the area. Fantastic markets locally. Great local wine.
Best Price Guarantee, with no fees
Instant booking confirmation
Trusted for over 10 years
A chance to win £50 of Cool Camping vouchers!