A lovely spot to relax and read your bookin the middle of the Gascon countryside
Though affable Franco-Dutch couple Guido and Clara have only been running Les Angeles since 2008, the campsite's history goes back to 1985, when it was first converted from an old Gasconian farmhouse, which doubtless explains the comfortable vibe you get when you first step on to the site. What Guido and Clara have brought to this site is an air of cosmopolitanism, and the option to let everyone enjoy its wonderful serenity and location in the middle of a Gascony valley, surrounded by glittering sunflower fields and bristling vineyards.
Pitches are arranged around the periphery of the site – generous rectangles protected from the sun by lovely old trees, which help lend the site a cosy, leafy atmosphere. You'll find reception at the top of a gentle slope, next to the picnic tables and a sparkling blue pool. There's a sunny terrace and a paddling pool for smallies plus a playground with swings and a slide. If the weather forces you indoors there's a games room, pool table, library, and bar. And you'll find plenty of up-to-date brochures to help plan your stay.
A few times a week during high season the site arranges a table d'hôte, which helps guests to mingle and get to know each other. You can also sample the region's wonderful produce: everything from delicious wines, Floc and Armagnac, to that controversial French favourite, foie gras. As Guido and Clara point out, though, Les Angeles is also one of the best places they know to just relax and read a book. Like being at home, perhaps, but minus all the pesky distractions.
Gallery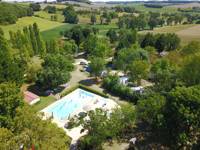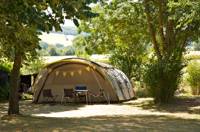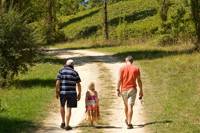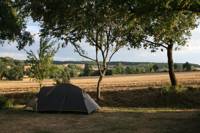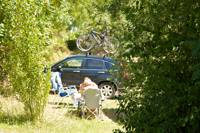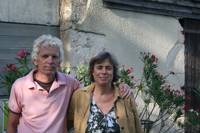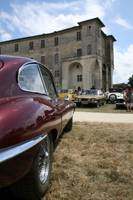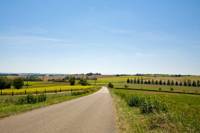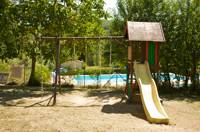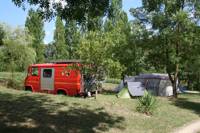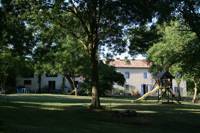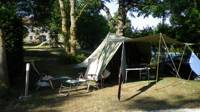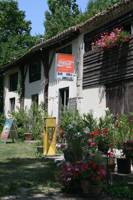 The Owner Says
Our site is located in the heart of Gascony, one of the most beautiful regions of France. The area has a lot to offer on cultural, natural and gastronomical beauty. But at the same time it hasn't been discovered by mass tourism yet.
The campsite itself is hidden away in a small rural valley, with beautiful views over the neighbouring countryside.
At Domaine les Angeles, living is easy. Everything you need for a relaxing holiday is present: a splendid and crystal clear 15x7 meter swimming pool with a welcoming sunny terrace, a separate paddling pool for our little guests. Sanitary units that are kept cleaner than clean, and sunny and/or shady pitches with sufficient privacy in a beautiful setting with a variety of mature trees. We do not pretend to offer the most luxourious or fancy equipments. You won't find any 'glamping' features or weirdly extravagant accommodations here. We are a real campers campsite, with pitches for tents as well as for trailertents, campervans and caravans. In recent years we have attracted a very diverse and growing clientele that appreciates this kind of -in a way- old fashioned camping.
But maybe the best thing we have to offer is the company of other nice, happy and cheerful people. People just like yourself!
Reader Reviews
Add Your Review
Blissfully peaceful
Stayed at this lovely little campsite for one night. Idyllic situation amongst rolling hills and sunflower fields. The owners were exceptionally helpful. All facilities really clean. Perfect campsite to relax
Beautiful Gascony Campsite
Stayed here in late summer 2017. Had a really great time and found the owners really friendly – approachable and personable. For me, nice friendly owners is a big part of the camping experience :) We originally booked in for 2 nights to be safe, but ended up staying for 4. I recommend bringing bikes. The local roads are nice and quiet and we really enjoyed cycling through the local villages. I can't remember whether they rent them at the site too, I'm afraid. We had a lovely pitch in the shade of a big tree and the weather was blissfull. Highly recommend this place!
Wonderful Countryside Camp
A very quiet valley ideal for camping with children, pleasantly located for quite walks and a fantastic pool to cool down in (our 3 children loved this pool, the best of all the camps we've been to). This is real rural France surrounded by idyllic french villages that have lovely markets where locals and visitors alike enjoy food in the street & a glass or two of wine. Sunflowers in the surrounding fields are stunning beautiful when in flower. The owners are very lovely and Clara is one of the best cooks I have found, her classic local dish's are very much worth a try when they put on an open air evening dinner. Our stay here was almost 3 weeks because we enjoyed the relaxed atmosphere so much. I would recommend to anyone.
Truly idyllic
We were there for 3 nights and really did not want to leave.  Our pitch enjoyed a stunning view of the hills and fields on one side with plum trees and dense vegetation separating us from neighbouring pitches.  We swam in the large pool, cycled through sunflower and maize, explores local towns/villages and soaked up the genuine tranquility of the site and the surrounding Gers region.  Guido and Clara were lovely hosts too.
We love it!
We've visited Domaine Les Angeles twice now - once for 4 nights and once for 5 nights. We are a family of four - children aged 9 and 11. I'd definitely recommend it; the pitches are a good size and around the outside on the right and at the bottom have the most beautiful views. It is quiet at night, and very mellow during the day. The pool is stunning, especially if you are lucky enough to get it to yourself, which can happen if you are there early. The reception/ farmhouse is next door and good for an ice-cream/ coffee after a swim or beer/ portion of chips and game of pool in the evening. Guido and Clara are lovely and set the mellow tone the whole place has.
Best Price Guarantee, with no fees
Instant booking confirmation
Trusted for over 10 years
A chance to win £50 of Cool Camping vouchers!