Flower Camping La Vendée Bretonnière
Flower Camping La Bretonnière, 85150 Saint Julien des Landes, Vendée, France













With 15 acres of parkland surrounding a scenic lake, plus a beach within reach, this activity-filled Vendée site ticks all boxes
Prey to the tourist hype, many of us flock to Paris or the Riviera for our fix of fine dining and glowing foreign weather. Meanwhile the discerning French head straight to their west coast. Sandy, pine-covered beaches front a coastline of variety, with Roman cities, slumbering villés and a scattering of small islands. Follow the sunflower-flanked roads a few miles from the waves and you'll find campsite La Bretonnière, the perfect base for exploring the region.
Situated around a pleasant fishing lake, the green fields of La Bretonnière play host to over 150 pitches along with a small number of holiday huts and safari tents. With such variety campers can decide on exactly what size space they want, from smaller 'nature' spots all the way up to roomy 'privilège' pitches, ideal for caravans and motorhomes. Trees and tall hedgerows provide plenty of shade from the summer sun, though when it comes to cooling off most people know exactly where to head.
Overlooking the natural waters of the lake, the recently built swimming area is the perfect remedy for those who are used to altogether more British weather. Two covered swimming pools and a wading pool are accompanied by a play area where fountains squirt water in all directions. The space is a delight for kids and, surrounded by decking with a small wooden bar, it's not a bad spot for parents to lounge about either! Sitting in the balmy summer sun you can enjoy a drink or two while the little ones clown around in their own watery world. The poolside fun is complimented by a hedge-lined field on the other side of the campsite where there are tennis and volley-ball courts, a football pitch, petanque court and a children's play area.
As much as the onsite activities will soak up your day, Flower Camping La Bretonnière is an excellent base for hopping in the car and heading elsewhere. Most are attracted to the beaches sweeping north to the incredible island of Noirmoutier. Cut off by the sea at high tide, this charming off-shore paradise is reconnected when the water recedes revealing the famous Passage du Gois, an old paved causeway that can still be crossed by car if you get your timing right. In the opposite direction the town of La Roche-sur-Yon, a few miles inland, has changed its reputation since it was described as "the dullest town in France" by an English guidebook in the early 1800s. Now populated with good bars and restaurants, the town is preceded by numerous smaller villages, home to the usual independent shops and cafes that France is so famous for.
This delightful position that provides access to both the coastline and the quieter inland attractions makes Flower Camping La Bretonnière a good place to start exploring Western France. Something that can only start, however, when you persuade yourself to leave the poolside sun lounger and put down that bottle of local vino!
Gallery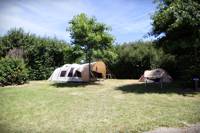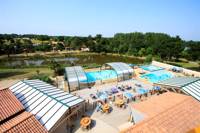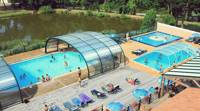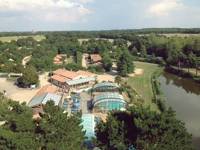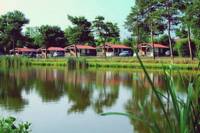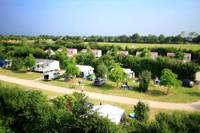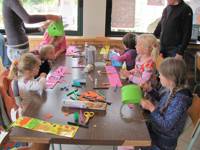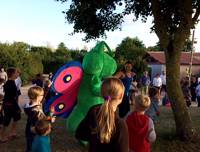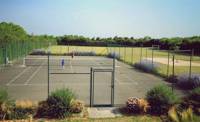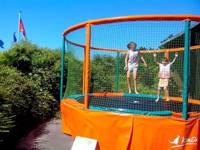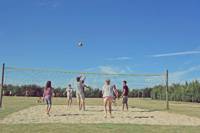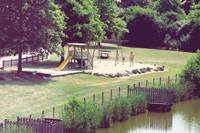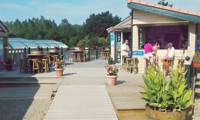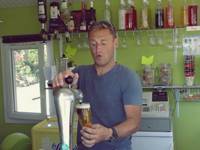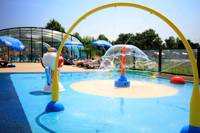 The Owner Says
With 15 acres of parkland surrounding a scenic lake, plus a beach within reach, this activity-filled Vendée site ticks all boxes.
Reviews
Add Your Review
Awful
Why is this on cool camping? Asked if i could reduce my stay by two days but owner insisted I paid for the full 7 even though the site was half empty. That same evening a band played in the bar until 11.30 which ultimately meant the entire campsite could hear 80's covers. In fact if you want a quiet campsite this is not the site for you. I m leaving after 3 days even though I ve paid for 7. No refund or the slightest bit of accommodating here. Very very disapppinted.
Disappointing
I am unsure why this site has been selected by Cool Camping. I thought they were looking for quirky and characterful sites. This is a large commercial site - Flower Camping is a chain with sites all over France, and seems to me to be misnamed, there were not many flowers at La Bretonnière. The couple who run this one are really friendly and pleasant, but that didn't make up for the issues I had with the site itself. I was here in late June before the school holidays began and it was almost empty, so there was plenty of space - I actually had one whole end of a field (about 4-5 pitches) to myself, but it still managed to be noisy and feel busy. I was kept awake by people watching football in the bar (cheering and hooting) and small children playing in the play area until almost midnight. There were no controls on noise whatsoever, so I hate to think what it would be like in July and August. I was not impressed by the unisex toilet/shower blocks. Walking in and seeing a bloke p***ing in a urinal is not my idea of a holiday. The facilities were cleaned daily but very basic indeed, no seats on the toilets and the showers took water-saving to ridiculous lengths (you get about 3 seconds of trickle for every push and release of the button, so it takes a long time and a lot of pressing to get fully washed and rinsed). Oh, and I got bitten to death by midges. Every time I opened my tent it completely filled up with little flies, so I had to resort to crawling in and out through the smallest possible opening in the zip. Even so, when I got to my next site I cleaned out about 200 dead bugs from my tent. I was pretty glad to leave and will not be returning to this site.
Lovely campsite
We spent a week here and loved it to bits. Safe for kids, quiet, very friendly and best baguettes every morning!
Quite good
We actually quite enjoyed our stay here although it is a lot more commercial than the camping we usually go for. There is entertainment in the evenings and zumba in the pool but this is easily avoidable and isn't intrusive. We were a bit nervous about big site, thinking the pool would be rammed but every time we stopped by the pool it didn't seem busy at all with at least half the sun loungers free. We hired a fridge as an experiment and were delivered an actual fridge. I don't know why we found this so funny. I think we expected some kind of mini camping fridge. It was super useful though. And obviously you do need remember your french adapter to use it. The did a test drive on the frites and the pizzas. Great frites. Okay pizzas. Our pitch was huge and there are lots of big hedges so we had morning and afternoon shade on parts of our pitch at any time. Facilities were good and clean. It becomes an exciting challenge to find a toilet with a seat or a shower which gives at least 18 seconds of water before you have to push the button again. I'd definitely recommend this campsite and would stay there again, but would also say that our pitch was very unfortunately situated. The only thing separating us from the washing up station and two blocks of shower and toilet facilities was a hedge. So we had the clanking sound of washing up from 7 in the morning until 11 at night and constantly slamming doors from the showers and toilets. So I would ask to be at least a few pitches away from the facilities, unless you like that type of thing. Oh, and there are trampolines and no-one gives you grief for not speaking French and ordering 13 portions of chips by mistake. Best nearby beaches we found were Plage du Veillon and Plage du Jaunay if you're looking.
Flowers Camping La Bretonniere
We have just had a wonderful 2 week stay at La Bretonniere. The site is clean, well - run and the owners were very friendly and helpful. We found that the toilet blocks were very clean, the showers always hot and the washing facilities more than adequate for the daily wash up.
This site is a perfect, quiet , leafy base to from which to explore the Vendee region and beyond. It is quiet, but there is plenty for the children to do. The swimming pool area is a big bonus. Bike hire on site was very convenient as well.
Pitch sizes are very generous - we fitted a 4m bell tent, a 5m awning plus the car in with ease.
See you next year Regis and Aline!
Win a £100 Blacks Voucher!
If you've stayed at Flower Camping La Vendée Bretonnière campsite, please take a minute to tell us about your experience. Every month, one lucky reviewer will be picked at random to win a £100 voucher, courtesy of our recommended retailer Blacks. Each review counts as one entry, so get writing!

Best Price Guarantee, with no fees
Instant booking confirmation
Trusted for 10 years
A chance to win camping goodies in our regular competitions!