A large-scale camping and glamping site in the heart of the national forest beside Sillé-Plage in North West France
Huttopia Lac de Sillé Campsite isn't exactly small. There are over 150 pitches in total. Yet you could be forgiven for thinking it's almost half that size. After all it is completely dwarfed by its surroundings. The forest around spreads for over 3,500 hectares and, just a few yards away, a huge lake in the shape of a teardrop glistens in the sun. It's creatively named 'Le Grand Étang', literally meaning 'the big lake'.
Pitches vary wildly across the site. At its furthest point, where the trees are thickest, there's a real woodland feel and tents spread among the bows with bicycles leaning idle against the trees. Closer to reception, meanwhile, the space is far more open and generally feels a bit more 'parky' with motorhomes and caravans in among the larger family tents. There's an array of glamping accommodation options – in particular safari tent-style lodges in various sizes – and wooden cabins equipped with everything you could possibly.
It's the activities that this campsite is perhaps most well known for. There's a whole range possible around the lake, including mountain biking, watersports, swimming, climbing, zip-lines, archery, fishing, and more. Then there are the facilities specific to the campsite itself: ping-pong tables, volleyball courts and bikes available to hire. There's an indoor area with board games and books in case it rains (though if you've headed here from the UK, rain probably isn't anything to worry about).
The focus is definitely on families but if kids and noise all become a bit too much there's a pleasant 2km walk through the woods to nearby Sillé-le-Guillaume. The tiny town has a sleepy feel but all the French essentials – cute cafés, excellent delicatessens and an old Château. It's a quiet contrast to the hive that is Huttopia Lac de Sillé.
Best Price Guarantee
Easy and Secure, with instant booking confirmation
Trusted for over 10 years
A chance to win a brand new Coleman tent!
Gallery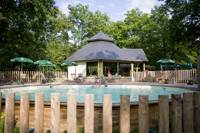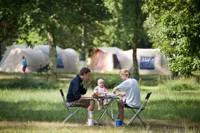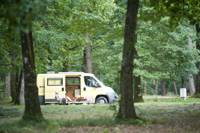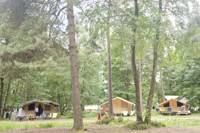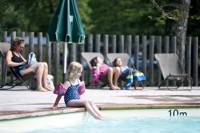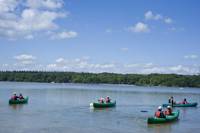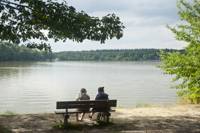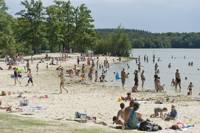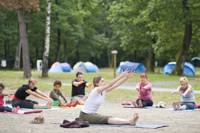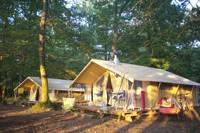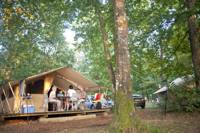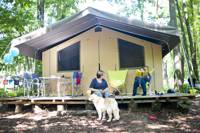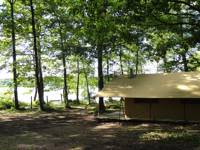 Video Tour
The Owner Says
The ideal destination for families looking for active outdoor holidays by the water. Huttopia Lac de Sillé campsite and its swimming pool are located in the heart of the forest, right next to Sillé Beach leisure park! Huttopia Lac de Sillé campsite is nestled in the heart of the forest, on the shores of the lake. The ideal destination to relax in a peaceful setting and enjoy open air activities to the full.
After a busy day of adventures and activities, take a dip in the heated pool, relax on the terrace of the Snack Wagon, get together in the lounge area, play petanque, or simply relax under the tall leafy trees.
Whether as a group, a family, or a couple, you can camp the way you like best. Spacious pitches in the forest or wood and canvas safari tents for a holiday with all the comforts… there is plenty of choice at Huttopia Lac de Sillé campsite.
Huttopia Lac de Sillé campsite is also part of Sillé-Plage green park, a site which includes 3,500 hectares of forest, several lakes, and a swimming area. Enjoy the shaded, lifeguarded beach to relax and unwind, surrounded by miles of forests. For the more active, it is also a great opportunity to try out water sports and other sports activities of all kinds: Boat trips, fishing, the little tourist train, zip lines, mini golf, horse riding, archery, rock climbing, canoeing and kayaking…
Reader Reviews
Add Your Review
Lovely wooded site very relaxing.
We stayed in a classic tent - really enjoyed it had most things we needed. Would recommend taking own bedding though as pillows lumpy and no proper sheets. Very peaceful site with a few activities but not too many - staff very helpful. Lake was amazing with loads of things to do around it including watersports and lots of walks. Site is shady due to the nature of being in a forest but lots of wildlife around. Would recommend to other families.
Excellent natural feel campsite with great staff
This campsite is a real find and the lake is superb. There is a beach at one end for smaller children but we swam all over with older children. Kelly was excellent, her English is superb and she would go over and above to help where possible, even when busy. You can order pizzas or rotisserie chicken at the reception area and one night a chap arrived with a van full of wooden games. We would not normally join in with evening entertainment but it is done in such a nice/ non commercial way at this site, we all really enjoyed. We also usually go for a smaller site but this one suited us this time as you never feel like it is too big and there is so much to do. We never had to queue for a shower! The pool is small but most of the time we swam in the lake. It was a very active holiday which suited us and we had an absolute ball - one of the best so far. Take care when booking the watersports on the lake as it is run by a different company and seemed a bit slack. Le Mans racetrack is about 35 mins away and worth a visit. Thanks again to Kelly and the team - we may well be back.
Amazing woodland setting
Generally a great stay with Huttopia. Great to be able to choose our own secluded woodland pitch (with working power); good amount of activities for our 2 year old (perfect for young families); brilliant roast chicken; nice seating area. Things that could be improved: drinks are over-priced; staff while friendly are not as conscientious as they could be (we weren't sure if there was a responsible adult in charge!); timing of cleaning the wash facilities was poor (first thing in the morning); wife didn't like the unisex bathrooms. However overall a good stay and would return.
Family friendly wooded camping
This is a good place to go with a young family. We have a three and a six year old. The first option they gave us for our pitch was truly terrible, but when we went back they offered us to choose our pitch to the right of reception in a yurt wooded area where we had lots of room and not much noise. That is the beat place to go in my opinion. The toilets and showers are clean but simple and I didn't really like the unisex idea of the toilets and showers. Every night they had some sort of activity for everyone which were aimed at children. The wooden games, movie night and story telling were particular favourites. Food is very basic with little in the way of fresh veg but there is a supermarket nearby and they do pizzas and roast chicken on site as well as fresh croissants and bread in the morning. It's a long walk to the beach on the lake for little people - we preferred to drive and park. My kids loved the poney riding and the four person bicycles! We stayed there six nights and that was plenty. Most stay 4 nights.