Vistas over the Loire Valley and a mixture of shady camping pitches
Imagine your tick list for a camping holiday. Peace and quiet; family friendly; space between you and your fellow campers to enjoy some World Heritage-standard scenery? Now throw in bike riding along the Loire Valley, wine tasting in local vineyards, excellent facilities and, mon Dieu, you've got Huttopia Saumur .
Set on the hillside overlooking the Loire and the forest beyond, Huttopia Saumur  comprises 120 amply-spaced pitches that really give you a sense of being close to nature. You can choose the size of pitch you prefer, ranging from the most modest (but no less comfortable) Nature to a ma-hoo-sive XXL. Though for our money, savvy campers should bag the pitches overlooking the Loire itself. If you prefer your camping a little more luxe, there are also wooden chalets, cottages, lodge tents and Bengali tents to rent.
While Huttopia Saumur does include all the bells and whistles, peace and tranquility can be yours should you book your stay for the low season. But if you're wanting to make use of all the fabulous facilities (including a free kids club), book for July and August. Three swimming pools (one heated), a miniature farm, children's play area, bike hire and even a free weekly wine tasting should keep everyone entertained. A small onsite shop takes care of all those essential campsite provisions like freshly-baked bread for the morning. You'll also find a bar and a brasserie.
Venture just 6km down the road to the historic town of Saumur and you'll find a great choice of restaurants, bars and a market. The town is also home to one of the region's more impressive châteaux, a world famous equestrian centre, and the Loire's finest vineyards (it would be downright rude not sample some, now wouldn't it?). The Loire Valley is a UNESCO World Heritage Site for good reason and, although there are no shortage of ways to savour its delights, we suggest you pack a picnic, get on your bike, find a secluded spot and soak up the scene.
Gallery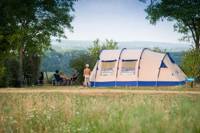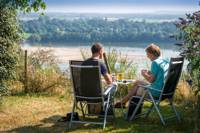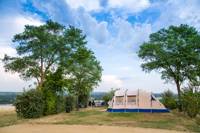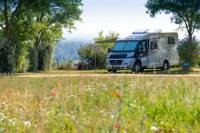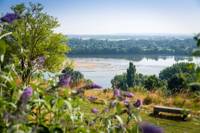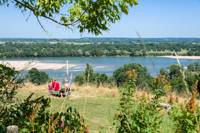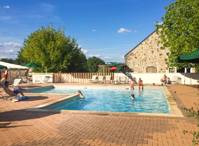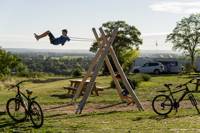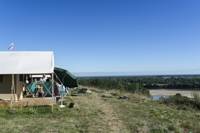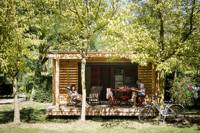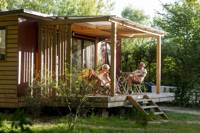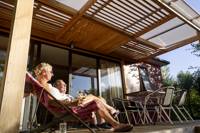 Video Tour
The Owner Says
Set on the hillside overlooking the Loire and the forest beyond, Huttopia Saumur, comprises amply-spaced pitches and a variety of accommodation that really give you a sense of being close to nature. This family-friendly site is a great base from which to explore the Loire Valley and its many attractions.
Reader Reviews
Add Your Review
Not what I'd call cool camping
It's just a commercial campsite with a very thin "cool camping" veneer. If like us, you've stayed at some nice smaller scale independent places on cool camping and are expecting something similar, then avoid it. Nothing wrong with it per se, but just very soulless. Bar, restaurant and shop are also overpriced.
The peaceful atmosphere
Had a lovely week at Huttopia Saumur at the end of July. The weather was hot and sunny, the site was very peaceful and quiet and our pitch was private and well shaded. The shower/toilet/washing facilities were copious and clean and the staff were all extremely friendly and helpful. Loads to do in the area. Had some beautiful bike rides along the river Loire followed with cooling off in the pool in the afternoons. Would definitely return and wholeheartedly recommend.
Excellent campsite
This was our first stop on our first campervan trip to France and we were wowed with how good it all was. Friendly staff and excellent facilities made all the better by having the most perfect Loire view pitch. We cycled into the village and to Samaur easily on two of the three days and for a longer break, there would be plenty to do and see in the area. 
The bar and restaurant area is a lovely spot but we didn't think much of the food. The steak and chicken dinners we ordered were disappointing and the pizza on another evening didn't seem to have come out of a pizza oven but it was a minor point.
Super campsite
The best of the 3 cool camping sites we stayed at this summer in France.  Big, flat, shady pitch.  Excellent pools that never got too crowded.  A fabulous view over the Loire for the pitches on that side and which could also be enjoyed by going for a five minute stroll.  Our children spent hours on the (free) crazy golf course with their campsite friends, in between endless laps of the site on their bikes.  We also did plenty of cycling with them straight out of the gate, including 9 miles from bridge to bridge along the opposite bank of the Loire (which was almost all off the road).  Very helpful staff.  Plenty of clean showers and toilets. How all campsites should be.
We did a canoe trip on the river, which we thought was absolutely great until we did another one on the Dordogne the following week.  The Loire was good, just not great.
Great Site
We stayed as a family (two adults with a 7 and 3 year old) in mid-August on a pitch which didn't have a view over the Loire. I'd recommend that the site's position really makes this worthwhile and would be my choice when we return. 
The site had a fantastic atmosphere, fellow campers were very sociable, staff exceptionally helpful  and enthusiastic. We made use of the pools most days, thankfully having a covered pool meant we could enjoy them despite some overcast weather. Facilitates were kept clean and the family showers/toilet area was something that proved useful. There is a well priced restaurant that serves a wide variety of meals and even when there were vacant pitches was very busy. 
There is so much to see in the area, we took bikes (our son enjoyed completing circular laps of the site as did many other children) and these meant we could easily reach some of the local attractions and Saumar without driving. Do consider your route carefully as there are several steep hills surrounding the campsite which will prove testing. The local villages and scenery is very attractive which does compensate for the physical demands whilst passing through them. We also drove from here to Puy De Fou which is an enjoyable day out and something you're unlikely to encounter anywhere else. 
wonderful
Stayed here in our campervan in Aug 2015 and cannot fault it. The pitch was large, facilities clean and never a queue and the pools were brilliant. The views are spectacular and to top it off the weather was super hot! What more can I say?!
A lovely site
Our family stayed here a few years ago, before it appeared on the Cool Camping website and we had a great time.  It's set in the heart of the wine region, close to the sparkling wines of Saumur.  
At the time, we had a very small child and it was perfect for children of all ages, with a covered pool and a shallow pool.  We loved the fact there was a separate heated room to bath small children.  There's plenty on site but it doesn't feel like a big commercial, soulless site.  There's also a miniature farm too, which kept our little one amused.
Set up on a hill, there are a wide range of pitches, including fabulous pitches overlooking the Loire, which is just stunning.  We visited the area at the time when there were lots of mosquitos and we were not troubled by them here because of the hilly location and it being more breezy than sites adjacent to the Loire.  The only downside to the site is that it is not within walking distance of anywhere - you have to get on a bike or car.  The ride down to St Hilaire-St Florent is fun but beware how much you eat/drink because on the way back, it will be hard!  The Loire a Velo route is very close too, so it's a good site to stop at if you are cycling along or if you want to take in a few miles of this stunning route.  We plan to return to this site very soon.
Best Price Guarantee, with no fees
Instant booking confirmation
Trusted for over 10 years
A chance to win £50 of Cool Camping vouchers!