Camping Sites & Paysages de l'Étang
Set around the former farmhouse of the Château de Brissac, a family campsite in the vineyard striped Loire Valley, near to Angers
Thumb through the postcards in any Loire Valley post office and you'll find the quintessential scenes of this historic region – the sandy river Loire, the vineyard striped countryside, the perfectly crafted chateaux and the endless greenery of rural France. Pitch up at this campsite, however, and even the world's worst photographer can find a scene to rival the professionals.
Amid the vineyards of Anjou, the 20 acre Camping Sites & Paysages de l'Étang is centred around the former farmhouse of Chateau de Brissiac, a magnificent 15th century castle ten minutes walk away. With spacious grassy pitches, three immaculate sanitary blocks, and a fishing lake bursting with hungry carp, this is an easy-going campsite with plenty of room for kids to play. Then, of course, there's also the two swimming pools, the paddling pool and the outdoor play area, as well as a 'relaxation room' with a library, TV and games.
Far enough from the roads that they're never a nuisance, but close enough to provide easy access, it's just a short drive to historic Angers, a city clustered around the River Maine. While, in the opposite direction, the town of Saumur is preceded by a scattering of rural villages, home to troglodytic houses and weekend farmers markets. Active campers can hire bikes onsite and cruise the 5 miles to the Loire, or follow one of the countless great circular routes in the area. Alternatively, boating on the river, excellent walking trails and all-level horse riding are close at hand.
Those hoping to tour a local vineyard or explore the nearby wineries will also be pleased to hear there is a shop onsite that's well stocked with regional wines and all the essential groceries. They even have free tasting so you can sample a little tipple before taking a bottle (or two) away.
For access to the many treasures of the Loire Valley, Camping Sites & Paysages De L'Étang is a tough campsite to beat, though by the time you've punched that name into your sat nav you could probably have driven somewhere else!
Best Price Guarantee
Easy and Secure, with instant booking confirmation
Trusted for over 10 years
A chance to win a brand new Coleman tent!
Gallery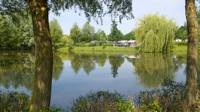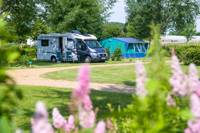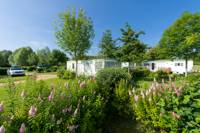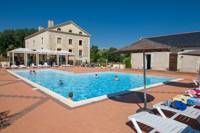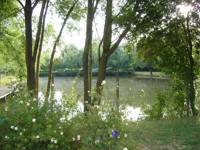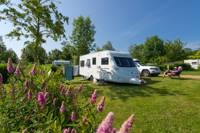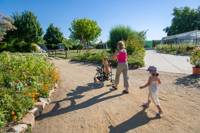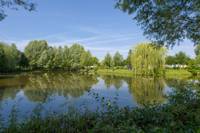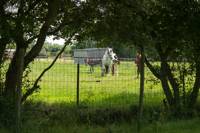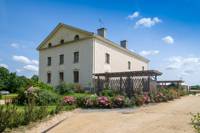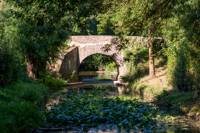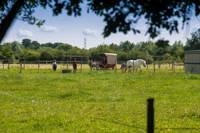 Reader Reviews
Add Your Review
Very Noisey and Commercial Site
Having camped across Europe for over 30 years in literally hundreds of sites, we were very surprised to find this site on 'Cool Camping'. Some sites are cool because of the rustic setting, others cool because of the views and proximity to great activities, some simply from the welcome from the hosts. However this site is your standard large commercial caravan park, with hedged cubicles for campers laid out in a grid pattern. Despite the curfew, drunken parties continued into the night, only to be woken very early by the sound of hedge trimmers and chainsaws. Loud motorbikes used the nearby road as a racetrack. Campers simply sat outside their vans like roasting peacocks watching other peoples washing dry. The toilet blocks were similar to those you had at school with the water from the shower next door washing over your feet. Local walks include the supermarket and a walk along an overgrown river bank to a rather run down large house (not a chateau). If you have children then they could pay to use the nearby park. If you never visit the surrounding area and simply sit by a pool then this could be for you. If however, culture and peaceful surroundings are your thing, I strongly suggest you pick somewhere else.
Lovely Loire holiday!
We spent a lovely week here at Domaine de L'etang and so much to commend Lucile and the team about! We arrived on Saturday afternoon to be quickly allocated a pitch. When we discovered someone was in our pitch we headed straight back to reception to be allocated, after much apologies, an alternative pitch which suited us better as it was closer to the pools, reception and most importantly, the loos. The camping pitches are spacious, close to water, with their own electric. On Sunday morning we joined Karen, Renee and Lucile at the welcome drinks and found out lots about the campsite and its environs. Our 8 year old son took an immediate liking to Camping Kids and hosts, Karen and Renee, and in the end attended most of the briliant sessions held morning and afternoon, as well as the camp fire, mini-disco, kids dinner and talent show in the evenings. The pools were excellent, catering for all ages from littlies in the paddling pool, to kids, to adults who wanted a proper swim. The bar, although open only late afternoon into the evening, was adequately stocked and served ice cream as well as food (we only tried the chips here, but can highly recommend them!). The showers, loos and washing up blocks, although not many, seemed more than adequate for the level of use during our stay. They were always spotlessly clean and well stocked with toilet roll. The highlight of the week was undoubtedly the European Championship Montgolfieres (hot air balloons), however Lucile's wine tasting on Friday was great (albeit expensive - only because we bought six boxes of wine!!) and her presentation explaining that the campsite, vineyard and play park was a non-profit organisation made me only love the place more! Location-wise, there is a lovely river walk/cycle to Brissac (20 mins walk, 10 mins cycle) which then leads to the Loire a Velo path to Angers. By car, Angers is only 30 minutes away and Saumur is a little more. The town of Brissac is small but there are a great couple of bars, lovely boulangerie and the market on a Thursday morning is fabulous. Three very happy campers will definitely return but in the meantime, huge thanks to everyone who takes care of this beautiful place.
Book campsites near Camping Sites & Paysages de l'Étang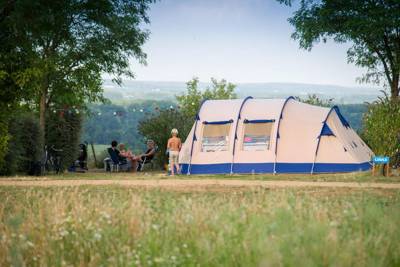 i
Campsites in Maine-et-Loire
Campsites in Loire Valley
Campsites in France
Available:
1 Pitch
2 Safari tents
1 Cabin
i
Campsites in Maine-et-Loire
Campsites in Loire Valley
Campsites in France
Available:
1 Pitch
1 Safari tent
1 Cabin