Book campsites near Le Chant d'Oiseau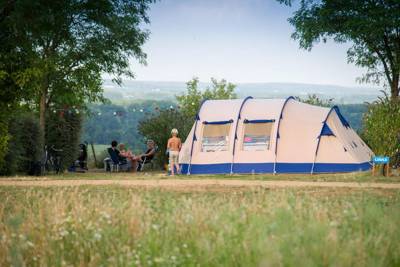 Campsites in Maine-et-Loire
Campsites in Loire Valley
Available:
10 Pitches
5 Safari tents
Available:
7 Pitches
2 Gypsy caravans
7 Safari tents
...
Birdsong and conviviality in the countryside in the heart of the Loire
The open grassland and forests surrounding Le Chant d'Oiseau make an ideal habitat for the barn owls and tawny owls that live in the loft above one of the three gîtes. All sorts of other birds, from herons and hen harriers to buzzards and hoopoes, love it around here too, which is surely how the house got its moniker. The name appears on a map from 1750, but the house could be centuries older – the date 1626 was incised into the stone walls of the hayloft by workers tallying up bales. The owners, Stu and Syb are passionate about the house and region, learning its history and photographing its finer features; they're a knowledgeable source of recommendations on places to visit.
The Bradleys moved their family here from Doncaster in 2005 and brought an easy-going conviviality from South Yorkshire that blends in perfectly with the Loire region's reputation for la doucer de vivre (Flaubert called it 'the most sensual river in France'); enjoying life at the same leisurely pace at which France's longest river flows through the valley. They're relaxed about campers arriving late, and offer to come and find those searching for the site after dark, even making them a nice cup of tea on arrival – just the kind of welcome visitors cherish after a long drive from a channel port. An earlier arrival means you can relax with a glass of wine from Chinon or Saumur in the newly rebuilt 'barn', a beautifully built homage to traditional building techniques, completed by local artisans in the spring of 2014, which serves as an alfresco WiFi area, communal eating space and quiet retreat. It's also home to an excellent bread oven that Stu has installed.
It was worth the effort: the wood-fired oven makes superb pizzas once a week, when campers can join Stu and Syb, and meet each other, under the vast roof of wooden beams. On Mondays and Fridays during the summer they serve a four-course home-cooked French meal using fresh locally sourced ingredients, and they heat up the oven again on Sundays in high season to bake the troglodyte (and Angevin) favourite, fouée – small parcels of bread dough into which savoury or sweet fillings can be added: goats' cheese, rillettes (pork pâté), confiture, Nutella... delicious!
These events are all optional, but it's an option that can make camping so much more appealing. The Bradleys had decades of experience camping and caravanning in Cornwall and France, and have tried to incorporate here all the best features of sites they've experienced. New since the 2016 season was the communal BBQ and firepit area. You can forage the lanes for wood and kindling and return to make a fire and toast a marshmallow with family and new found friends. This social aspect of camping is continued on their Facebook page as well as by those who leave glowing reviews when they return reluctantly to their everyday lives.
Animals are very much part of the Bradley ménage, meaning that guests' pets are no longer accepted on site. But the family do have their own that you can adopt for your stay. Bracken the dog, ably assisted by the cats Splodge & Wisp, (not to mention the hens) will always give you a friendly welcome! Deer are a common sight and wild boar live in the woods, so it's not surprising that the sport of Kings, which originally attracted French royals to the Loire, now draws chasseurs, but fortunately shooting doesn't begin until September, so the forests are perfectly safe throughout the summer. Cycling is a prominent feature of the area with safe country roads and lanes to explore. Stu is happy to lead keen two-wheeled fans out on local (and not-so local) excursions when time permits. Otherwise he has plenty of maps and advice on where to go and what to see, available from the office. Stu and Syb were once avid surfers and originally intended to set up a site in Cornwall, but that proved too expensive. Now, they're delighted they live in an area where the climate makes camping comfortable six months a year.
Details
Facilities
The 2 showers and 2 toilets (plus 3 basins) for the campsite are freshly tiled, clean, and homely, with wheelchair access. A huge communal BBQ is available, as is a fire-pit, which campers are welcome to use. Tip: bring marshmallows! Plus, in our newly refurbished and decorated Kamper's Kitchen you'll find a full gas cooker, oven, fridges, kettle, microwave, and food-preparation area, as well as washing up sinks with hot water. The Kamper's Kitchen also serves as the site information point with tourist leaflets, guides and local maps as well as our DVD and book exchange.

Freshly made pizzas are cooked once a week and 4-course meals, prepared by Syb and Stu, are available 2 nights a week during the season, so campers can be convivial and cooking need not be an everyday chore. Reliable WiFi is available throughout the site, table tennis, babyfoot, outdoor games, a pool table, a large heated swimming pool, boules/pétanque pitch, bikes to borrow and a book exchange are all available, and there's a great kids' play area with tree-house and swings. Three gîtes on site means multi-generation family/friends holidays are easy.
Suitable For
Tents, campervans, caravans are all welcomed. Large groups by arrangement – yes. Pets – no. We have disabled access toilets and showers on site and much of the campsite is flat with level access to barns, bar, pool table etc. The two ground-floor gîtes have flat level access, as well as specially widened interior doors for wheelchair access. Where possible, we've tried hard to include wheelchair accessible facilities, including onto the boules pitch.
Nearby
Medieval Mouliherne and its 12th century church with unique twisted spire is 3 miles (5 km) away, and there are plentiful peaceful walks and bike-rides through the woods and fields. Locally we have horse riding stables both in Mouliherne and Vernoil.  Our friends next door (1 kilometre away!) are happy to have you visit their goat farm at milking time where you can watch (and often take part) in milking! You can also buy the freshest, creamiest goat's milk  too. If you're a cheese fan, you can order from them the cheeses made from milk from their goats on Tuesdays for delivery to you, on site, on Friday. Honestly, it's brilliant fun, and in early season you may be asked to feed the babies too!

The elegant city of Saumur, with its fortress-chateau, multi-arched bridges, and houses built in local tufa limestone, is a 20 minute drive. Stu (and the Michelin Guide) rate the Musée des Blindes tank museum (00 33 2 41 53 06 99). The town has a great market on Saturdays on Place St Pierre and is an appellation renowned for its sparkling white wines. There are many small, independent wine makers within an easy drive of Le Chant, though the immediate area is primarily devoted to apple growing.  The nearest vineyards are at Bourgueil, Saumur, Benais, Allonnes. This is chateaux country - the Valley of Kings and there are lovely chateaux fairly locally at Baugé, Clairfontaine, Brézé, Gizeaux, Montgeoffroy, and Montsoreau (all around 20-30 minutes away) with the monastery and abbey at Fontrevraud a little further; Richard the Lionheart, Henry II, and Alienor of Aquitaine are all buried there. The chateaux towns of Angers, Chinon, Blois, Chambord, Chenonceau and many more are further still, and really worth the trip out.
Around an hour and a half away by road, at Les Espesses, is the mind blowing Grand Parc Puy du Fou. Words alone don't come close to describing the magic of the Grand Parc. It has to be experienced to be believed, so - if you do one thing whilst you're here, it should be this!
There's everything in the area from museums to river boat cruises to shopping to markets. History, a stunning landscape, beautiful sleepy towns and villages. Nightlife if you want it, quiet bars for people watching if you don't.

With so much to see and do, both locally and within a very short car journey away, Le Chant d'Oiseau is always at the centre of your French holiday.
Food & Drink
A four-course home-cooked meal is available on site twice-weekly on Monday and Friday evenings, as well as pizzas (Wednesday) and fouée (Sundays in high season). Bar snacks are available to order at lunchtime. Milk, fresh eggs, ice creams, draught and bottled beers as well as wine by the carafe is also for sale. Daily bread and croissant deliveries (amazing croissants aux amandes), booked the night before. The local bar in Mouliherne  has reopened with Reynaud et famille in charge and the lunchtime menus are great value, as well as being a taste of the region too! Further afield, there's Le Grand Bleu (00 33 2 41 67 41 83), a lovely family-friendly seafood restaurant on rue du Marché in old Saumur. In Le Lude, you'll find a warm welcome, great food and Bombardier ale on tap at the Rose & Crown. Alternatively, a short cycle ride away in Linières Bouton, for great home cooked cuisine there's the Restaurant/Bar 'La Gare'. In Vernantes there's the hotel Le Pélican, for a more formal evening out. Various bars in surrounding villages often offer lunchtime 'plats du jour' at very reasonable prices. Why not borrow a bike or two to find them?
Open
March – November.
Location
Contact Le Chant d'Oiseau, Le Chant d'Oiseau, 49390 Mouliherne, Maine-et-Loire, France
Getting There
It's easiest to get to the nearby village of Mouliherne and follow signs to Le Chant d'Oiseau 3 miles (5 km) from there. Otherwise, it's off D58 between Vernantes and Mouliherne, but it's very easy to miss. Count 3 miles (5 km) from Vernantes or Mouliherne and then look for a crossroads. If it says Plaisance on one side and you can see our advertising panneau on the other, follow the direction of the panneau for about 1⁄2 mile (1 km).
Reviews
Add Your Review
Rated ★★★★★ over 12 reviews
Fantastic
What a gem we came across, this place has everything that you would expect from a camp site but this place also has personality which of course is provided by the hosts, Stu and Syb Bradley. We went along to a set meal last night ( Friday ) and what a great meal at a very good price with wine also provided. If you are in this area then make a detour and pay a visit, you won't be disappointed. Thank you again guys we will be back.
The World Re-opens After Lockdown
We were among the lucky ones to escape from the UK for a holiday in France in July 2021. We had decided that Le Chant d'Oiseau was where we wanted to start our mini tour of the Loire Valley and beyond. It turned out to have been a fantastic choice. We had stayed at many 'Cool Camping' sites before, and this one lived up to our expectations. Stu and Syb were brilliant hosts and we felt welcome from the moment we arrived. The site was lovely, very secluded, very peaceful and perfectly located for our trips to Saumur and Chinon. The site had everything that we needed and more. The extras that this site gave included the fantastic pizzas that Syb created and Stu cooked in his wonderful wood-burning pizza oven - I would be happy to cross the channel for another one of his calzones and Syb's garlic breads. We had planned to stay for four nights, but touring went out of the window and we stayed for ten. We really felt welcome and were sorry to leave. Go to Le Chant d'Oiseau if 'Cool Camping' is your thing - Syb and Stu have been offering proper cool camping at Le Chant d'Oiseau for 16 years and they are good at it. We loved it.
Excellent
Booked for two nights but stayed more, this site is so relaxing and friendly, nothing was to much trouble, our awning had jammed in and before we had the chance to ask Stu was there with his ladders helping, had a fantastic meal in the evening where we meet other guest which was so nice because the owners not only cooked but sat with us to eat, just to say I will definitely be returning to this little gem without a doubt would highly recommend
Lovely site - family friendly - very British!
Clean, safe site in peaceful setting. Very friendly hosts and nice facilities (our only complaint is that hot water nearly always ran out by the evening time so evening showers weren't possible). Nice site but a bit too 'Brits Abroad' for us - all the pitches except one had British families staying on them so it wasn't an authentic French experience although it was all very friendly. We liked communal dining area, pool, safe enclosed site where kids can play safely.
Like coming home!
Stayed here a couple of years ago and had a great time. We were on our way back to Caen from the South West of France and had a brief visit. Great welcome from Stu and Syb - the cup of tea was the best! The site is small, located on a very quiet lane just a short drive north of Saumur. It is a great base for seeing the area - wonderful for cycling. Thanks again Stu and Syb for your hospitality.
Going against the tide..
Firstly let me say Stu and syb were very friendly throughout our short stay, no issues there. We booked 2 nights on our way south and upon arrival after a long days drive Stu advised us that as someone else had booked an extra night over ours he gave them our pitch, nice!. No problem though as he could put our van in complete shade parked up next to two old caravans and a pile of old fencing wire (which wasn't really what we wanted our children to have to navigate through). Facilities were rustic compared to the excellent 'la Brevedent' we had left that morning, a pool on site which was ok but deep for young children. We have stayed at over 70% of the sites in the cool camping guide over the years and I'm afraid this was the least favourite of then all. I appreciate that at times things happen that force owners to adjust campsite pitches etc but it seemed as we were not staying longer than a week it was fine to treat us as they did. The final icing on the cake was the fact we owed 5euros on the pitch and rather than say ' hey sorry about the change of site forget the 5 euro', we had to pay up. We left the next day....
My happy place!
Spent just over a week at the LCDO and would probably still be there if the rain hadn't arrived so we de-camped and went to the Dordogne where it was still raining! Stu and Syb have built up a fabulous site which is very relaxed and convivial. Facilities are great - especially loved the get togethers in the barn - helped enormously by fab meals and pizza's. Campers kitchen is a great idea - even though we had a caravan we still did the washing up in there. The location of the site is on a quiet lane with very little traffic. No dashing out to get breakfast as the croissants, baguettes etc you had ordered the night before were delivered to the site. We cycled from the site for 5 of the 7 days we were there out to such places as Beaufort en Vallee and Bourgueil. Thanks Stu and Syb for making a happy place - will have to come back as didn't get to try the fouee!!! 
Fabulous friendly campsite
We stayed here for 2-weeks in June and loved it so much we returned in September for another 2-weeks. The site is small and friendly, a place where you can get to know fellow campers if you want to. The meals served by Stu and Syb in the barn are great value and a lovely way to meet others and share stories over a glass of wine and on some nights around the fire pit. Showers always hot and clean and the campers kitchen handy as it has 3 fridges, a cooker, kettle etc. My parents stayed in the small gite while we stayed in our tent which meant we could holiday together and have our own space too. Being a mere 20 minutes from picturesque Saumur while being in the quiet of the country provided the perfect balance for us. We will definitely be back again. Thanks to Stu and Syb for being such thoughtful, hard working and friendly hosts.
Better than before
This year we stayed for the third time at Le Chant, having come from rain in the Vendee Stu and Syb's welcome (and tea) was really welcome, providing a contrast with the bigger more commercial site we'd come from and encapulsatating the charm provided by this site.   Whilst staying there were a couple of examples that really demonstrate the level of consideration and care for guests: firstly making sure we were drying-out and helping with this; and secondly assisting some fellow guests arrange recovery of their car. 
We particularly enjoy the fresh deliveries of bread and croissants each morning (particularly the chocolate & almond) and opportunity to socialise (either at the various meals/pizza/fouee evening or informally around the site) with fellow campers. This was something we appreciated as more novice campers, but also is pretty unique in providing a warm and sociable atmosphere that makes your stay much more pleasurable. We did not experience any problems with the site facilities which were clean and tidy throughout our stay's. 
Whilst the site is fairly rural there are a variety of bike rides nearby (Stu is a font of knowledge and can recommend something for everyone) and lots of attractions to visit along with food and excellent local wines to enjoy. The local regional wine's you'll be luckily enough to experience (sparking from Saumur and Chinon) should form part of your stay. 
We look forward to 2016 and our next visit.
Le Chant amélioré
We have visited Le Chant on 7 occasions and have loved it from the first minute. I didn't think it was possible to improve on what they had when we first arrived but each year Stu and Syb have added something - the Kampers Kitchen for instance. This year however the change has been substantial with the extending and remodelling of the communal barn. This is a beautiful space created by craftsmen making it a lovely social space in which to spend evenings enjoying the great meals prepared by  Syb in her kitchen. This will soon be improving further when the new kitchen adjoining the barn is complete. 
Since the original review appeared in Cool Camping not only has the barn been altered but the Kampers Kitchen has been revamped so that there is now hot water serving two sinks for washing up and 3 fridges along with the cooker, kettle, microwave etc.
Outside there is now a separate chemical disposal area and soon there will be a toilet in the building adjoining the pool along with a solar shower for pool users.
We were on the site at the same time as your reviewer 'Gwill' and I have to say I am somewhat confused by the criticism of the washroom. The hand basins are communal but each one is separated by a partition, each has liquid soap dispenser and there is a paper hand towel dispenser. What more do you need to wash hands or clean teeth? They are opposite the doors to the showers and toilets but that is not uncommon surely. As regards there not being enough toilets or showers, I have looked at the recommended ratio and there should be one toilet each for men and women for every 30 pitches and one shower per 25 pitches. Le Chant beats this easily and in the 6 years that we have been visiting I have rarely had to wait to use a toilet or shower even when the site is full. One of the toilets and shower are combined in a large cubicle which is ideal if you are disabled. As regards the kitchen, the sinks are easily big enough and I think in the 2 weeks we were there I only remember 2 times when there was someone using the adjoining sink so most of the time I had the use of both sinks if I needed it. The water was very warm not lukewarm and plenty hot enough for dish washing.
The site is very definitely not untidy. Stu and Syb spend most of their time working around the site to keep it looking at its best. Sometimes this is not helped by inconsiderate campers dumping their rubbish in the wrong place.
Maybe Le Chant isn't for everyone. I for one would hate it if it tried to become 'chic'. It is a lovely, happy, inviting site that many people are drawn back to year after year. If you doubt this, one look at the visitor's book will show just how popular Le Chant is. Syb and Stu should be congratulated for all their hard work.
We will be returning for many more visits.
Shabby without the Chic
The description of the site is pretty accurate to be fair but in my opinion its all a bit untidy in comparison to other cool camping sites I have stayed.  The communal area is a great idea and having table tennis and pool for free was a bonus.   The idea for communal eating drinking and entertaining is taken a bit too far in the wash room area.  There is very little privacy as the hand basins are communal and are right in front of the toilets and showers (of which there are not enough of.) The campers kitchen is again a great idea but not executed properly as having 2 small sinks in a corner sharing a luke warm feed is only practical for one person to be there (not enough). 
Le Chant d'Oiseau
We had read a lot of the reviews and they are, in all fairness, correct. The 'welcome' is a good as has been reported and the owners, Stu and Syb, have a good local knowledge that they are happy to share with you. There are various 'nights' organised such as a Pizza Night, a proper sit down meal night etc and these go a long way in helping people to share experiences and to make suggestions to each other on places to visit. This is a similar idea that is employed by the Caravan Club and the Camping & Caravan Club at their District Association Meets and is a tried and tested idea The Loire valley is a good place to base yourself if you want to visit Châteaux The Tank Museum at Samuer is worth a visit. It is every bit as good as Bovingdon in the UK and has the benefit of having exhibit labels in three languages: Some British museums could learn a lot from their example. There are also Mushroom Museums! We never visited any of them but there are 3 in the area if that's what floats your boat. It is nice to see some of the names from British forums cropping up in the visitors book The showers and WCs were clean and tidy and there was always a proper supply of hot water. There is also a "Campers" kitchen which could be useful for people who are "tenting" it. It has a kettle, Microwave and there is also a washing machine. There is an above ground type swimming pool and that should be good fun during the Summer months. There's some interesting 'wild life' in the area and it's worth taking a very powerful torch to spot the animals watching you from the far end of the fields at night. If you are lucky, you should be rewarded with some splendid Deer watching. There are also Boar but they are shy and retiring creatures. The young are delightful and how they manage to become so unprepossessing as adults beats me. The owls are great fun and there are both Barn Owls and Tawny Owls around. There are also Little Owls about; quite why they're persecuted by Gamekeepers is hard to understand as their diet is mainly Grasshoppers and similar sized food. As you drive to Le Chant you will often see Buzzards sitting on fence posts on the field margins. We heard a woodpecker that was not one the UK ones, a totally different call to our native species, but did not get a sighting so we were unable to identify it. It should be a good area for Nightjars but September is too late in the year for them as they would have started their migration by now. As you may have gathered from the above paragraphs it is worth investing in a couple of the Collins wildlife guides. I have always found looking at the number of repeat bookings is a pretty reliable way of judging whether or not a site is worth visiting. On this basis, Le Chant must be up there amongst the top 10