Peaceful, lakeside camping in the grounds of a classic 19th-century Breton château
How many of you have harboured dreams of staying in your own French country estate? Well, look no further than Camping Deffay. This peaceful, lakeside park lies in the sprawling grounds of a classic 19th century Breton château, four kilometres outside the pretty commune of Pontchâteau.
In the heart of the Brière national park, Camping Deffay makes its name as a central base for exploring some 154 acres of marshland lakes and islets. The region feels, in many ways, like one of France's last great wildernesses. That is until you marvel at the many thatched cottages which adorn the reed-lined waterways, and realise that the Brière is in fact a living snapshot of Brittany's rural history. Besides the park, Camping Deffay offers the ideal position for exploring the many delights of western France. From the vineyards of the Loire Valley, to the glitzy beachside bars at La Baule; from the medieval citadels of Guérande, to the vibrant Grand-Ouest capital of Nantes; Deffay is equidistant from any number of great days out.
But if a good old dose of r'n'r is paramount on your agenda, then you rarely need to leave this laid-back, lakeside hideaway. With brand-new wash facilities worthy of its four-star status, a cheap and cheerful campsite bistro and bar, plus delightful multi-lingual staff that are only too happy to help, this really is fuss-free camping.
The real draw here, though (and providing a handy division between the site's camping area and the smattering of statics and bungalows on site), is the lake. Guests are allowed to fish the waters and take the campsite pedalo out for a cruise, while flat, well-drained pitches sit right along the shoreline. You'd be hard pressed to find a more idyllic spot to pitch. Oh, and keep your eyes peeled for the family of resident coypus on the lake's small island. You'll generally hear them before you see them, providing a soft, calling soundtrack to this quiet camping retreat.
Best Price Guarantee
Easy and Secure, with instant booking confirmation
Trusted for over 10 years
A chance to win a brand new Coleman tent!
Gallery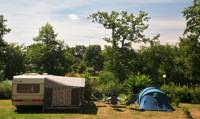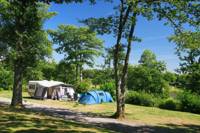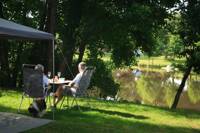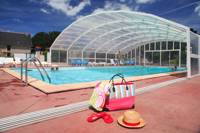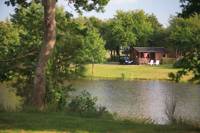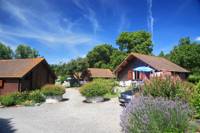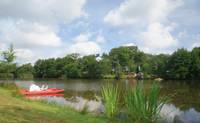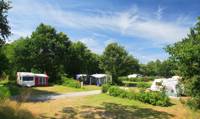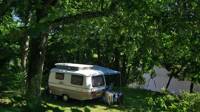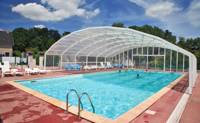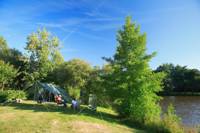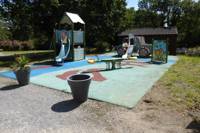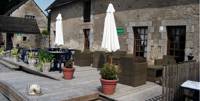 The Owner Says
This peaceful, lakeside park lies in the sprawling green grounds of a classic 19th century Breton château.
Reader Reviews
Add Your Review
Excellent facilities for kids
A brilliant, safe site for kids.. we loved the playparks and the trikes. It would be nice to use the pedal boats if they are usable next time. On site restaurant was a little chaotic... Opened hours later than they said, lost our order and lots of people were getting the wrong food so it was a bit stressful but everyone was very friendly. Lots of English families.
Scenery
Friendly and quaint. Peaceful. Lovely facilities including a free dishwasher! However as lovely as our stay was and would go again, the toilets and showers need modernising. Could be cleaner and smell fresher but was a pass.
Beautiful peaceful spot
This is a wonderful place, and a world away from the typical French all-singing and dancing campsites with aquaslides and entertainment. It's much more low-key, more like a traditional British campsite (hence its popularity with Brits), and wasn't busy at all when we were there in early July. We had a lovely pitch right by the lake, and the silence was fantastic - we just sat there and watched/listened the ducks, water voles, swallows and bats. Yes the facilities are a little old-school (jn a good way) but not out-of-date and spotlessly clean. they even have two free eco dishwashers! The shop has a minimal stock of the basics including wine, and the bar and restaurant is ok. The heated pool is very nice too. There's similarly low-key activities for kids including small play areas and a bouncy castle. It's very convenient for the E160 autoroute about 10-15 mins away, and the cost is half an hour or so. We only stayed for three nights, but could have happily stayed for much more.
Lovely peaceful site
Very pleased with this site. I stopped here for two nights on my way south. It was easy to find and the receptionist was friendly and welcoming. I was invited to choose any pitch I liked, as there were very few people there in late June. I chose a lakeside spot, which offered part-sun, part-shade, and perfect tranquillity. I pitched my tent and proceeded to sit back and relax, watching otters swimming in the lake. It was just what I was looking for. Most pitches come with electricity and water tap (there are some 'simple' pitches but they're the same price so seemed pointless). Normally I resent paying for electricity when I don't use it, but having my own water tap was really convenient so I didn't mind in this case. Good facilities - toilets, showers, wash-up and laundry. No freezer but they will freeze ice blocks for you in reception. I'd happily stay there again.
Lovely spot, excellent facilities
Contrary to previous reviews, we found the facilities to be to an extremely high standard. Spacious washing area, clean showers and plenty of loos meant the less glamorous side of camping was an enjoyable experience. Pitches were extremely spacious and the whole campsite had a relaxed and peaceful ambience. Strolling down to the lake after aperitifs and seeing a beaver splashing about in the sunset was probably the highlight of our stay. Unfortunately we were only at Deffay for one night so didn't make use of the bar and restaurant. However our friendly caravanning neighbours mentioned that there was possibly a new chef as the food was much improved on last year. The homely welcome we received after a long day on the road was just what the doctor ordered. A cold biere from the well stocked shop and the cheaper than expected damage (24euros for a campervan with 3 passengers) topped the arrival off! We'll most certainly be back for a longer stay. Merci!
Very relaxing place
Just got back( mid August)  from a week staying in a lakeside cabin at this campsite. We booked a couple of months ago and were surprised that there were still vacancies. We arrived to an lovely lake side setting, with a pretty basic but perfectly adequate wooden cabin ( some of the larger cabins were much higher spec with fitted kitchens and flat screen tvs!). The kids ( age 3 and 5) immediately loved the trampoline and bouncy castles and mini play areas dotted around the site and it was busy enough for the kids to make friends but not too busy that it felt hectic. The bar was fine and we had takeaway pizzas one night which were also fine. We enjoyed several day trips from the campsite ( piriac sur mer, la baule, gerande and the amazing iles des machines in Nantes. ) but also,enjoyed a couple of days relaxing on site. It may have been a little less than the highest spec in places but we didn't really mind this as the setting and friendly atmosphere ( and kingfishers flying across the lake) more than made up for it.
Some positives but overall disappointing
Spent 8 nights here at the beginning of July. This site does have some positives: off-road location so minimal street/car noise, nice parkland setting with lake, bar on site and very big and private pitches. However, the campsite is getting very tired and I suspect its 4 star rating is dated. The toilet/shower block facilities are old, broken in places and needing refurbishment (they are not immaculate as suggested in the sidebar opposite) as is the pool area and some of the other amenities such as the free pedalos. The pitches are mostly slightly sloping and fairly rough underfoot with ruts and holes that made setting up the outdoor chairs and cooking uncomfortable. The toilets were also a decent hoof from where we were pitched which was inconvenient. The restaurant food was awful - this from my kids and they were right... We were not looking for a really busy and noisy campsite but even towards the end of July it was very quiet. This campsite has the potential to be much better but at the moment it is not up to the standard expected. Disappointing.