Camping La Grande Sologne
A waterside wonder with a knowledgeable campsite host who has earned many a Cool Camping badge in her time
Trivia time: how many French rivers are designated UNESCO World Heritage Sites? Just one – the Loire. Snaking its way through some of central France's most gorgeous towns and cities, the unspoilt Loire Valley is at once both wildly tranquil and beautifully untamed. Throughout the ages, the mighty Loire has conveyed warring armies, nourished those who dwell by her banks, and fed the imaginations of myriad painters and poets. The iconic, château-dotted settlements which line the river's unwieldy banks bring the history of France's gilded past vibrantly to life. Within this spellbinding landscape, just south of fabled Orléans, lies the Sologne region – a land of enchanted forests, moorlands and lakes; of timber-beamed cottages and brick farm dwellings, unchanged for hundreds of years. And it is within one such charmingly sleepy town (Nouan-le-Fuzelier) that we find another of the region's hidden treasures – Camping La Grande Sologne.
When your host has previously run not one, but two Cool Camping-approved sites, there's no denying she knows a thing or two about what campers want. After eight years charming guests at both Camping de Troyes in Champagne and Camping Les Grèbes du Lac de Marcenay in Burgundy, lovely Marie stumbled across this underloved little spot in the Loire. Picking up sticks (in every sense), Marie and her team (completed by co-manager Eric and affable Irishman Bill) rolled up their sleeves and set to work creating the fantastic site we see today.
La Grande Sologne boasts nine hectares of spectacular camping. Out of the 165 pitches, 150 grassy ones are for just about anyone and everyone. Some are shaded, others are in a dappled half-shade, while some have no trees at all, so you're covered for every eventuality. What brings real charm to the place is the campsite's beautiful central lake. Spread over two spectacular hectares, guests are free to fish the abundant carp, black-bass, perch, bleak, roach, rudd, crucian, breme and tench that inhabit the tranquil waters. In 2016, even sturgeons were added to the existing lot.
If you don't have your own gear, you can rent a mobile home or a ready-equipped tent or, if you really want to scale up the glamping experience, you can stay on the remarkable "Flotente" cabin, floating on the edge of the lake. There's also a waterside Bivouac tent with the best views of the water (Flotente excluded). You can even see the sun glimmer on the surface from tucked within your bed.
The transformation of this place since Marie's first arrival is really something quite special and there is no doubt you'll be charmed by its natural beauty. A UNESCO World Campsite? Sadly they don't exist yet. No doubt if they did, Camping La Grande Sologne would be on the shortlist.
Gallery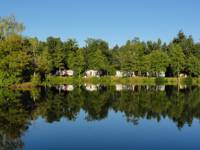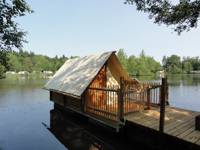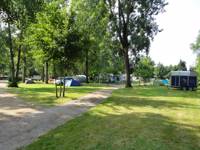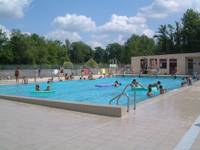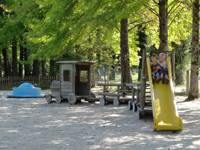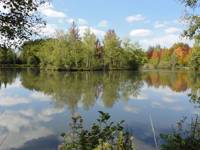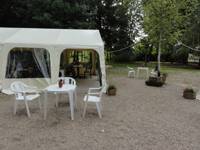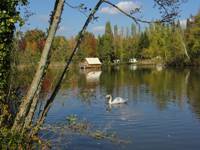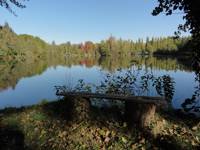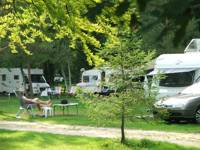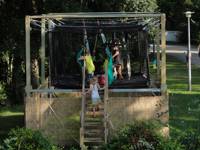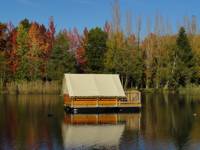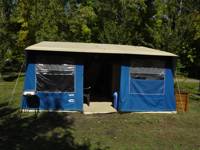 Reader Reviews
Add Your Review
Fabulous campsite. Very cool camping!
We've just returned from our first ever camping trip to France. We are avid Cool Camping UK fans and regulars at Eweleaze. So naturally we turned to Cool Camping France when looking for a campsite. We wanted to avoid the huge commercial sites (as that's not really our thing) and this campsite took our fancy with it's lake and seemingly relaxed atmosphere. It fulfilled all our needs. We went with friends and hired equipped tents which had been pitched around the lovely little lake that really makes this campsite. The tents were really spacious and very well equipped. We had electricity, a fridge, a stove, and a light in the "kitchen" part of the tent. There was even a coffee machine! You have to bring your own linen and towels but the beds were super comfortable. The ablutions were clean and well serviced. We never had to queue once and we were there in the height of the Summer holidays. The campsite has a lovely play area of the children and a big trampoline. You can order your bread and pastries from the local bakery for delivery which is great. But I wouldn't forgo visiting the local bakery - as that's a treat in itself! Campsite residents can use the municipal pool (which is situated just outside the campsite) for free. This is a great pool. Two pools really, one big one and a smaller one for little children - but it's a pretty good size. Center Parcs is nearby and it's very worthwhile visiting this for a day if you have kids with you (but you do have to book in advance). The local butcher is amazing. The kebabs were to die for! There are also some lovely restaurants nearby. The staff at the front desk are amazingly helpful and knowledgeable. They advised us to swim at a local lake which was amazing and also have discounts for some of the Chateaus. It is a bit of a drive (30 - over an hour) to many of the local attractions but I guess France is a large country so that's just the way it is if you want to see things. For children they run a disco every night and entertainment every day. You can also fish in the lake. It really is a fantastic campsite and we would definitely visit again.
Best Price Guarantee, with no fees
Instant booking confirmation
Trusted for over 10 years
A chance to win £50 of Cool Camping vouchers!
Book campsites near Camping La Grande Sologne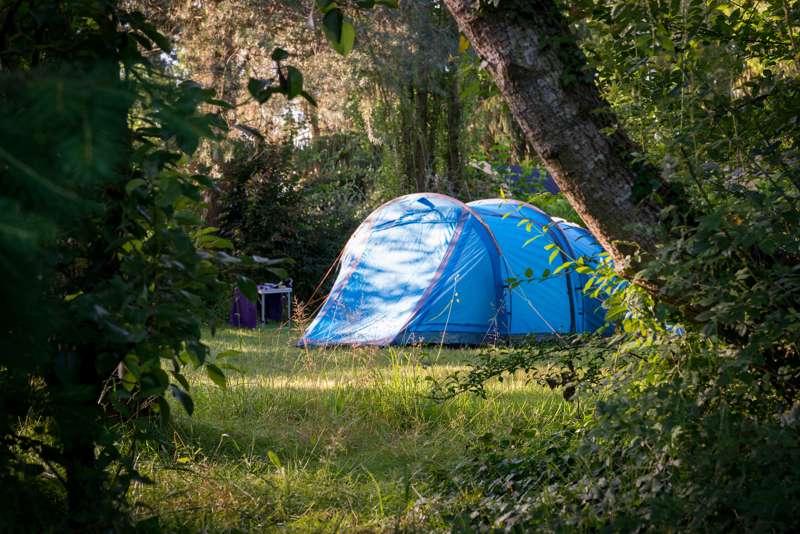 i
Campsites in Loir-et-Cher
Campsites in Loire Valley
Campsites in France
Available:
1 Pitch
1 Cabin
1 Gypsy caravan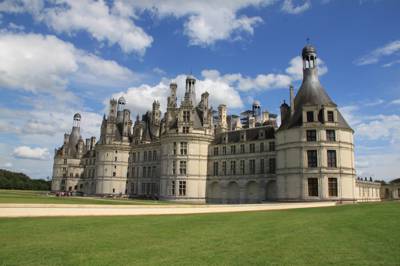 i
Campsites in Loir-et-Cher
Campsites in Loire Valley
Campsites in France
Available:
2 Pitches
1 Safari tent